FNCA 2005 WORKSHOP ON BIOFERTILIZER
January 9 – 13, 2006
Quezon City, PHILIPPINES

---
FNCA 2005 Workshop on Biofertilizer took place as follows,
Date: January 9 – 13, 2006
Venue: Philippine Nuclear Research Institute (PNRI)Quezon City, the Philippines
Host Organizations:
- Department of Science and Technology (DOST), Philippines
- Ministry of Education, Culture, Sport, Science and Technology (MEXT), Japan
Local Organizers: Philippine Nuclear Research Institute (PNRI)
Secretariat: Japan Atomic Industrial Forum Inc. (JAIF)
Participants: Total 17 from 7 countries, i.e. Indonesia, Japan, Korea, Malaysia, the Philippines, Thailand and Vietnam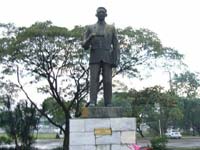 Session I: Opening Session
The opening session began with the welcome remarks by Dr. Alumanda M. Dela Rosa, Director of PNRI followed by the opening remarks of Ms. Takiko Sano on behalf of MEXT. Mr. Richard M. Balog, Project Leader of the Philippines introduced the participants and Dr. Tadashi Yokoyama, Project Leader of Japan presented the "Overview of the FNCA Biofertilizer Project" as introduction to the workshop. The opening ceremony was highlighted by the message of Dr. Estrella F. Alabastro, Secretary of DOST in her keynote address.
Session II: Presentation of Country Reports by Project Leaders
Country Reports were presented by Indonesia, Japan, Korea, Malaysia, Philippines, Thailand and Vietnam.
The presentations of country reports are summarized in "The Summary of Country Reports".
Session III: Special Lectures
Two special lectures were presented. Dr. Gina P. Nilo of Bureau of Soils and Water Management (BSWM) gave lecture on Organic-Based Agriculture "Agri-Kalikasan" Program/Tipid-Abono Program in the Philippines, and Dr. Mercedes Umali Garcia of the National Institute of Molecular Biology and Biotechnology (BIOTECH)-University of Philippines at Los Banõs (UPLB) gave lecture on the "Role of Bio-N in Ginintuang Masaganang Ani Program for corn".
Session IV,V: Round Table Discussion
In the session IV and V, the following topics were discussed.
| | | |
| --- | --- | --- |
| | ・ | Field Response of Biofertilizers |
| | ・ | Economic Analysis including Impacts on Cost Savings |
| | ・ | Irradiation Technique for Sterilization |
| | ・ | Strategic Plan of Extension of Biofertilizer Use |
| | ・ | Contamination of Groundwater by Extensive Use of Fertilizer Nitrogen in Farming System |
| | ・ | Biofertilizer Manual |
The details of discussion are summarized in "Minutes of Workshop"
Session VI: Project Evaluation and Taking the Minutes
Project Evaluation and Future Plans proposed and agreed upon by the participants.
Technical Visit:
A field visit was conducted to Bio-N Mixing Plant at Barangay Lawy, Capas, Tarlac, Region 3 in the Philippines. The mixing plant was operated by a farmer's cooperative St. Philip Primary Multi-Purpose Cooperative Inc. in collaboration with the BIOTECH of UPLB. The Bio-N mixing plant was also established in cooperation with the DA (Department of Agriculture)-RFU (Regional Field Unit) 3-Regional Soils Laboratory, DA-LGU (Local Government Unit) of Tarlac and PDA-Tarlac.
A standing crop of corn with Bio-N inoculation was shown to the participants. According to Mr. Toy Tolentino, chairman of the cooperative, the use of Bio-N helped them by saving ½ of the recommended rate of fertilizer by the Department of Agriculture. Previously, he was using 8 bags of chemical fertilizer and reduced it to only 3 bags (2 bags 14-14-14 and 1 bag 46-0-0). According to him Bio-N inoculant is a great help for their poor corn farmers in Tarlac.
The group also went to BIOTECH at UPLB College, Laguna. They visited the Bio-N laboratory and were briefed by Ms. Juliet Anarna on the production of Bio-N inoculant. The participants also have a walk-in visit to the Rice World Museum of IRRI (International Rice Research Institute).
The details of this Workshop are available from the following "Minutes of Workshop".
---