Report of
FNCA 2009 Workshop on Biofertilizer Project
November 2-5, 2009
Bangkok, Thailand
---
Following the agreement at the 10th Coordinators Meeting 2009 in Tokyo, Japan, the FNCA 2009 Workshop on Biofertilizer Project took place as follows;
Outline of Workshop
Date

November 2-5, 2009

Venue

Bangkok, Thailand

Host Organizations

Department of Agriculture of Thailand (DOA)
Thailand Institute of Nuclear Technology (TINT)
Ministry of Education, Culture, Sports, Science and Technology of Japan (MEXT)

Participants

Total 14 from 8 countries, China, Indonesia, Japan, Korea, Malaysia, The Philippines, Thailand, Vietnam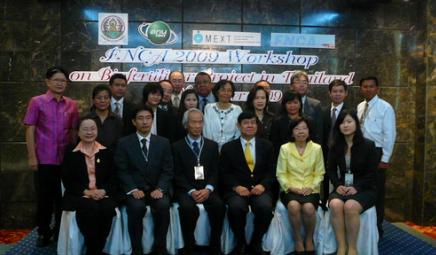 Participants of the Workshop
Opening Session
| | |
| --- | --- |
| Dr. Somporn Chongkum | The Workshop began with opening remarks by Dr. Somporn Chongkum, Exective Director, Thailand Institute of Nuclear Technology (TINT). And Dr. Manthana Milne, Director of Agricultural Production, Science Research and Development office, Department of Agriculture (DOA), delivered welcoming speech and express warm welcome to all participants. Following the all participants were introduced, Mr. Takashi Tadokoro, Special Staff, International Nuclear and Fusion Energy Affairs Division, Research and Development Bureau, Ministry of Education, Culture, Sports, Science and Technology (MEXT), gave a speech and thanked to DOA and TINT for their hospitality and arranging this workshop. |
Dr. Sueo Machi, FNCA Coordinator of Japan, gave a presentation for FNCA activities. He previewed 11 FNCA projects and plan for 2009. And Dr. Achara Nuntagij, the Project Leader of Thailand (PL), gave a presentation and introduced biofertilizer research in Thailand. Then Dr. Tadashi Yokoyama, PL of Japan gave a presentation and previewed the FNCA Biofertilizer Project.
| | | |
| --- | --- | --- |
| The scene of Opening Session | Dr. Manthana Milne | Mr. Takashi Tadokoro |
Open Seminar & Special Lecture
The open seminar was held on the first day of the workshop, with the lectures from universities, research institutes in Thailand. And 3 special lectures about biofertilizer researches in Thailand were presented by 3 experts as follows;

Open Lecture


Lecture 1 Roles of Nuclear Techniques for sustainable Agriculture
Dr. Sueo Machi, FNCA Coordinator of Japan, Former DDG, IAEA
Lecture 2 Biofertilizer Application to Reduce Chemical Fertilizer in Thailand
Prof. Supamard Panichsakpatana, Faculty of Agriculture, Kasetsart University (KU)
Dr. Sompong Meunchang, Department of Agriculture (DOA)
Lecture 3 Mutation Breeding for Sustainable Agriculture
Dr. Siranut Lamseejan, Kasetsart University (KU)
Lecture 4 Research Activities to Develop Sustainable Agriculture in Japan
Dr. Shotaro Ando, National Agriculture and Food Research Organization (NARO)

Special Lecture


Lecture 1 Mycorhiza Biofertilizer
Ms. Supaporn Thamsurakul, Department of Agriculture (DOA)
Lecture 2 PGPR Biofertilizer
Dr. Sompong Meunchang, Department of Agriculture (DOA)
Lecture 3 Phosphate Biofertilizer
Ms. Bhavana Likhananont, Department of Agriculture (DOA)
Country Report, and Project Plan & Challenges
A total of 8 country reports were presented. All counties reported research summaries for development of multi-functional biofertilizer for 2007-2009, and introduced research plan for 2010-2011, and 4 issues for the project are discussed as follows;


| | |
| --- | --- |
| 1) | Strategy to extend the application of radiation processing for production of inoculants in commercial scale |
| 2) | Plan to develop and to extend the application of multi-functional biofertilizer |
| 3) | Strategy for strengthening linkage with end-users of bio-fertilizer, such as agricultural ministry, farmers union, and fertilizer producers |
| 4) | Major remaining challenges to be tackled by the FNCA cooperation to achieve the project goal |
Then project review for 2007-2009 and project plan for 2010-2011 were summarized by all participants as follows;


| | |
| --- | --- |
| 1. | Concerning carrier sterilization using radiation, we have several data. However the suitable dose of irradiation changed by the carrier material and the actual dose to several carrier is not fixed. Therefore we need further test of sterilization by irradiation of different carriers in comparison with autoclaiving. |
| 2. | Multi-functional biofertilizer which have multi-effects on the growth, nutrition uptake of plant as well as reduction of plant disease, should be further investigated. We need further study to produce mix-culture or single culture with multi-functions. |
General Discussion and Minutes
The joint statement of FNCA Biofertilizer Project group was suggested by Dr. Machi, and all participants discussed and agreed with it. News letters of FNCA biofertilizer project will be published about actuall stand of biofertilizer research and development in all FNCA member countries and will be continued by the FNCA secretariat. The next workshop will be held in China in 2010. The minutes and conclusions were discussed and agreed by all participants. This will be reported at the Eleventh Coordinators Meeting to be held in 2010, in Japan.
Technical Visit

1. Department of Agriculture
At first, the participants visited laboratory of soil microorganism research group and it's inoculant producing factory of Department of Agriculture (DOA) and received explanations about their research activities. They also visit to the test field of DOA, the scale is 36ha, and they inoculated with PGPR1 to flavor rice, then directly sawing to paddy fields. Growth rate of rice is very good with both effects of antagonistic to plant pathogens and of plant nutrition supplying. We fund a candidate of novel multifunctional biofertilizer having effects of antagonistic and PGPR.
2. Thailand Institute of Nuclear Technology (TINT)
At the Thai Irradiation Center (TIC) of Thailand Institute of Nuclear Technology (TINT), the participants received an explanation from Dr. Pravait Keawchoung, plant manager, and observed the gamma irradiation facility. At the TIC, food irradiation is conducted for governmental agency and private agency.