"2006 FNCA Project Leaders (PLs) Meeting on Public Information (PI) of Nuclear Energy" was held from November 6 (Mon.) to 10 (Fri.), 2006 at Atlet Century Park Hotel in Jakarta, Indonesia, co-organized by the National Atomic Energy Agency of Indonesia(BATAN) and the Ministry of Education, Culture, Sports, Science and Technology (MEXT) of Japan, in cooperation with the Japan Atomic Industrial Forum, Inc. (JAIF) and the International Atomic Energy Agency (IAEA). A total of 17 people participated in the Meeting, including project leaders from China, Indonesia, Japan, Malaysia, the Philippines, Thailand and Vietnam, as well as IAEA officials, the FNCA coordinator (CD) of Japan, a member of the steering committee from Japan, and secretariat officials.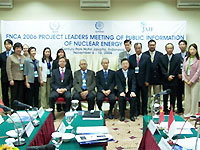 All the Participants of the 2006 FNCA PLs Meeting on PI of Nuclear Energy
In the opening session on the first day of the Meeting (November 6), Prof. Dr. Soedyartomo Soentono, the Chairman of BATAN, delivered a welcome adress, followed by the speech from Mr. Kenichi Miyazawa, Special Staff, Atomic Energy Division, Research and Development Bureau of MEXT of Japan, and Mr. Marc Vidricaire, Director of Division of Public Information, Department of Management of the IAEA. FNCA CD of Japan, Dr. Sueo Machi, Commissioner of Atomic Energy Commission (AEC) of Japan , made a presentation titled "FNCA-PI Workshop on Public Information of Nuclear Power".
In Session 1, project leaders reported the target of PI activities in each country, public views on the radiation utilization and nuclear energy, PI activities like as exhibitions, information exchange activities with media person, and topics and news in the field of nuclear energy and utilization of RI and radiation. Mr. Vidricaire, Director of IAEA Public Information Division reported activities by IAEA, while Mr. Minoru Kubo, PL of Japan (Director, Public Relations Department, Japan Atomic Energy Agency (JAEA)) reported "Summary of the Activities in Public Information of Nuclear Energy". In each country report, China reported that the China Atomic Energy Agency (CAEA) constructed networking with local residents in the area of nuclear power station sites, and journalists' visits to nuclear power stations, and broadcast interviews with nuclear safety experts. A series of activities for opening information to the public on nuclear safety were also conducted to mark the 20th anniversary of the Chernobyl disaster. The country report by Indonesia was presented that PI activities through media and the seminars were held for facilitating the introduction of nuclear power station planned in around 2016 to Indonesia . The country's PI activities are also started in the Muria Peninsula , a possible site for a nuclear power plant. Malaysia reported that the staff of Malaysian Institute for Nuclear Technology Research (MINT) dealt with visitors at the MINT, and lecture meetings, exhibitions, and seminars were held for high school students and teachers. The Philippines reported the seminars held for high school science teachers, the exhibition held during the Nuclear Energy Week, and PI activities acted in combination with the media. Thailand introduced its PI activities of nuclear energy-related seminars held around 30 times per year across the country, and the implementation of permanent / mobile exhibitions regarding the activities of the Office of Atomic for Peace (OAP). Vietnam explained its focus on PI activities aimed at politicians and the general public in preparation for the planned introduction of a nuclear power station in around 2020. Vietnam Atomic Energy Authority (VAEA) has reinforced cooperative relations with media organizations, and organized "The International Exhibition on the Nuclear Technology".
Presentations and active debate at the PL Meeting
On the second day (November 7), IAEA organized the "IAEA Workshop on Training Nuclear Communicators" in cooperation with BATAN, JAIF and MEXT. All the PLs took part in the opening and briefing sessions, and a total of 34 people participated in the workshop, including the PLs, BATAN staff, staff from the Nuclear Energy Control Board of Indonesia (BAPETEN) and representatives of other relevant organizations.



PLs involved eagerly in the training for nuclear communicators
Next, Mr. Kubo, PL of Japan, made a presentation titled "Review & Planning of FNCA PI Project ", followed by positive discussions. The presentation explained that the means of information exchange were effectively used by FNCA PI websites, networks and reference materials, and that reinforced communication with media distributed to reduce the cases of incorrect information. Among many other achievements reported was the dispatch of expert lecturers to seminars at various countries to help promote public understanding on effective use of nuclear energy, and support nuclear PI activities at other organizations. PL Meetings have enhanced the rage of PI activities in FNCA member countries, while as a result of hosting the FNCA PI PL Meeting in their respective country the relations between the national authority in nuclear energy and the mass media in the host country have been remarkably improved. Informing the public of FNCA activities have also contributed to creating opportunities to establish to the public outreach. It was proposed that the importance of the formulation of strategies for politicians, based on these achievements of FNCA PI activities, before implementing PI activities. It was also proposed that PI PL Meeting should comprised round-table discussion with media, open seminar, and training for nuclear communicators.
Effective discussions between PLs and local media
In Session 3, a round-table discussion was held, involving PLs and 11 media representatives. Dr. Machi, the FNCA CD and AEC Commissioner of Japan offered a presentation titled "Nuclear Enhances Human Welfare" through medical care, food & agriculture, industry, electricity. IAEA Director of Div. of PI, Mr. Vidricaire's presentation was on "The Challenges of Nuclear Communication", while Mr. Adiwardojo, Deputy Chairman of BATAN, made a presentation titled "Nuclear Power Development in Indonesia ". The presentations were followed by Q&A and discussions involving PLs and media personnel. Here, PLs and media personnel recognized it effective that a research reactor and other facility were open to media personnel as a part of the efforts to provide information to them concerning the Indonesia 's nuclear energy plan. Also, the IAEA expert responded to a media question on the difference between nuclear power stations and nuclear weapons.
Open seminar with large turnout
On the third day (November 8), an open seminar for the public and relevant persons was conducted under the theme "Nuclear Energy for Development and Welfare", attended 110 participants including staff from BATAN, BAPETEN, media and other organizations. The seminar was opened with an address from Prof. Dr. Soedyartomo Soentono, Chairman of BATAN followed by a welcome speech of Dr. Irwan Bahar, the Ministry of Energy and Mineral Resources of Indonesia. Mr. Ratna Arianti, who is Director for New Renewable Energy and Energy Conservation, Directorate General of Electricity and Energy Utilization, Ministry of Energy and Mineral Resources, gave a lecture titled "Role of Nuclear Power for Sustainable Development of Indonesia". The lecture by Dr. Machi, FNCA CD of Japan, was on "Global Perspective of Nuclear Power - Energy Security and Control of Global Warming". Mr. Anhar Antariksawan, Director of the Center for Reactor Technology and Nuclear Safety, made a presentation on the "Implementation of Reactor Safety Towards the Preparation of NPP in Indonesia", while a member of the steering committee from Japan, Mr. Mitsuhiro Yokote (Executive Managing Director of Japan Atomic Energy Relations Organization (JAERO)) explained about the "The Present Status and Future Plan of Nuclear Power Plants in Japan", Vietnam's PL, Ms. Dang Thi Hong (Senior Expert, Division of Information and Training, Vietnam Atomic Energy Commission (VAEC)) conducted the lecture on "Nuclear Power Development in Viet Nam". The lecturers and participants engaged in Q&A with great zeal.
In Session 4, Mr. Yokote of JAERO presented the theme of "Construction of the Network of Websites of Asian Nuclear PR Facilities, Exhibition Halls and Visitor Centers ", followed by an opinion exchange time. As a result, it was recommended that the FNCA PI website should be contain the the profile of each country's relevant organizations, current news and event information, as well as building a network of information on Asian nuclear PR facilities and having it posted on the FNCA PI website.
In Session 5 regarding the "Response to Mass Media in the Field of Nuclear Power and Utilization of Radiation", Mr. Kubo of JAEA made a presentation on active and close "Response to Mass Media in JAEA". He also introduced efforts such as seminars targeted mass media people, visitation of nuclear facilities, press releases on R&D achievements, quick response for the emergency and media training.
In Session 6 under the theme of "Cooperation of Nuclear Industry with Local Community", Mr. Yokote of JAERO and China PL, Ms.Gu Xin Ping (Deputy Director, News Center, China Atomic Energy Authority (CAEA) made presentations regarding the ir own countries' experiences.
In Session 7 on the 4th day (November 9), Mr. Kubo of JAEA lectured on the themes of "Construction of FNCA Network on PI of Nuclear Energy", "Exchange Program of DVD/Video on Nuclear Information", and "Awarding System of Nuclear Public Information Activities". The ensuing discussion was held on the strengthening of information exchange and partnership among FNCA countries through the FNCA network, and the use of visual tools such as DVDs and videos. Regarding the request from the Philippines and Vietnam to conduct PI training as part of FNCA's Asian Nuclear Training and Education Program (ANTEP), it was discussed that the possibility of use for the ANTEP system was considered for nuclear public information activities.
In the technical tour in the afternoon, participants visited the Radioactive Waste Management Technology Center in Serpong under the BATAN, and G.A. Siwabessy Multipurpose Research Reactor.
On the 5th day, the final day of the PLs Meeting (November 10), Session 8 was held, in which FNCA member countries exchanged opinions and conducted final discussions on the ir own countries' FNCA nuclear PI activities. The Minutes were then agreed and compiled, and the decision was adopted as a final.