The FNCA 2007 Project Leaders (PL) Meeting for Public Information on Nuclear Energy was held over five days from November 26 (Mon) to 30 (Fri), 2007 at Seri Pacific Hotel in Kuala Lumpur, Malaysia, hosted by the Ministry of Science, Technology and Innovation (MOSTI) of Malaysia, the Malaysian Nuclear Agency (Nuclear Malaysia), and the Ministry of Education, Culture, Sports, Science and Technology (MEXT) of Japan.
A total of 21 participants included officials from eight countries, Bangladesh, China, Indonesia, Japan, Malaysia, The Philippines, Thailand, Vietnam, and IAEA, and the FNCA Coordinator of Japan.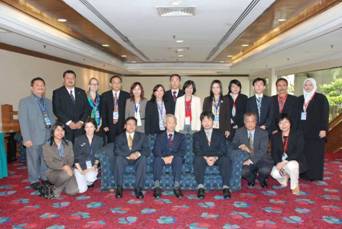 Participants of the FNCA 2007 Project Leaders Meeting
In the opening session on the first day of the meeting (November 26), Mr. Adnan Khalid, Coordinator of Malaysia and Senior Director (Management) of Nuclear Malaysia, gave a welcome speech, and said that Malaysia needs to secure energy, and that he thinks public acceptance is important for advancing the application of nuclear energy. And Dr. Machi, FNCA Coordinator of Japan (Advisor to the Ministry of Education, Culture, Sports, Science and Technology), gave a speech and emphasized that accurate information about nuclear energy is necessary for promoting the public acceptance of nuclear energy.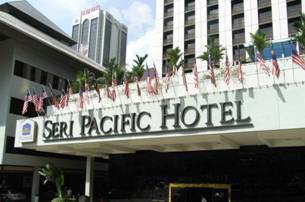 Venue of the PLM for public information on nuclear energy Seri Pacific Hotel (Kuala Lumpur)
In Session 1, project leaders presented country reports of each country, introducing activities related to public information (exhibition, seminar, lecture, event, meeting etc.), and the latest information etc. in FNCA countries. Dr. Machi introduced the results of the Seventh Ministerial Level Meeting in Kuantan, Malaysia, on November 2006 and others, and Mr. Minoru Kubo, the project leader for public information from Japan, reported the public information activities of FNCA.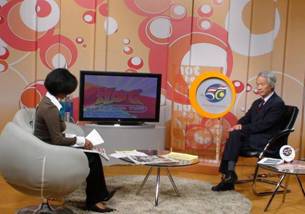 Venue of the PLM for public information on nuclear energy Seri Pacific Hotel (Kuala Lumpur)
Meanwhile, the interview with Dr. Machi was broadcast live on the television program Hello on Two at 8:15 a.m. on November 26 in Malaysia. He spoke about the significant contribution of nuclear energy to energy security and the fight against climate change.
As part of the program for this as well as the last PLM, training for nuclear communicators was arranged by the IAEA, and project leaders from each country attended for the purpose of reference to future public information activities. In Session 2, the IAEA program was explained. And in session 3, a training program on the challenges for nuclear communicators drawn from the experience of the IAEA was carried out.
In Session 4, the Three Year Plan (FY2005 to FY2007) of the FNCA project for public information on nuclear energy was reviewed and discussed. A number of opinions were given in the discussion, for instance, FNCA's website should be improved, its use should be encouraged and it should be provide new information, such as introducing the facilities for public information on nuclear energy (exhibition pavilions and visitor centers) in Asia, and expectations for the Regional Speakers Bureau (RSB) are high. Moreover, there was a proposal in the discussion that it is desirable to conduct a public opinion poll in countries where the introduction of nuclear power generation is being considered and to share the results of the poll with other FNCA countries in the project for public information on nuclear energy. As for the ANTEP, a program for human resource development, it was said that all FNCA countries should notify the specific areas of training and the names of trainees. It was agreed that the next PLM would be hosted by the China Atomic Energy Agency (CAEA).
A scene of a training for public information by IAEA
Participants were seeking to improve their communication skills by checking their presentation recorded with a video camera.
First in Session 5, Dr. Daud Mohamad, Director General of Nuclear Malaysia, delivered a speech, stating, "We welcome project leaders for public information on nuclear energy from each country. You are on an important mission to tell the public about nuclear technology." After this, participants reviewed DVDs/videos and posters/pamphlets.
In this session, DVDs, posters, and pamphlets, brought by project leaders from each country, were screened or circulated, and participants made comments and proposals on them. It was the first time for participants to review real publicity materials of other countries, and this program was well received. They assessed it as very useful for future public information activities to have been able to advance the sharing of information and knowledge about public information activities through the exchange of valuable opinions, and hoped that it would be continued.

A scene of a forum opened to the public (on November 29))
Dr. Machi, FNCA Coordinator, the PLs of China, Korea, and Japan, and the delegate of the IAEA gave lectures to the public in Malaysia.

DVDs for publicity that PLs of each country brought were screened.
Participants exchanged their opinions while watching publicity DVDs that PLs brought from each country. As they had had little opportunity to watch the publicity videos of other countries, this activity was well received and it is hoped it will be continued.
On November 29, an open forum on nuclear energy was held at the Putra World Trade Center in Kuala Lumpur, attended by about 100 people, including government officials, delegates from private corporations, academic societies, NGOs, and the media. Hosted by Dr. N. Khair, Deputy Director of Nuclear Malaysia, as Chairman of the forum, Dr. Machi, FNCA Coordinator of Japan, gave a speech titled "Energy Demand and Supply in Asia Present Situation and Outlook: Roles of Nuclear Energy;" a delegate of the IAEA gave a speech on the activities of the IAEA; and delegates of Japan, Korea, and China gave speeches focused on the present situation and the outlook for public acceptance in each country.
A technical tour of the facilities of Nuclear Malaysia was conducted in the afternoon of November 29, and participants visited irradiation facilities, including SINAGAMA, and polymer facilities in Malaysia.
Technical tour of the facilities of Nuclear Malaysia
Participants visited a site of radiation processing of natural polymer using electron accelerator, among others. The facilities develop sago hydrogel for wound dressing and biofilm for packaging.