FNCA2008 Project Leaders Meeting of Public Information of Nuclear Energy (PLM) was held for 5 days from November 10 to 14, at ZIYU Hotel in Beijing, China, hosted by China Atomic Energy Authority (CAEA) and Ministry of Education, Culture, Sports, Science and Technology of Japan (MEXT). The participants were from Bangladesh, China, Indonesia, Japan, Malaysia, Philippine, Thailand, Vietnam and International Atomic Energy Agency (IAEA).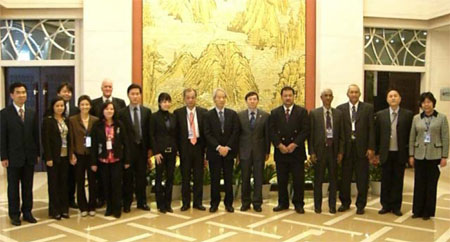 Participants of PLM
1. Outline of PLM
PLM aimed to enhance public understanding of nuclear energy and nuclear science and technology, through information exchange about public information activities conducted in each member country. Therefore, country report which covered public information activities in FNCA member countries (exhibition, seminar, lecture, meeting, special event etc) and updates on nuclear-related topics, among others, as well as last year.
Finishing previous 3 years work plan in last year (2007), Project Leaders (PLs) of the project had to discuss about new 3 years work plan in this meeting. As the new activity, public opinion survey was proposed last year. So PLs reported public opinion survey on nuclear energy which had been already conducted in each country, and considered pros and cons of conducting public opinion survey, survey method and object people. After all, PLs decided to conduct public opinion survey. It is decided that each country will submit plan of 10 questionnaires to FNCA secretariat. FNCA secretariat will organize the questionnaires gathered from member countries into 10 common questionnaires, which will be proposed in the 10th FNCA Coordinators Meeting, in order to obtain the permission.
2. Open Seminar
On November 11, the open seminar was held at Zixiayuan room of ZIYU Hotel. Dr. Sueo Machi,, FNCA Coordinator of Japan, Mr. Robert Ian Facer from IAEA, Mitsuhiro Yokote, Executive Managing Director & Secretary General of Japan Atomic Energy Relations Organization (JAERO), Mr. Song Gongbao, Director of Nuclear Fuel Cycle of CAEA and Mr. Shen Wenquan, Expert Committee of State Nuclear Power Technology Co. (SNPTC) were invited to the seminar as the lecturers. The audience was composed of PLs, local government staffs, staffs of nuclear related company and mass media. After the presentation, the audience issued various questions to lecturers and there were very good interaction.
| | |
| --- | --- |
| Lecturers of the seminar | Audience of the seminar |
3. Technical Tour
From the afternoon of 11th, participants of the seminar including PLs had a technical tour to visit experimental fast reactor in China Institute of Atomic Energy (CIAE). Being explained about construction of the reactor, participants visited upper section and control room of the reactor.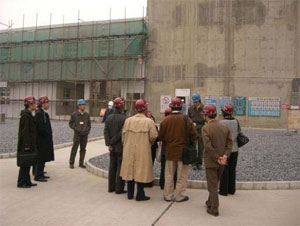 Technical Tour to CIAE
4. Nuclear Communicators Training by IAEA
On November 12, Nuclear Communicators Training by Mr. David Ropeik, Instructor of Harvard University who was dispatched by IAEA was held. PLs joined the training. At the beginning, Mr. Ropeik explained why people are afraid of nuclear. Following that, case study was conducted assuming the participants as senior officials of imaginary nation which is planning to introduce nuclear power. Participants learned effective method of public information in the supposed situation, such as, to whom, how kind of information should be transmitted.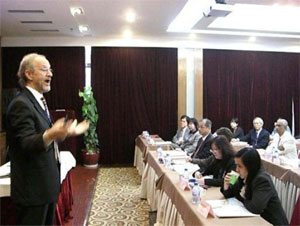 Nuclear Communicators Training by IAEA
5. Reviewing DVD, Poster/Pamphlet for public information
Each country introduced DVD, poster/pamphlet made by related organization/company for the purpose of public information, as well as novelties.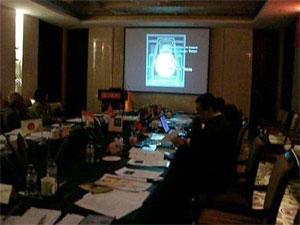 Reviewing Japanese DVD provided by TEPCO