Report of
FNCA2008 Workshop on
Radiation Safety and Radioactive Waste Management (RS&RWM)
November 3 - 7
Sydney, Australia
---
FNCA2008 Workshop on the Radiation Safety and Radioactive Waste Management(RS&RWM)was held in Sydney Australia from November 3 to 7, 2008, hosted by the Ministry of Education, Culture, Sports, Science and Technology (MEXT) of Japan and the Australian Nuclear Science and Technology Organisation (ANSTO), as a local host organization, in cooperation with the Nuclear Safety Research Association (NSRA) of Japan. Thirteen specialists on this field attended the Workshop and had an information exchange and discussion about radiation safety and radioactive waste management.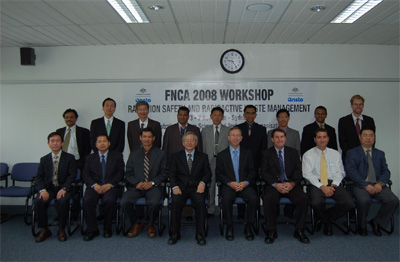 Dr. Ron Cameron (ANSTO)
Coordinator of Australia

Prof. Toshiso Kosako
(the University of Tokyo)
Project Leader of Japan
1) the Outline of the workshop
As a new project, the FNCA Radiation Safety and Radioactive Waste Management (RS&RWM) project superseded the Radioactive Waste Management (RWM) project, which started in 1995 and have been lead to promotion of good comprehension at the technical viewpoint among FNCA countries. The new RS&RWM project started in 2008 with an aim for enhancing the safety concerning radiation safety and radioactive waste management in Asian area through such activities as exchanging and sharing various precious information and experiences in this fields among participating countries. The main activity of this project is to hold a workshop every year that is expected to be held among participating countries in turn.
This workshop is the first one titled Radiation Safety and Radioactive Waste Management, and thirteen specialists from eight countries took part in the meeting; Australia, Bangladesh, China, Indonesia, Japan, Malaysia, Thailand and Vietnam. The specialists who are in charge of Radiation Safety and/or Radioactive Waste Management made information and experiences exchange through providing country reports, sub-meetings, round table discussion on various themes such as decision making, regulation, operation, R&D and so on. Additionally ANSTO kindly provided a technical visit to the ANSTO facilities.
2) the Outline of the Workshop
i) Time: November 3-7, 2008
ii) Place: Sydney Australia
iii) Sponcor: ANSTO and MEXT
iv) Participation: Australia2, Bangladesh1, China1, Indonesia1, Japan4, Malyasia1, Thailand2 and Vietnam1; total 13 (see attached file)
v) Schedule: See attached file
On the first day, following the opening remarks from Mr. Lubi Dimitrovski (ANSTO & Project Leader of Australia), Dr. Ron Cameron (Acting CEO ANSTO & FNCA Coordinator) presented the Opening Address. Then Professor Toshiso Kosako provided the Keynote FNCA Address as the Project Leader of Japan. Session 1 consisted of an explanatory lecture on the theme of Radiation Safety Principles provided by Dr. Toshiso Kosako. In Session 2, the country reports were presented on the present status and progress in radiation safety and radioactive waste management in each FNCA country. At the end of Session 2 a Poster/Mini-Exhibition was held to facilitate enhancement and understanding of the relative important activities in RS & RWM among the FNCA countries.
A Scene of Session 1
Presentation by Professor Kosako
Dr. Toshiso Kosako made a presentation as basic information on Radiation Safety and each country reports were delivered.

A Scene of Poster Session
Presentation by Mr. Oumi
Mr. Tadashi Oumi showed actual practices at the Japanese nuclear power plants.

A Scene of Poster Session
Presentation by Dr. Hattori
Dr. Takatoshi Hattori showed some example of radiation measurement in Japan and introduced the next AOCRP3, which will be held in Japan in 2010.

A Scene of Poster Session
Presentation by Mr. Kemp (ANSTO)
Mr. Duncan Kemp (ANSTO) showed some examples of Radioactive Waste Management and risk and security on orphan sources, and introduced the commissioning and operation of OPAL.
On the second day, Sessions 3 and 4 were presented. Session 3 provided country topics on specific radiation safety issues. Topics included examples and experiences in radiation measurements using personal dosimeters, decommissioning management involving mixed wastes (radioactive and asbestos), spent source disposal issues, dose constraint, and discharge limits determination. Session 4 focused on radioactive waste management within two specific themes. Theme 1 comprised of two presentations relating to siting of radioactive waste facilities and Theme 2 consisted of two presentations on specific safety issues relating to radioactive waste management. The Session 4 topics were voluntary and presented by Australia, Bangladesh, Thailand and Japan. After Session 4, a technical visit to ANSTO's waste operation facilities was conducted.
Dr. U. Youngchuay (TINT) and
Mr. D. Kemp (ANSTO)

Mr. Syahrir (BATAN) and
Mr. L. Dimitrovski (ANSTO)

Mr. M. Islam (BAEC) and
Mr. K. Fernando (ANSTO)
On the third day, a technical visit was made to the HIFAR & MOATA research reactors, both under various stages of decommissioning. Following this, ANSTO's Low Level Waste Storage Facility, the OPAL Reactor and Bragg Institute of ANSTO were also visited by the participants. The technical tour provided an insight into operational issues relating to radiation safety and radioactive waste management.
Drums for Low Level Solid Waste
Left : Concrete Blocks
Middle : Metallic Bulk (Non Compactable)
Right : Soft Waste (Compactable)

Drums for Low Level Solid Waste Inside of the Storage Building

Top of the HIFAR reactor
HIFAR was powered by 25 fuel elements each containing 280g of uranium.

Transfer Flask for spent fuel of HIFAR
Every four weeks, three or four spent elements are removed from the reactor using a specially designed transfer flask and put into a small pond adjacent to the reactor.
The Outline of the Regulation by ARPANSA
Dr. S. Sarkar (ARPANSA)
Session 6 consisted of a Round-Table discussion on 'Future cooperation with other international programs such as IAEA/ANSN and RCA/RAS9042' provided by all participants.
The "RS & RWM 3-Year Work Plan for 2008-2010" under the FNCA framework was discussed and successfully concluded.








| | |
| --- | --- |
| | |
| | Mr. J. Easey (ANSTO) |
Dr. John Easey, who is the Senior Adviser of ANSTO and who has been engaged in the international and regional liaison, gave his acknowledgment toward FNCA activities as a worthy international cooperation and showed his expectation on the making forward of the new titled project.







| | |
| --- | --- |
| | |
| | The overview by Professor T. Kosako |
All FNCA Project Leaders recognized the valuable technical discussions and networking opportunities provided by the FNCA RS & RWM Workshop. The benefits of this workshop included information exchange and the sharing of experiences on common radiation safety and radioactive waste management issues. The Project Leaders were unanimous in their support for the FNCA RS & RWM workshop and the need to sustain this cooperation to ensure that radiation safety and radioactive waste management issues are being continually addressed in this region. The participants noted a possible exchange of information between the FNCA and the ANSN.
Participants of this Workshop expressed their gratitude to the organizers, ANSTO, MEXT, and to the cooperation of NSRA.