Report of
FNCA 2016 Workshop on Nuclear Security and Safeguards Project

October 4-6, 2016
Yogyakarta, Indonesia
---
The FNCA 2016 Workshop on Nuclear Security and Safeguards Project took place in Yogyakarta, Indonesia on 4-6 October, 2016. This workshop was hosted by Nuclear Energy Regulatory Agency (BAPETEN) of Indonesia, National Nuclear Energy Agency (BATAN) of Indonesia, and Ministry of Education, Culture, Sports, Science and Technology (MEXT) of Japan.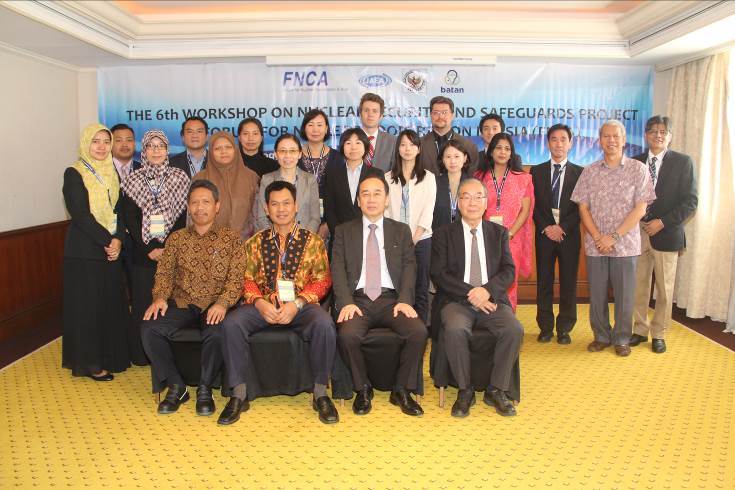 [Workshop]
The workshop was opened by the greeting from Mr. Hendig Winarno, Deputy Chairman for Nuclear Technology Utilization, National Nuclear Energy Agency (BATAN) of Indonesia, one of the host institutes of the workshop. He welcomed all the participants and expressed the expectation of the success of the workshop. He also explained about the activities and commitments of Indonesia related to the nuclear security and safeguards. Responding to this, Mr. Tomoaki Wada, FNCA Coordinator of Japan, expressed his appreciation as the FNCA coordinator to BAPETEN and BATAN for hosting this workshop. He also briefly explained the progress of the Nuclear Security and Safeguards Project since its establishment in 2011. The expectation of active contribution from the participants and follow up action from the 5th FNCA workshop was also expressed.
After the Opening Remarks, each Workshop member introduced him/herself. The 6th Workshop had total twenty four participants from nine countries and an international agency, including Bangladesh, Indonesia, Japan, Kazakhstan, Republic of Korea, Malaysia, Mongolia, Thailand, Vietnam and IAEA .
After the intoduction of the member, Mr. Masao Senzaki, Project Leader of Japan, Integrated Support Center for Nuclear Nonproliferation and Nuclear Security (ISCN) of Japan Atomic Energy Agency (JAEA) moderated the adoption of the agenda. It was proceeded by the review of action plan of the 5th workshop. The agenda of the Workshop was adopted by the participants; and the meeting with seven sessions was opened.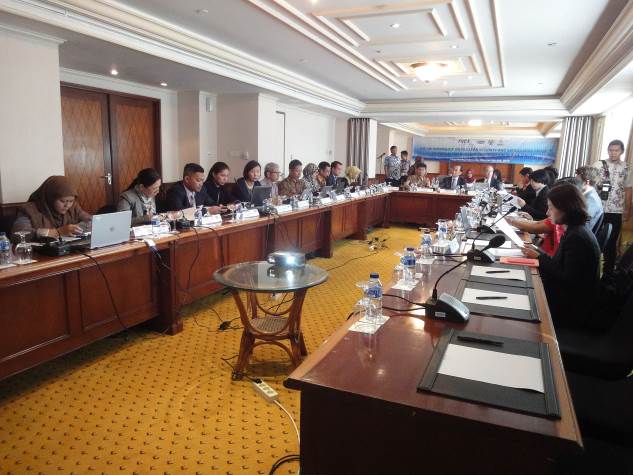 [Open Seminar]
The Open Seminar on Nuclear Security Capacity Building was held in the morning on 4 October. This seminar was co-organized by FNCA, ISCN/JAEA, BAPETEN, and BATAN.
[Technical Visit]
Technical visit was conducted at Kartini Research Reactor, BATAN.
---
Summary of
FNCA 2016 Workshop on Nuclear Security and Safeguards Project
October 4-6, 2016
Yogyakarta, Indonesia
---
Session 1&2: Country Report
Moderator:
Dr. Nguyen Nu Hoai Vi, Assistant to Director General, Vietnam Agency for Radiation and Nuclear Safety (VARANS) (Session 1);
Dr. Boonchawee Srimok, Nuclear Engineer, Bureau of Nuclear Safety Regulation Office of Atom for Peace (OAP) (Session 2).
A total of 9 FNCA member countries (Bangladesh, Indonesia, Japan, Kazakhstan, Malaysia, Mongolia, ROK, Thailand, and Vietnam) presented their country reports that included developments and improvements since the last Workshop regarding implementation of nuclear security and safeguards, nuclear security culture and capacity building activities.
All countries reported close cooperation with international or regional organizations and other countries to strengthen safeguards and security capacity. Almost all countries have taken initiatives to develop human resources on nuclear security and safeguards by organizing training courses, seminars, and workshops, with the cooperation of the IAEA and other countries and organizations.
The Summary of the country reports were covered in Session of Country Report Summary.
Session 3: Roundtable discussion on Nuclear Forensic
| | |
| --- | --- |
| Moderator: | Ms. Naoko Noro, Researcher, Integrated Support Center for Nuclear Nonproliferation and Nuclear Security (ISCN), Japan Atomic Energy Agency (JAEA) |
Presentations by Japan, Malaysia, and Thailand
Mr. Hirofumi Tomikawa (Japan)
Mr. Zul Helmi Bin Ghazali (Malaysia)
Dr. Boonchawee Srimok (Thailand)
Mr. Tomikawa started his presentation by identifying the importance of nuclear forensics in a State's nuclear security regime. As one of the leading country with nuclear technology, Japan made commitment at the Nuclear Security Summit to contribute to the international nuclear security by establishing accurate and precise capabilities in nuclear forensics. Mr. Tomikawa shared experience of Japan Atomic Energy Agency (JAEA) to develop nuclear forensics analysis technologies such as impurity measurement, isotope ratio measurement, particle analysis, and uranium age determination. He also shared JAEA's experience of developing nuclear forensics libraries. Prototype of the JAEA's nuclear forensics library consists of nuclear fuel cycle database with information on nuclear fuel production and cycle process, and sample and analysis database with information on sample analysis.
Mr. Tomikawa referred to the 2016 Washington Summit calling for the promotion of nuclear forensics capability, and emphasized the importance of building a network of nuclear forensics in the Asian region for enhancing nuclear security capabilities in the region.
Mr. Zul Helmi introduced an overview of the nuclear forensics activities in Malaysia. Since nuclear forensics is a relatively new topic to Malaysia, it has just started to develop capability on nuclear forensics with the international support. Malaysia is planning to establish a nuclear forensics laboratory with collaboration with the IAEA, and invited the Agency's Expert Mission on Assessment of Malaysia Capability on Nuclear Forensics in 2016. IAEA's Mission outlined the suggested sequences for laboratory techniques and methods, and mapped the analytical tools for Malaysia. Mr. Zul Helmi identified the importance of the international support for Malaysia to build its capacity on nuclear forensics.
Dr. Srimok introduced the nuclear forensics activities of Thailand. With the support of the international and domestic partners, Office of Atoms for Peace (OAP) of Thailand has been strengthening nuclear security capability of the domestic stakeholders. There were various training courses available for the frontline officers. OAP has also developed the Nuclear Forensics Library in 2014, with the support of the IAEA and the European Commission. Through these activities, OAP has forged a strong national network of stakeholders, raised awareness on the nuclear forensics, and contributed to the national capacity building on the topic.
The roundtable discussion began with Mr. Tomikawa's proposals. Mr. Tomikawa suggested that the FNCA should ask questions why it should collaborate on nuclear forensics under this framework and on what specific topics it should collaborate. Mr. Tomikawa listed some proposals for collaboration in a long-term perspective, starting from sharing the information among the member states by using questionnaires to identify the current status in each country, and then developing an action plan from that information. Some participants identified several challenges to build and enhance nuclear forensics capabilities, including urgent need for infrastructure and equipment development, difficulty of transferring nuclear materials for analysis, lack of training, and difficulty in developing the national nuclear forensics library. The participants agreed to share experience and good practices among themselves to tackle those challenges. A participant discussed that it is not necessary for every state to develop its own nuclear forensics laboratory, but at least FNCA should discuss the mechanism on collaboration on nuclear forensics in the region. One also pointed out that radioactive material use is higher than that of nuclear material in the region, and it is important to raise awareness on nuclear forensics even before start discussing the collaboration in FNCA, and suggested to hold a workshop or seminar on the issue.
Session 4: Management of Radioactive Sources regarding Nuclear Security (including Interface with Nuclear Safety)
| | |
| --- | --- |
| Moderator: | Dr. Abid Imtiaz, Principal Scientific Officer, Nuclear Safety, Security and Safeguards Division, Bangladesh Atomic Energy Commission (BAEC) |
Presentations by IAEA, Kazakhztan and Mongolia
Mr. Rene Schlee(IAEA)
Mr. Alexandr Ossintsev(Kazakhstan)
Ms. Gerelmaa Gombosuren(Mongolia)

Summary:
IAEA's efforts towards management of radioactive sources regarding nuclear security were briefly presented by Mr. Schlee at the beginning of the session. Confirmed illicit trafficking incidents during the period of 1993-2016 were presented. Conceptual development of security of nuclear materials and associated facilities was presented. Development of guidance documents related to nuclear security was also discussed in detail during the presentation. IAEA has developed an E-learning module covering radiation source and usage. IAEA continues to organize training courses, workshops on radiation source security and security management. IAEA also provides peer review services, i.e., IPPAS to help MS improve the nuclear security status and improved physical protection focused on sources in use, storage and disused sources. The presentation was concluded with the updated list of upcoming IAEA's events related to nuclear security.

Mr. Ossintsev presented the introduction, history and current status of Semipalatinsk Nuclear Test Site (STS). Elimination of WMD test consequences has been accomplished.

Ms. Gombosuren presented reports on Management of Radioactive Sources Regarding Nuclear Security in Mongolia. Nuclear Energy Commission (NEC), responsible for drafting rules and regulations, and General Agency for Special Inspection (GASI), responsible for carrying out inspection, are working together towards ensuring security to and protection of the radioactive sources in the country. Mongolia has a good number of Portal Monitors installed at various strategic locations of the country. Mongolia is also working in cooperation with US DoE for the upgradation of the PPS to the radiation facilities in the country.
Session 5: Safeguards Awareness and Capacity Building Efforts for Operators
| | |
| --- | --- |
| Moderator: | Mr. Zul Helmi Ghazali, Senior Assistant Director, Policy and External Affairs, Atomic Energy Licensing Board (AELB) |
Presentation by Bangladesh, Indonesia and Vietnam
Dr. Abid Imtiaz (Bangladesh)
Mr. Agus Sunarto (Indonesia)
Dr. Nguyen Nu Hoai Vi (Vietnam)

The summaries of the presentation are as follows:
Dr. Imtiaz explained their regulations relating to the safeguards activities in Bangladesh. Currently they have one Research Reactor (RR) 3 MW TRIGA MK-II and Radioisotope Production Laboratory. He explained about safeguard activities in Bangladesh such as 19.7% LEU fuel elements in the core of RR, Depleted Uranium (DU) as shielding material teleteraphy machine and others. All their record materials and current safeguards activities are fully in compliance with IAEA requirement. They use to send safeguards report annually to IAEA by December each year.
BAEC did not have specific safeguard awareness and capacity building program for operator, mostly they only have a program for safety and security awareness program and will interact to safeguard area. In the context of country first NPP Construction, they acknowledge the need for the strengthening of capacity building for both operator and regulator.
Mr. Sunarto explained the historical of safeguards in Indonesia. They have lot of requirement to follow as stated in legal basics. Implementation of safeguards is a must in Indonesia. Indonesia has 3 RR in Serpong, Bandung and Yogyakarta. Every KMP have 1 safeguard operator which is total responsible to KMP. He also explained 4 aspects should be always reminded to facility operation.
Currently they conduct many training course (RTC, NTC) for safeguard awareness to operator and regulators to strengthen their capability in safeguards area.
Indonesia are very efficient in safeguards capacity building effort to operator. There are lot of program for operators and supervisors in 2015 and 2016. They start using reporting system (QCVS) in 2016. Indonesia also develops Safeguards Implementation Teamwork (including Apprentice Safeguard Officer) yearly and develops Safeguards Systems for Experimental Power Reactor (Pebble Bed Reactor) in 2016
In conclusion, safeguards awareness will establish a better communication and cooperation between nuclear installation operators and SG Officers while capacity building will enhance safeguards knowledge and skill to nuclear installation operators and SG Officers. Both of them are important aspects to conduct a better safeguards implementation.
Dr. Vi gave information about Vietnam Safeguards Commitment and Safeguards Regulatory Structure. They conduct lot of safeguard awareness program in such as National Seminar on Additional Protocol to Vietnam Safeguard Agreement, Expert Mission on Peaceful use of Nuclear Energy and Non Proliferation, Develops materials for AP outreach activities and outreach activity to Universities in Hanoi and Ho Chi Minh City. All the program mostly cooperates with international agencies like INSEP/USDOE, IAEA, JAEA, Australia and Japan
In capacity building to operators, Vietnam already conducted workshop / training course of accounting report to operators and AP declaration using Protocol Report. They prepare many program to strengthen their capacity building program. Lastly capacity building for operator is very important because it will provide awareness what operator have to be complied and to help them to provide complete and correct information.
Country Report Summary
Presenter:
Mr. Bambang Tri Purnomo, Directorate of Installatioon and Inspection, Nuclear Energy Regulatory Agency (BAPETEN)
Mr. Purnomo summarized the country reports resented in the Session 1 and 2 of the workshop. The Summary is attached to this report as "Country Report Summary." The updated Country Report Summary will be posted on the FNCA website.
Session 6: Roundtable discussion on Future Plan Activities of Nuclear Security and Safeguards Project
Moderator:
Mr. Masao Senzaki, Project Leader of Japan, ISCN/JAEA
Mr.Senzaki started his presentation by showing the result of the survey for the future plan of this project. Then he asked participants for some clarification of each topics of the survey. The action plan for the next 3 years will be drafted by Mr. Senzaki and will be distributed to the members in November, 2016.
Session 7: Concluding Session
Summary of the Workshop was introduced by Ms. Mizuki Hirai of ISCN/JAEA and Mr Purnomo. It will be distributed to the participants for confirmation.
Mr. Senzaki and Mr Totti Tjiptosumirat, Head of Law, Public Relation and Cooperation Bureau, BATAN, delivered closing remarks and the Workshop was officially closed.
Attachment
---

Program of
FNCA 2016 Workshop on Nuclear Security and Safeguards Project

October 4-6, 2016
Yogyakarta, Indonesia
---
Open Seminar: October 4, Tuesday
9:30-9:45
Opening remarks by:
- Indonesia, as a Host Country, Mr. Jazi Eko Istiyanto, Chairman of Nuclear Energy Regulatory Agency (BAPETEN) of Indonesia
- FNCA's Representative, Mr. Masao Senzaki, Project Leader of Japan, ISCN/JAEA
- ISCN's Representative, Mr. Hirofumi Tomikawa, General Manager, ISCN/JAEA
9:45-10:25
Session 1: Overview
- Overview and Progress of FNCA (Mr. Tomoaki Wada, FNCA Coordinator of Japan) PDF 1.23MB
- Seminar Objective: Sustainable Development of Nuclear Security Capacity: Human Resource Development (Ms. Naoko Noro, ISCN/JAEA) PDF 677KB
10:25-10:45
Coffee Break
10:45-11:45
Session 2: Panel Discussion; Effective Capacity Building Activities: Role of the COE/NSSC
< Moderator: Mr. Masao Senzaki >
- Indonesia (Mr. Sudi Ariyanto, BATAN) PDF 2.03MB
- Japan (Ms. Mizuki Hirai, ISCN/JAEA) PDF 1.67MB
- ROK (Ms. Hyewon Shim, KINAC) PDF 2.83MB
11:45-12:00
Closing Remarks
- FNCA's Representative, Mr. Masao Senzaki, Project Leader of Japan, ISCN/JAEA
- Indonesia, as a Host Country, Mr. Budi Rohman, Director of Nuclear Material and Installation Inspection, BAPETEN
Workshop Day 1: October 4, Tuesday
| | |
| --- | --- |
| 13:30-16:00 | Technical Visit |
| | - Kartini Research Reactor, BATAN |
Workshop Day 2: October 5, Wednesday
| | |
| --- | --- |
| 9:30-10:20 | Opening remarks by: |
| | - Indonesia, as the Host Country, Mr. Hendig Winarno, Deputy Chairman for Nuclear Technology Utilization, National Nuclear Energy Agency (BATAN) of Indonesia |
| | - FNCA's Representative, Mr.Tomoaki WADA, FNCA Coordinator of Japan |
| | Introduction of Members |
| | Adoption of the Agenda |
| | Group Photo |
| 10:20-10:40 | Coffee Break |
| 10:40-11:40 | Session 1: Country Reports I |
| | < Moderator: Vietnam > |
| | - Bangladesh |
| | - Indonesia |
| | - Japan |
| | - Kazakhstan |
| 11:40-13:15 | Lunch Break |
| 13:15-14:30 | Session 2: Country Reports II |
| | < Moderator: Thailand > |
| | - Malaysia |
| | - Mongolia |
| | - Republic of Korea (ROK) |
| | - Thailand |
| | - Vietnam |
| 14:30-15:00 | Coffee Break |
| 15:00-16:30 | Session 3: Roundtable Discussion on Nuclear Forensics |
| | < Moderator: Japan > |
| | *Presentation: |
| | - Japan |
| | - Malaysia |
| | - Thailand |
| | *Round Table Discussion: All |
Workshop Day 3: October 6, Thursday
| | |
| --- | --- |
| 9:30-10:35 | Session 4: Management of Radioactive Sources regarding Nuclear Security (including Interface with Nuclear Safety) |
| | < Moderator: Bangladesh > |
| | *Presentation: |
| | - IAEA |
| | - Kazakhstan |
| | - Mongolia |
| | * Q & A |
| 10:35-10:55 | Coffee Break |
| 10:55-11:45 | Session 5: Safeguards Awareness and Capacity Building Efforts for Operators |
| | < Moderator: Malaysia > |
| | *Presentation: |
| | - Bangladesh |
| | - Indonesia |
| | - Vietnam |
| | * Q & A |
| 11:45-13:15 | Lunch Break |
| 13:15-13:45 | Country Report Summary: Indonesia |
| 13:45-14:15 | Session 6: Roundtable Discussion on Future Plan Activities of Nuclear |
| | Security and Safeguards Project |
| | < Moderator: Mr Masao Senzaki > |
| | *Round Table Discussion: All |
| 14:15-15:45 | Coffee Break (Summary Drafting : Indonesia and Japan) |
| 15:45-16:45 | Session 7: Concluding Session |
| 16:45-16:55 | Closing Remarks |
| | - FNCA's Representative, Mr. Masao Senzaki, Project Leader of Japan, ISCN/JAEA |
| | - Indonesia, as a Host Country, Mr Totti Tjiptosumirat,Head of Law, Public Relation and Cooperation Bureau, BATAN |
---

List of Participants
FNCA 2016 Workshop onNuclear Security and Safeguards Project

October4-6, 2016
Yogyakarta, Indonesia
---
Bangladesh
Dr Abid Imtiaz
Principal Scientific Officer, Nuclear Safety, Security and Safeguards Division,
Bangladesh Atomic Energy Commission(BAEC)
Dr Nasrin Begum
Senior Medical Officer
Institute of Nuclear Medicine and Allied Sciences, Rajshahi,
Bangladesh Atomic Energy Commission(BAEC)
Indonesia
Mr Hendig Winarno
Deputy Chairman for Nuclear Technology Utilization,
National Nuclear Energy Agency (BATAN)
Mr Totti Tjiptosumirat
Head of Law, Public Relation and Cooperation Bureau,
National Nuclear Energy Agency (BATAN)
Mr Agus Sunarto
Deputy Director of Nuclear Fuel Technology Center
National Nuclear Energy Agency (BATAN)
Mr Khairul
Manager of Center for Security Culture and Assessment / Senior Nuclear Security Officer National Nuclear Energy Agency (BATAN)
Dr Sudi Ariyanto (open seminar)
Head of Center (Director), Education and Training Center
National Nuclear Energy Agency (BATAN)
Mr Jazi Eko Istiyanto (open seminar)
Chairman of Nuclear Energy Regulatory Agency (BAPETEN)
Mr Budi Rohman
Director of Nuclear Material and Installation Inspection,
Nuclear Energy Regulatory Agency (BAPETEN)
Mr Bambang Tri Purnomo
Staff of Directorate of Installation and Nuclear Material Inspection,
Nuclear Energy Regulatory Agency (BAPETEN)
Ms Desy Triana
Staff of Directorate of Installation and Nuclear Material Inspection,
Nuclear Energy Regulatory Agency (BAPETEN)
Mr Deshinta Indirani
Staff of Directorate of Installation and Nuclear Material Inspection,
Nuclear Energy Regulatory Agency (BAPETEN)
Japan
Mr Tomoaki Wada
FNCA Coordinator of Japan
Mr Shoji Kasuga
International Nuclear Cooperation Division, Research and Development Bureau,
Ministry of Education, Culture, Sports, Science and Technology (MEXT)
Mr Masao Senzaki
Senior Fellow
Integrated Support Center for Nuclear Nonproliferation and Nuclear Security (ISCN),
Japan Atomic Energy Agency (JAEA)
Mr Hirofumi Tomikawa
Integrated Support Center for Nuclear Nonproliferation and Nuclear Security (ISCN),
Japan Atomic Energy Agency (JAEA)
Ms Naoko Noro
Integrated Support Center for Nuclear Nonproliferation and Nuclear Safety (ISCN),
Japan Atomic Energy Agency (JAEA)
Ms Mizuki Hirai
Integrated Support Center for Nuclear Nonproliferation and Nuclear Safety (ISCN),
Japan Atomic Energy Agency (JAEA)
Ms Atsuko Takano
International Affairs and Research Department,
Nuclear Safety Research Association (NSRA)
Kazakhstan
Mr Alexandr Ossintsev
Head of Management Group, Department of Special Projects,
National Nuclear Center of the Republic of Kazakhstan (NNC)
Republic of Korea
Ms Hyewon Shim
Principal Researcher
Strategic Planning Division
Korea Institute of Nuclear Nonproliferation and Control (KINAC)
Malaysia
Mr Zul Helmi Bin Ghazali
Senior Assistant Director
Policy and External Affairs
Atomic Energy Licensing Board (AELB)
Mongolia
Ms Gerelmaa Gombosuren
Expert of International Contracts Implementation
Nuclear Energy Commission Government of Mongolia
Thailand
Dr Boonchawee Srimok
Nuclear Engineer
Bureau of Nuclear Safety Regulation
Office of Atoms for Peace(OAP)
Viet Nam
Dr Nguyen Nu Hoai Vi
Assistant to Director General
Vietnam Agency for Radiation and Nuclear Safety (VARANS)
IAEA
Mr Rene Schlee
Associate Radioactive Material Officer
Division of Nuclear Security
International Atomic Energy Agency (IAEA)