Report of
FNCA 2014 Workshop on Nuclear Security and Safeguards Project

November 5-7, 2014
Daejeon, Republic of Korea
---
The FNCA 2014 Workshop on Nuclear Security and Safeguards Project took place in KINAC/INSA, Daejeon, Republic of Korea on 5-7 November, 2014. This workshop was hosted by Nuclear Safety and Security Committee (NSSC)/Korea Institute of Nuclear Nonproliferation and Control (KINAC) and Ministry of Education, Culture, Sports, Science and Technology (MEXT) of Japan. A number of international experts from countries of Asian and Pacific region, including one IAEA representative were convened for the workshop in order to share their experience and insights on nuclear safeguards and security.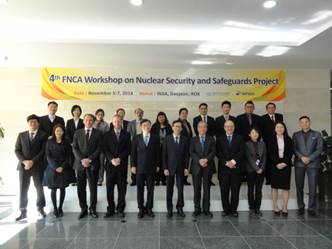 The representatives of 12 countries, Australia, Bangladesh, China, Indonesia, Japan, Kazakhstan, Malaysia, Mongolia, The Philippines, Republic of Korea, Thailand, and Vietnam, reported recent development and improvements in implementation of nuclear security and safeguards, nuclear security culture, status of relevant legal frameworks. All countries noted their cooperation with international or regional organizations and other countries to strengthen nuclear safeguards and security capacity. Most of the countries stated that they have taken initiatives to develop human resources on aforementioned areas by organizing training courses, seminars, and workshops, as appropriate, with the cooperation of the IAEA and other organizations.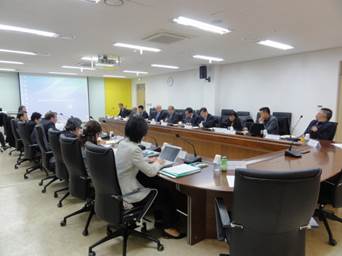 Throughout the workshop, enhancing nuclear security culture was emphasized. Efforts for promoting nuclear security culture of each country were shown as distributing video clips for personnel and managers; developing organizational polity and actions plans for nuclear facilities; and providing education and training for all levels of staffs in nuclear facilities.
Another issue underlined during the meeting was human capacity building in the area of nuclear nonproliferation and security. Centers of Excellence (COEs) were established in Korea, Japan, and Indonesia and one will be established in China next year. Thus, the experts focused on the future role of COEs and cooperation between them for effective and efficient education and training in nuclear security as well as nuclear nonproliferation.
The participants discussed on domestic legal framework for safeguards implementation. Especially they shared their views and best practice for coordination of obligations and responsibilities among regulatory authorities. They also reviewed domestic information security system and explained difficulties of performing nuclear information security and relationship between information security and transparency.
Several relevant international issues were introduced and discussed such as IAEA Safeguards Symposium held in October, 2014 and The Hague Nuclear Security Summit in March, 2014.
The participants agreed to share and update more information on their national nuclear security and safeguards. Inter alia, information security will be more focused in the next workshop for protecting confidential information. Various ideas of collaboration with APSN in 2015 were explored in order to avoid duplication or overlapping of the activities in nuclear safeguards and security.
After the Workshop, a technical visit was conducted at internal physical protection training & test facility, access control system, and central alarm station in INSA.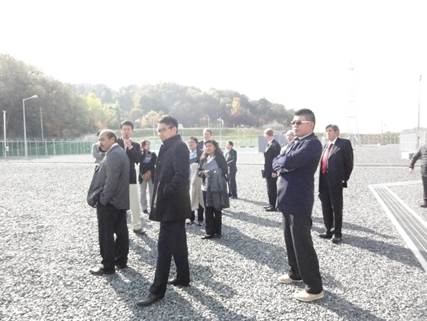 ---

Summary of
FNCA 2014 Workshop on Nuclear Security and Safeguards Project

Date: November 5-7, 2014
Venue: Daejeon, ROK
---
Session 1&2: Country Report
Moderator: Kazakhstan and Bangladesh

 A total of 12 FNCA member countries (Australia, Bangladesh, China, Indonesia, Japan, Kazakhstan, Malaysia, Mongolia, Philippines, ROK, Thailand, and Viet Nam) presented their country reports that included developments and improvements since the last Workshop regarding implementation of nuclear security and safeguards, nuclear security culture and capacity building.
 All countries reported close cooperation with international or regional organizations and other countries to strengthen safeguards and security capacity.
 Almost all countries have taken initiatives to develop human resources on nuclear security and safeguards by organizing training courses, seminars, and workshops, with the cooperation of the IAEA and other countries and organizations.
 Details of the country report are covered in Session 7.

Session 3: Roundtable discussion on SG domestic legal framework
Moderator: Malaysia
Presentations by Australia and Viet Nam
The summary of each presentation is as follows:
- Dr. Stephan Bayer (Australia) highlighted at the outset of his presentation that Australia had created a broad legislative foundation with the Nuclear Non-Proliferation (Safeguards) Act of 1987. This act regulates nuclear and nuclear-related activities across all sectors, private and public following the safeguards requirements established by the current international legal framework. This Act also establishes the position of Director of Safeguards who is appointed by the Governor-General and known as Director General ASNO. The functions of this position are also set-up by this act. The presentation also showed the responsibilities for each organization in safeguards, export controls and also nuclear policy. ASNO's current functions are:
  - Reporting of ICRs, PILs, MBRs
  - Additional Protocol Reporting Requirements
  - Facilitate the IAEA Inspections and Complementary Access
  - Attend General Conference - Safeguards Resolution
  - Australian Safeguards Support Program
  - Expert advice and consultancies for the IAEA guidelines etc.
  - Safeguards advice to Government
  - Operation of national permit system
  - Asia-Pacific Safeguards Network (APSN)
No changes are planned regarding the current legislative regulations.
- Mr. Luu Nam Hai (Viet Nam) introduced the Viet Nam safeguards national framework established in Prime Minister's DECISION No. 45/2010/QÄ?TTg, of June 14, 2010 on issuance of a Regulation on Nuclear Control Activities that provide for general requirements on safeguards. In this regulations there are several articles related to the separation of responsibilities for different authorities in Viet Nam.
The Nuclear control principles in Viet Nam stipulate that:

| | |
| --- | --- |
| - | Nuclear control activities shall comply with Viet Nam laws and the international treaties that Viet Nam has acceded to. |
| - | Nuclear control activities shall be performed on regular basis in a strict and continuous manner. |
| - | Nuclear control activities shall avoid undue interference in normal activities of organizations and individuals. |
 Articles 7-9 contain the responsibilities of each organization that are dealing with
safeguards-related activities. In Article 11, the requirement of International Inspector is identified. In Article 12, the responsibilities of MOST are identified. VARANS is the responsible authority to provide reports on SG to MOST in Viet Nam. Then, MOST reports to the IAEA

Confirmation of Discussion Points and Roundtable Discussion
 Mr. Jaime Alejandro Vidaurre (Japan) suggested the discussion points by giving details about the issues aroused in countries on the responsibilities among public organizations regarding SG implementations and how to overcome the redundancies in ministerial responsibilities.
  There were 4 countries that spoke about their experiences to overcome the issues on SG implementation in their countries, which were Australia, Japan, ROK and Indonesia. The main point of the discussions can be summarized as follows-
| | |
| --- | --- |
| - | Consultations among different authorities and policy making organizations with responsibilities related to safeguards could help the effective implementation of tasks resulting from safeguards agreements (and Additional Protocols) |
| - | Introducing a dedicated ambassador at the IAEA HQs is one of the options to help distribute responsibilities among authorities in member states. |
| - | Member countries could be encouraged to invite the leader of each organization for a coordination meeting to give advice about responsibilities' distribution among authorities. Moreover, the Country Leader such as the Prime Minister is the most suited authority to arrange the distribution of authority and responsibilities among organizations and to clearly identify their responsibilities. |
Session 4: IAEA SG Symposium
Moderator: China
Presentations by IAEA, Australia, and Bangladesh
The summary of each presentation is as follows:
- First, Mr. Davis Hurt, Head of the IAEA's Tokyo Regional Office, gave a presentation on the overview of the Symposium of International Safeguards: Linking strategy, implementation and people, which was held in the IAEA headquarters from 20 to 24 October, 2014. He also introduced the safeguards situation on Fukushima Daiichi Nuclear Power Plant. He presented the difficulty in verifying all the nuclear materials because of the accident, and described the new safeguards strategy tablished to maintain the confidence of non-removal of declared nuclear material. The long-term safeguards strategy is still under discussion. The possibility of losing some nuclear material as a consequence of the accident, and technical measures to verify the material were also discussed in this session.
- Dr. Stephan Bayer (Australia) gave a presentation on implementation practices of APSN related to establishing state safeguards infrastructure. He started by providing an overview of APSN, where he highlighted its objective, "to promote best practices in the Asia Pacific Region through enhanced cooperation in areas such as training, professional development and the sharing of experiences". Then he described the Australian presentation at the IAEA Symposium of October 2014 that dealt precisely with the same topic. The presentation was a snapshot of some questions on safeguards practices that were collected at APSN meetings in 2013 and 2014 on safeguards implementation practices (SIP) guides case studies. Activities were conducted by APSN working groups, including the sharing of experiences on safeguards implementation, practices, guides and case studies. APSN also delivered a poster presentation at the symposium. A discussion on the possibility of cooperation, and need to avoid duplication between APSN and FNCA on the aspect of nuclear security and safeguards took place during this session.
| | |
| --- | --- |
| - | Dr. Didarul Alam Chowdhury (Bangladesh) gave a presentation on the safeguards practices and future challenges for peaceful use of nuclear energy in Bangladesh. He introduced the achievements of nuclear energy development in Bangladesh, and the history and status of the Integrated Safeguards regime in Bangladesh. He also expressed the challenges for Bangladesh, not limited to but including establishment of national safeguards infrastructure, human resource development, enhancement of international cooperation, and e-learning program & e-trading program. |
Session 5: Nuclear Security Summit
Moderator: Mongolia
Presentation by ROK
The summary of the presentation is as follows:

-
First, Dr. Ho-Sik Yoo (ROK) explained structure, content and procedure of event of Nuclear Security Summit. First Nuclear Security Summit (NSS) was hosted in Washington DC in 2010, in order to draw attention, at the highest possible level, to the need to secure nuclear material and thus prevent nuclear terrorism. Forty-seven countries and three international organizations participated in the first summit. In 2012 the second NSS was held in Seoul. Fifty-three countries and four international organizations were invited. The first summit was concerned with making political agreements, while the follow-up in Seoul focused on the progress made on implementing those agreements. The third NSS was held in The Hague in 2014. Fifty-three countries (36 presidents and prime ministers) and 4 international organizations participated.
Second, the results and outcomes from The Hague Nuclear Security summit were explained, highlighting the development of international cooperation. Participating countries recognized the IAEA's central role in nuclear security and are supporting and making use of the Agency's efforts to enhance nuclear security worldwide. The amendment to the CPPNM is closer to entering into force and countries are actively aligning relevant legislation in order to ratify the amendment where necessary. More countries are requesting the IAEA peer-review missions, most notably IPPAS missions, to align physical protection of facilities with international guidelines and best practices. Participating countries recognized the importance of regional cooperation and support one another's efforts to enhance the security of facilities, conduct exercises or develop joint action plans.
-

The amended CPPNM must enter into force as soon as possible. Since the 2010 Summit, 19 NSS participants have ratified the amendment, of which seven have done so since the Summit in The Hague. Fourteen NSS countries reported that they were in the process of passing the necessary legislation. During the Summit in The
Hague, 33 countries committed to fully implement United Nations Security Council Resolution 1540 on the non-proliferation of Weapons of Mass Destruction and undertook to develop a national action plan.

-
Reducing the amount of dangerous nuclear material in the world The amount of dangerous nuclear material is steadily being reduced. Countries have down-blended Highly Enriched Uranium (HEU) to Low Enriched Uranium
(LEU), and use the LEU as fuel for power reactors. They have also converted research reactors to use LEU as fuel instead of HEU. Furthermore, countries have repatriated HEU to the country of origin, thereby reducing the number of locations that terrorist groups could target to obtain it. Leaders have reaffirmed their political commitment and have pledged to take further action to reduce the amount of nuclear material.
Since 2009, 12 countries worldwide (Austria, Chile, the Czech Republic, Hungary, Libya, Mexico, Romania, Serbia, Taiwan, Turkey, Ukraine and Vietnam) have removed all HEU from their territory. Fifteen NSS countries reported that they had repatriated HEU or plutonium or are in the process of doing so. Some NSS countries also assist other countries to repatriate HEU or plutonium. During the Summit in The Hague, 13 countries have subscribed to the HEU-Free Joint Statement. They underline the importance of HEU minimization and call upon all countries in a position to do so to eliminate all HEU from their territories in advance of the NSS2016.
Seventeen NSS countries have converted or are in the process of converting at least 32 of their own research reactors or medical isotope production facilities. NSS countries also assist other countries to convert their reactors. Nine NSS countries reported that they were researching and developing techniques that use LEU instead of HEU.
In The Hague Communique, leaders raised the bar by committing to minimize their stockpile of plutonium, in addition to minimizing HEU.
-
Improving the security of all nuclear material and radioactive sources Nuclear and other radioactive materials are used extensively in hospitals, industry and universities. Some of these places with radioactive materials are open to the public. Better securing these materials is one of the main objectives of the Nuclear Security Summit. In addition to better physical security, improving the security of sensitive information also helps to reduce the likelihood of a terrorist act with radiological or nuclear material. Installing radiation detection equipment will
increase the probability of getting caught when smuggling and this will decrease the likelihood of people trying to acquire the materials in the first place. In these areas the NSS participants have made progress, as set out in their National Progress Reports.
Human development capacity in the area of nuclear security has been another major concern in the NSSs. Great strides have been made with countering the smuggling of nuclear materials. 28 NSS countries stated they have installed (extra additional) radiological detection systems at ports or border checkpoints or have equipped mobile search teams with such systems since 2010. During the Summit in The Hague, 21 countries subscribed to the Gift Basket 'Counter Nuclear Smuggling'. These countries have either passed new laws regarding illicit trafficking or have committed themselves to do so. With regard to this Gift Basket, 14 States pledged to make available resources and training courses by 2016. Twenty-seven countries supported a Gift Basket on Nuclear Forensics. The Hague Communique set out a new goal to secure all radioactive sources, such as those used in industry, medicine, agriculture or research. Nuclear Forensics is also explicitly recognized as an effective nstrument warranting further development.
-
Many NSS countries already have training facilities in place. Twelve NSS countries reported that they had established a training centre for nuclear security. Eight more are currently constructing or establishing such a centre. Four more are considering the possibility of doing so. Twenty-two countries aim to further promote the
development of Nuclear Security Training Centres in the framework of a Gift Basket proposed in the Hague NSS.
-
During the session, participants shared their opinions on what nuclear security activities might follow the 2016 NSS.
Session 6: Nuclear Security Culture
Moderator: Thailand
Presentations by Japan and ROK
The summary of each presentation is as follows:

| | |
| --- | --- |
| - | Ms. Reina Matsuzawa (Japan) introduced Japan's effort on promoting nuclear security culture. Recognizing the importance of nuclear security culture, regulatory authority of Japan (Nuclear Regulation Authority: NRA) and operators together making efforts to promote the culture. First, regulatory requirements were established, which requires operators to have nuclear security culture promotion activities under regulations. Providing education for the staff, sharing information on nuclear security events, conducting pre-/post-education survey, self-assessment trials in annual PP inspections with NRA are the main activities made by operators. Also, NRA developed and provided a training video for promoting nuclear security culture. The video was introduced to the member states in the session. In addition, Japan has contributed to human resource development in Asia as well as domestic through activities of the ISCN. ISCN also contributes to operator's effort to enhance nuclear security culture by dispatching lectures to facilities and giving lectures on nuclear security. |
| - | Mr. Moonsung KOH (ROK) introduced steps to enhance nuclear security culture in ROK. The directions to NSC are: policy and guidelines for establishing and implementing NSC, efforts to encourage participation of all stakeholders in nuclear security, regular assessment for enhancing NSC, and continuous training and education. National Implementing Guide/Nuclear Security Culture Implementing Guide consists of Introduction, Concept of Nuclear Security Culture, and Implementing Guide. The organization policy and its statements are introduced. Based on the policy statement in December 2013, all organizations established action plans for education and training. For Assessment, Baseline Analysis (annual survey) has been implemented using questionnaires. The survey results showed NSC Awareness 80.7% (2012). Self-assessment uses index, verification and measurement method. Evaluation will be expected to be conducted in Dec. 2014. Workshops were also organized for increasing the awareness of nuclear security culture. |
| - | During the session, a question was raised on self-assessment methods done by Japan. The method for self-assessment trials were developed by NRA based on the IAEA self-assessment guidance to be published shortly. At this moment, no emphasized the importance of approaching to all the levels of personnel (from janitors to top-level managers) in aspect of nuclear security culture. Some questions were raised on survey on nuclear security culture conducted by ROK. |
Session 7: Country Report Summary
Presenter: Japan
1.
Independence of Regulatory Authority
 
 
Malaysia, Philippines, Thailand, Viet Nam: Developing acts to establish independent regulatory bodies
2.
Safeguards: Status of International Legal Instruments
 
 
No update.
3.
Safeguards: Improvements in Safeguards Implementation
 
 
Significant improvements were observed in most of the countries including introduction of new law and regulations, strengthening international cooperation, clear plan for future activities, etc.
4.
Security: Status of International Legal Instruments
 
 
ROK ratified CPPNM Amendment and Nuclear Terrorism Convention in 2014
5.
Security: Improvements in Nuclear Security Implementation
 
 
Steady progress in most of the countries: implementation/drafting of new laws and regulations, major upgrade of PP systems, enhanced international cooperation, etc.
6.
Nuclear Security Culture
 
 
Some countries hosted seminars/workshops by their own or with other initiatives, and some countries developed guideline on security culture.
7.
Capacity Building
 
 
Indonesia launched Iconsep. China and Kazakhstan's COEs are under construction. Philippines and Viet Nam are also considering establishing a COE in the near future.
The updated Country Report Summary will be posted on the FNCA website.
Session 8: Round Table Discussion on Information Security
Moderator: The Philippines
Presentation by Malaysia
The summary of the presentation is as follows:

| | |
| --- | --- |
| - | Mr. Mohd Zulfadli Ramlif (Malaysia) presented the e-permit system being implemented to their licensees. In addition to regulatory authority, other relevant organizations involved in the licensing process are also connected to the e-permit system. This system also includes export controls. Recognizing the fact that online application is vulnerable to any threat, security measures are implemented to the system. |
| - | Ms. Reina Matsuzawa (Japan) presented the importance of protecting critical information such as target facility, transportation, preventive and protective systems and vulnerability in the system. One of the measures is to protect the principle of "need to know basis" of information sharing. Sensitive information management should be applied. Some of the challenges in protecting critical information are in conflict between safety and security aspects, establishment of national legal requirements, lack of recognition of threat, limited resources and lack of nuclear security culture. |

Confirmation of Discussion Points and Roundtable Discussion
 - Biggest challenge in your country to establish/implement

Country
Comment/Recommendation
Bangladesh
- Lack of legal basis on secret information management
- Conflict between rights to know
Australia
- Legal barriers are in place for some states in Australia
- Consideration of social media tools which can spread information quickly to everywhere
China
- Nuclear Security Regulations are connected to State Secrets Law
- Network of physical protection systems should be physically separated from other networks
- Difficulty of information security for radioactive sources
Thailand
Adopted Act with one Article which states that no one can disclose the sensitive information related to nuclear activities except for the owner and competent authorities.

 - Criteria for classifying sensitive information


Country
Comment/Recommendation
Bangladesh
Classification of sensitive information is under preparation
Australia
- Classification manual should be made based on graded approach-consequence oriented or risk based.
- Sometimes one must be practical: need to consider "what if the information is not given to the personnel" especially in case of emergency
- Plan to create manual for classification of information

Japan
- Safety and emergency response people giving information can be given access to sensitive security information.
- Determine what sensitive information is open or not.
- Will take into account cybersecurity

China
- Security personnel support safety personnel during emergency response
Korea
Regulation document that classifies all general information (not only for nuclear)

 - Solve possible conflict between accountability and information security


Country
Comment/Recommendation
Japan
(J. Vidaurre)
Conflict of interest has no clear solution. Public opinion is very
forceful also, so nobody may succeed in this dilemma.
Australia
Internal problems must be managed
Session 9: Round Table Discussion on Human Resources
Moderator: Australia
Presentations by ROK, China, Japan, Indonesia, and Viet Nam
The summary of each presentation is as follows:

-
Dr. Kwan-Kyoo Choe (ROK) provided some background of KINAC and the NSSC as well as the role of these agencies in the ROK's nuclear regulatory framework. At the 2012 Seoul Nuclear Security Summit, President of ROK encouraged states to promote human resource development through education and training. In 2014, INSA was inaugurated to provide training and education for both domestic nuclear, public and international audiences. Dr. Choe elaborated the roles and activities of INSA, summarized the recent courses completed at INSA, escribed recent bilateral visits to Mongolia, Viet Nam and Myanmar, Indonesia and the Philippines and outlined prospective cooperation with other regional COEs in China and Japan.
He emphasized the value of the practical exchange of experiences, information sharing and mutual cooperation among regional COEs and described his vision for China, Japan and ROK to expand a common nuclear security culture in the region.
-
Mr. Shen Ning (China) gave a presentation on SNSTC being established at Changyang Science Park, 35 km away from Beijing,after China's president committed to establish a COE during the 2010 Nuclear Security Summit.
Construction is almost complete and full operation of the COE should take place in the 4th quarter of 2015. The COE will cover international exchanges and cooperation, education and training, technical demonstration and R&D, testing and certification, on the topics of nuclear material and control, physical protection and export control. The COE will treat domestic and international needs given the large number of reactors under construction in China and the corresponding strong need for training and related capacity building in the Asian region. SNSTC is also collaborating with universities for conducting courses in conjunction with the COE.
-
Mr. Masao Senzaki (Japan) outlined details on three areas of courses conducted at ISCN, namely Nuclear Security, Safeguards & SSAC and the International Nonproliferation Framework. He explained bilateral ooperation and international collaboration activities conducted by ISCN and strongly promoted the train-the-trainer model to help other countries become more independent in their training needs. The key future challenges were identified as: development of training tools, making bilateral and multilateral initiatives complementary, and coordination and harmonization of various capacity building initiatives. Mr. Senzaki outlined a range of initiatives and meetings already conducted for the cooperation between regional COEs.
-
Ms. Ms. Susilaningsih Medi Lestari (Indonesia) reported that BAPETEN's training unit reports directly to its Chairman. She also described the staff qualification and training & development program for BAPETEN junior and senior inspectors and the objectives and functions of Iconsep (Indonesia Center of Excellence Nuclear for Security and Emergency Preparedness).
-
Mr. Luu Nam Hai (Vietnam) introduced the HRD activities in Viet Nam. The Ministry of Education and Training is implementing a national project on human resource development on nuclear energy preparing for the nuclear power plants in Viet Nam. MOST takes responsibility for human resource development in nuclear safety, security and safeguards taking consideration for the development of regulatory bodies. Due to various factors, there is no current national infrastructure for domestic training and education program for nuclear security and safeguards in
Viet Nam and therefore it must rely on support from the IAEA and opportunities at other international training courses. A range of training and capacity building activities were conducted in Viet Nam in cooperation with the IAEA and other bilateral cooperation, including with the US DOE, JAEA and KINAC.

The summary of the discussion is as follows:
An open discussion focused on the need for cooperation regarding COEs. Some points made included:
 - The need for sustainability and consistency of COEs;
 - COEs important role beyond the 2016 Nuclear Security Summit;
 - The need for consistency of output of COEs;
 - How language barrier affects the functioning of COEs;
 - The need for transparency in COE activities and plans to assist coordination and the important role of the IAEA's
 - INSEN in this regard; and
 - How APSN, FNCA and other regional bodies could work with the COEs.

Action Plan for 2015

---

Program of
FNCA 2014 Workshop on Nuclear Security and Safeguards Project

November 5-7, 2014
Daejeon, Republic of Korea
---
Day 1: November 5, Wednesday

9:30-10:30
Opening remarks by:
- ROK, as a Host Country (Mr. Ham Jinju, Director, International Cooperation Division, Nuclear Safety and Security Committee(NSSC))
- FNCA's Representative (Project Leader of Japan, Mr. Masao SENZAKI, JAEA/ISCN)
Introduction of Members,
Adoption of the Agenda,
Group Photo
10:30-10:50
Coffee Break
10:50-11:50
Session 1: Country Reports Ⅰ
< Moderator: Kazakhstan >
- Australia
- Bangladesh
- China
- Indonesia
11:50-13:20
Lunch
13:20-15:20
Session 2: Country Reports Ⅱ
< Moderator: Bangladesh >
- Japan
- Kazakhstan
- Malaysia
- Republic of Korea(ROK)
- The Philippines
- Thailand
- Vietnam
15:20-15:40
Coffee Break
15:40-17:10
Session 3: Roundtable discussion on SG domestic legal framework
< Moderator: Malaysia >
Presentation: Australia and Vietnam
- Responsibility of each ministry under the legal framework for SG
Discussion : All
- Confirmation of discussion points by Japan
- Discussion on the difficulties to divide responsibilities among the ministries
- Discussion on how to overcome the interference of responsibilities
Day 2: November 6, Thursday

9:00-9:45

Session 4: IAEA SG Symposium
< Moderator: China >
Presentation: IAEA
- Report about the Symposium on International Safeguards
Presentation: Australia
- Report on the presentation "Implementation Practices in the Asia-Pacific Related to stablishing State Safeguards Infrastructure" from IAEA SG Symposium
Presentation: Bangladesh
- Report on the presentation "Safeguards Practices and Future Challenges for Peaceful Use of Nuclear Energy in Bangladesh" from IAEA SG Symposium

9:45-10:10

Session 5: Nuclear Security Summit
< Moderator: China >
Presentation: Republic of Korea
- Report from Hague Nuclear Security Summit
- QA

10:10-10:30
Coffee Break
10:30-11:40
Session 6: Nuclear Security Culture
< Moderator: Thailand >
Presentation: Japan
- Japan's effort on Prompoting Nuclear Security Culture
Presentation: Republic of Korea
- Steps to enhance Nuclear Security Culture in ROK
11:40-13:10
Lunch
13:10-13:30
Session 7: Country Report Summary: Japan
13:30-14:30

Session 8: Round Table Discussion on Information Security
< Moderator: The Philippines >
Presentation: Malaysia
- Management and Criteria of Information Security
Discussion : All
- Confirmation of discussion points by Japan
- Discussion on the difficulties to handle Sensitive Nuclear Security Information
- QA

14:30-14:50
Coffee Break
14:50-17:00

Session 9: Round Table Discussion on Human Resources
< Moderator: Australia >
Presentation: Republic of Korea, China, Japan, Indonesia and Vietnam
- Briefing on the COE and other framework
- Report on the 3 COEs Workshop in Washington
- Cooperation among COE in 2014
Discussion : All
- How to effectively cooperate
- Future plans for Human Resources Development and Cooperation

Day 3: November 7, Friday
8:30-9:00
Summary Drafting (ROK and Japan)
9:00-11:00

Session 10: Concluding Session
< Chair:ROK >
◆Lead Speaker : Mr. Masao SENZAKI, JAEA/ISCN
- Summary and conclusions
- Action plans for 2015

11:00-11:20
Closing remarks by:
- FNCA's Representative (Project Leader of Japan, Mr. Masao SENZAKI, JAEA/ISCN)
- ROK, as a Host Country (Dr. Ho-Sik Yoo, Vice President, Director General, Nuclear Nonproliferation Office, Korea Institute of Nuclear Nonproliferation and Control(KINAC) )
11:50-12:50
Lunch
13:00-14:30

Technical visit
- Internal Physical Protection Training & Test Facility
- Access Control System
- Central Alarm Station
---

Participants List of
FNCA 2014 Workshop on Nuclear Security and Safeguards Project

November 5-7, 2014
Daejeon, Republic of Korea
---
Australia
Dr. Stephan Bayer
Director
Nuclear Security Section
Department of Foreign Affairs and Trade
Australian Safeguards and Non-Proliferation Office (ASNO)
Bangladesh
Dr. Didarul Alam Chowdhury
Director
Nuclear Safety, Security and Safeguards Division
Bangladesh Atomic Energy Commission (BAEC)
China
Mr. Shen Ning
Associate Researcher
China National Nuclear Corporation (CNNC)
Indonesia
Ms. Susilaningsih Medi Lestari
Deputy Director for Safeguards Inspection,
Nuclear Energy Regulatory Agency (BAPETEN)
Japan
Mr. Masao Senzaki
Senior Fellow
Integrated Support Center for Nuclear Nonproliferation and Nuclear Security
Japan Atomic Energy Agency (JAEA)
Ms. Reina Matsuzawa
Research Fellow
Integrated Support Center for Nuclear Nonproliferation and Nuclear Safety
Japan Atomic Energy Agency (JAEA)
Mr. Jaime Alejandro Vidaurre
Invited Researcher
Integrated Support Center for Nuclear Nonproliferation and Nuclear Safety
Japan Atomic Energy Agency (JAEA)
Ms. Yuki Matsuda
Integrated Support Center for Nuclear Nonproliferation and Nuclear Safety
Japan Atomic Energy Agency (JAEA)
Ms. Atsuko Takano
International Affairs and Research Department
Nuclear Safety Research Association (NSRA)
Kazakhstan
Mr. Berezin Sergey Anatolievich
Deputy Director General
National Nuclear Center of the Republic of Kazakhstan
Republic of Korea
Mr. Ham Jin Joo
Director
International Cooperation Division
Nuclear Safety and Security Committee (NSSC)
Dr. GyungSik Min
Vice President
Director General, Nuclear Nonproliferation Office
Korea Institute of Nuclear Nonproliferation and Control (KINAC)
Dr. Hosik Yoo
Vice President
Director General, Nuclear Security Office
Korea Institute of Nuclear Nonproliferation and Control (KINAC)
Dr. Gwangyu Choi
Director General
International Nuclear Nonproliferation & Security Academy
Korea Institute of Nuclear Nonproliferation and Control (KINAC)
Dr. MoonSeong Ko
Director
Nuclear Security & Cyber Security Division
Korea Institute of Nuclear Nonproliferation and Control (KINAC)
Mr. JungHoon Lee
Senior Researcher
Executive Coordination Division
Korea Institute of Nuclear Nonproliferation and Control(KINAC)
Mr. DongHyuk Lim
Senior Researcher
Executive Coordination Division
Korea Institute of Nuclear Nonproliferation and Control (KINAC)
Ms. JiHye Jeon
Researcher
Executive Coordination Division
Korea Institute of Nuclear Nonproliferation and Control (KINAC)
Malaysia
Mr. Mohd Zulfadli Bin Ramli
Assistant Director
Atomic Energy Licensing Board (AELB)
Mongolia
Mr. Nyamdavaa Enkhgerel
State Senior Inspector on Nuclear and Radiation Safety and Security
Nuclear Energy Agency
The Philippines
Ms. Sylvia Silva Busine
Senior Science Research Specialist
Philippine Nuclear Research Institute (PNRI)

Thailand
Mr. Arug Wititteeranon
Acting Head of Nuclear Non Proliferation Center
Office of Atoms for Peace (OAP)
Viet Nam
Mr. Luu Nam Hai
Director of International Cooperation Division
Vietnam Agency for Radiation and Nuclear Safety (VARANS)
IAEA
Mr. Davis Hurt
Head of the Agency's Tokyo Regional Office
International Atomic Energy Agency (IAEA)