Report>> Minutes>> Program>> List of Participants>>
Report of
FNCA 2009 Workshop on Application of Electron Accelerator
- Radiation Processing of Natural Polymer -
1 - 5 March 2010
Jakarta, Indonesia
---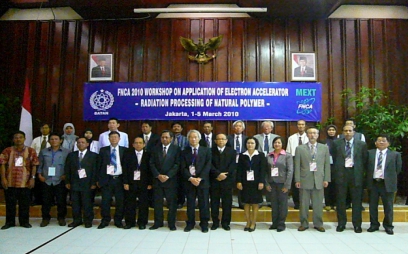 The 2009 FNCA Electron Accelerator Application Workshop was held on March 1st - 5th, 2010 at the Center for the Application of Isotopes and Radiation Technology, National Nuclear Energy Agency (BATAN) in Jakarta, Indonesia. The meeting was attended by delegates from eight (8) FNCA member countries, namely Bangladesh, China, Indonesia, Japan, Malaysia, The Philippines, Thailand and Vietnam, and also a Malaysian Coordinator as a representative of IAEA/RCA.

At the beginning, Dr. Hudi Hastowo, Chairman, National Nuclear Energy Agency (BATAN) delivered the opening remarks and welcomed all participants to the workshop. Following a presentation on FNCA Ministerial Level Meeting and project overview by Dr. Sueo Machi, a total of eight (8) country report presentations on radiation processing and application of chitosan including the results of the field tests using the same oligo-chitosan samples produced in BATAN were presented. It was concluded that the oligo-chitosan led fruitful effects of Plant Growth Promoter (PGP) on tomato, potato, carrot, sugarcane, rice and chili.

Japan's country report mentioned the effects of Oligo-gulcosamine L, which is a PGP product industrialized in Japan as a plant activator of cyclamen and lawn grass in golf course. Malaysia reported the results of rice field test conducted in large scale of 24 ha. Crop yield increased by 5% and germination test and blast study showed that oligochitosan can replace commercial germination compounds and synthetic fungicides.

Dr. Khairul HJ MOHD DAHLAN, IAEA/RCA Project Lead Country Coordinator, gave a presentation on the IAEA/RCA project activities on radiation processing of natural polymer.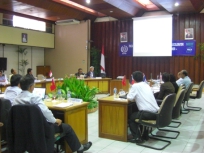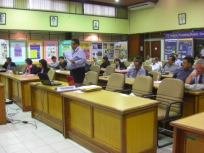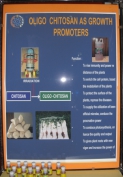 On the second day, the participants discussed the optimized technology and cost of production of oligo-chitosan by radiation processing as well as the work plans for 2010-2011. Cost analysis revealed that PGP cost depends on the cost of raw materials and processing of chitosan.

On the morning of the third day, participants presented their country reports on production of hydrogel (Super Water Absorbent (SWA)) by radiation cross-linking and grafting of starch/ polysaccharides. It has been found in some pot and fields tests that SWA increases germination, plant growth, and yield of crops. SWA has been practically used in Vietnam for valuable tea, coffee, and pepper, and the field test of rubber, cassava, dragon fruit are on-going. It was reported that germination rate was improved by using SWA in experimental scale test in Thailand.

In the afternoon, an open seminar titled "Perspective of Radiation Processing Application" was held in the center. About eighty (80) people from various institutions including research sectors, universities, and corporations were in attendance. An exhibition, which consisted of natural polymer based products commercialized in member countries and posters showing their research activities, were also held.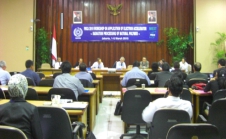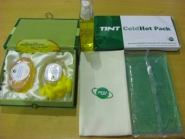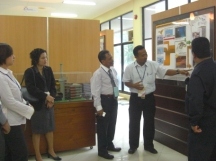 On the fourth day, participants made presentations on optimum condition and raw materials and conceptual design of production of SWA by radiation, followed by discussions. It was stressed that further researches are needed on some production process and cost for different raw materials as well as properties of products in terms of water absorption capacity and degradation in soil. The work plans for 2010-2011 were then discussed. The importance of collaborative Research and development (R&D) on SWA with agricultural scientists including farmer was strongly stressed in order to promote the SWA products for field test. Participants also visited BATAN Exhibition Center and were familiarized with the results of several researches and development of the Institute. Other facilities visited were gamma irradiator facility in Center for the Application of Isotopes and Radiation Technology (CAIRT-BATAN) such as Gamma irradiator of IRKA (medium dose rate) and multi purposes gamma irradiator PANORAMA (low dose rate) and radiation.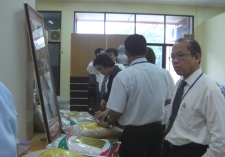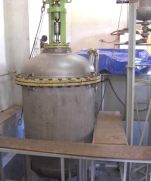 On the final day, wrap-up discussion on future plan including new proposals was carried out and the workshop minutes were adopted.
---