MENU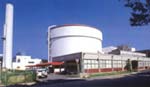 FNCA 2014 Workshop on Research Reactor Network
Report of
FNCA 2014 Workshop on Research Reactor Network Project
October 14-16, 2014
Bangkok, Thailand
---
FNCA FY2014 Workshop on Research Reactor Network (RRN) was held from October 14 to 16, 2014, in Bangkok, Thailand. This Workshop was hosted by Thailand Institute of Nuclear Technology (TINT) and Ministry of Education, Culture, Sports, Science and Technology (MEXT) of Japan.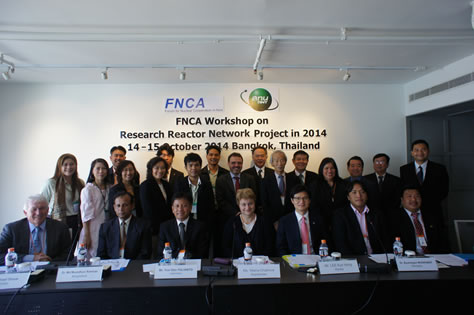 The RRN Workshop was attended by 26 participants from 11 FNCA member countries, namely Australia, Bangladesh, Indonesia, Japan, Kazakhstan, Korea, Malaysia, Mongolia, the Philippines, Thailand, Vietnam and IAEA, including workshop staffs.

This project started from 2011 and this is 1st year of 2nd phase, mainly status of the research/test reactors and isotope production in their countries were reported and their possible regional network in Asia was discussed.

[Workshop]
Opening addresses by Dr. Somporn CHONGKUM, Executive Director, Thailand Institute of Nuclear Technology (TINT), and Dr. Sueo MACHI, FNCA Coordinator of Japan were delivered.
In Session 1, Dr. Machi gave a presentation on the achievement of 10 FNCA projects and Dr. Kaminaga specified the achievement and challenge of the FNCA RRN Project, mentioning to the activities of 1st phase.

In Session 2, lead speeches by Australia, Indonesia, Korea and Japan were delivered on the network of the production of medical isotopes (Mo-99) for stable supply, and the rest member countries presented the country reports, then they discussed.

In Session 3, lead speeches by IAEA, Japan, Kazakhstan, Indonesia and Vietnam were delivered on the development of technology producing Mo-99 by the use of n-gamma reaction, then they discussed.
In Session 4, lead speeches by Thailand, Vietnam, Korea, Japan and Mongolia were delivered on the design and planning of new research reactors to meet the applications, then they discussed.
In Session 5, wrap-up of the WS including presentation of short summary report for FNCA 15th Ministerial Level Meeting was summarized. The Workshop drew to a successful close with closing remarks by Dr. MACHI.

[Open Seminar]
The open seminar on "Nuclear Technology for Mankind" was held on October 16, after the completion of the workshop. After the opening speeches by Dr. Somporn CHONGKUM, TINT, the topical reports were presented by Dr. Sueo MACHI (Japan), Mr. Chanatip TIPPAYAKUL (Thailand), Mr. LEE Kye Hong (Korea) and Mr. Michael DRUCE (Australia) from workshop participants, and by Dr. Nateekool KRIENGCHAIPORN from Thailand.

[Technical Visit]
On October 16, after the open seminar, participants of FNCA workshop visited Thailand Institute of Nuclear Technology (TINT), including the Triga research reactor (TRR1-M1), radioisotope production facilities, etc.
| | |
| --- | --- |
| | |
---
Summary Report of
FNCA 2014 Workshop on Research Reactor Network Project
October 14-16, 2014
Bangkok, Thailand
---
RRN WS Conclusion and Recommendation 2014
Cooperation of Mo-99 Production for Stable Supply
| | |
| --- | --- |
| 1. | The meeting noted that the completion of new reactor in KAERI to produce isotopes is to be in operation in 2018. The capacity will be 2,000 6dayCi/w Mo-99 however for the first 5 years the production will be 1000 6dayCi/w. |
| 2. | The meeting noted new facility in ANSTO with the capacity of production of 3,500 6dayCi/w Mo-99 in ANSTO will be completed in 2016. |
| 3. | The meeting recognized that the production capacity of Mo-99 in the FNCA region (without China) will be more than 5,500 6dayCi/week by 2018 which is larger than the demand in the range of 3000 6dayCi/week, and therefore supply of Mo-99 in the region will be potentially assured. |
| 4. | The meeting noted concern for the assurance of supply of Mo-99 in 2014-15. |
| 5. | The meeting in this respect, strongly recommends the Gov. of Indonesia to take action to produce Mo-99 by using BATAN's 30 MW reactor as soon as possible. |
| 6. | The meeting regrets that China is not represented at the meeting, and noted the amount of demand and the production capacity of Mo-99 in China is not known. |
| 7. | The meeting noted that JAEA in cooperation of Chiyoda Technol Corporation will start Mo-99 production in 2019 to supply 20% of Mo-99 demand in Japan. |
| 8. | The meeting noted that 5000 6dayCi/w Mo-99 are consumed in the USA. This is predominantly supplied from Nordion, Canada, which will stop in 2016, and therefore, the USA government plans to apply a variety of technologies using its nuclear reactors and accelerators to ensure the supply of Mo-99. |
| 9. | The meeting agreed that the FNCA RRN Project should continue its activity to exchange information on production plans and demand of Mo-99 in the member countries. Coordination of supply between member countries and also with AIPES, NEA should occur to ensure the stable supply. |
| 10. | The meeting recommends establishing the coordination mechanism among major producers and consumers of Mo-99, namely ANSTO, KAERI, BATAN, representative of China, and JRIA (JAEA) to ensure security of Mo-99 supply. |
Production technology of Mo-99 by n-gamma reaction
| | |
| --- | --- |
| 11. | The meeting recognized that n-gamma technology is more appropriate for small scale production of Mo-99 for local demand in the country, and that the fission technology is suitable for larger scale production for international markets. |
| 12. | The meeting noted that Kazakhstan has been successful to produce Mo-99 by n-gamma technology using gel method, providing 5 generators per week for hospitals. |
| 13. | The meeting noted that CTC of Japan is developing technology to produce Mo-99 by solvent (MEK) extraction method to produce at the scale of 250 6dayCi/w to start commercial production in 2019. |
| 14. | The meeting noted that Vietnam has developed the gel method to produce Mo-99 by the support of IAEA, and that both fission and n-gamma method should be used to produce Mo-99 by using new research reactor of 15 MWt. |
| 15. | The meeting highly appreciates IAEA's support for developing technology to produce Mo-99 by n-gamma reaction using gel method and solvent extraction method through CRP and TC program, and hope to further support to transfer of this technology for the local demand. |
| 16. | The meeting noted that the Philippines (PNRI) requests BATAN to irradiate Mo-98 target in its 30 MW reactor for the local production of Mo-99 by n-gamma technology in the Philippines (PNRI). |
| 17. | Meeting recommends that sharing experience and information on Mo-99 production by n-gamma reaction should be continued to enhance the commercial application of the technology to meet national demand of nuclear medicine. |
Design and application of research reactor
| | |
| --- | --- |
| 18. | The meeting noted that VINATOM of Vietnam has the plan to construct the multi-purpose research reactor of 15 MW to be operated before 2020 by the support of Russia. Feasibility study should be carried out by collaboration with Russia. |
| 19. | The meeting noted that TINT of Thailand has plan to construct new research reactor for multiple purposes including production of isotopes, silicone doping, gemstone coloring, basic research by neutron beams and training nuclear engineers. |
| 20. | The meeting noted that KAERI is constructing the research reactor of 15 MWt of which focuses on the production of isotopes including Mo-99 by fission method and silicone doping to produce semiconductor. The first production of Mo-99 will be Nov. 2018. |
| 21. | The meeting noted that Mongolia Gov. is considering the construction of multi-purpose research reactor of 5-10 MWt and the final decision will be made in 5 years. |
| 22. | The meeting recommends that information exchange on planning and designing new research reactors should be continued. This is useful for the member countries since Thailand, Vietnam, and Mongolia have common task for new reactor, while Australia, China, Japan, and Korea have extensive experiences in design and construction of research/test reactors which can be shared. |
---
Program of
FNCA 2014 Workshop on Research Reactor Network Project
October 14-16, 2014
Bangkok, Thailand
---
Host Organization::

Thailand Institute of Nuclear Technology (TINT)
Ministry of Education, Culture, Sports, Science and Technology of Japan (MEXT)

Executing Institution:
Nuclear Safety Research Association (NSRA)
Date:
14- 16 October 2014
Venue:
Pullman Bangkok Hotel G, Bangkok, Thailand
Day 1 (October 14, 2014)

09:30-10:15

Opening Session
Chair: Thailand
- Welcome remarks: Dr. Somporn CHONGKUM, Executive Director, TINT
- Opening remarks: Dr. Sueo MACHI, FNCA Coordinator of Japan
- Adoption of agenda
- Introduction of participants
- Group photo

10:15-10:30
Coffee break
10:30-11:30

Session 1: FNCA Project Review
Chair: Thailand
1) Progress of FNCA Activities in 2013, and Conclusion of 14th MM and 15th CDM
: Dr. Sueo MACHI, FNCA Coordinator of Japan
2) Achievement and Challenge of the FNCA RRN Project in 2013-14
: Dr. Masanori KAMINAGA, RRN Project Leader of Japan

11:30-12:30
Lunch
12:30-15:30

Session 2: Network of the production of medical isotopes (Mo-99) for stable supply
Chair: Malaysia
(1) Lead speeches:
1) Australia: Production plan till 2017 and after 2018 with upgraded plant
2) Indonesia: Increased production plan to meet FNCA MC demand
3) Korea: Production plan by the new reactor after 2018
4) Japan: Plan of production and supply till 2017 (JRIA)
5) JIRA: Report of NEA committee on Mo-99 production and demand worldwide particularly in Asia
(2) Country report:
Thailand, Bangladesh, Malaysia, Kazakhstan, Vietnam, Mongolia, The Philippines on current status and plan of Mo-99 supply to meet demand
(3) Discussion
Points of Discussion
1) Strategy and challenges of stable supply of Mo-99 to meet demand till 2017
2) Possible increase of Mo-99 production in BATAN
3) Import of Mo-99 from countries outside of FNCA region till 2017
4) Schedule of the increased production of Mo-99 by ANSTO, KAERI and JAEA after 2018 to meet regional demand

15:30-15:45
Coffee break
15:45-16:15

Session 2: Network of the production of medical isotopes (Mo-99) for stable
supply (cont.)
Chair: Malaysia
(4) Plan of the activities for this project component
(5) Session summary and conclusion

16:15-18:00

Session 3: Development of technology producing Mo-99 by the use of n-gamma reaction
Chair: the Philippines
(1) Lead speeches:
1) IAEA: Prospectus of production of Mo-99 by n-gamma reaction
2) Japan: R/D on large scale production of Mo-99 by n- gamma reaction and extraction method
3) Kazakhstan: Commercial production of Mo-99 by n- gamma reaction
4) Indonesia: Experience of production of Mo-99 by n- gamma reaction in cooperation of Japan under FNCA
5) Vietnam: Production of Mo-99 by n- gamma reaction by gel method

Day 2 (October 15, 2014)
09:00-10:00

Session 3: Development of technology producing Mo-99 by the use of n-gamma reaction (cont.)
Chair: the Philippines
(2) Discussion
Points of Discussion
1) Advantages and disadvantages over the fission method in terms of wastes management, non-proliferation, and economics
2) Technical challenges of Production of Mo-99 by n-gamma reaction
3) IAEA points of view
(3) Plan of the activities for this project component
(4) Session summary and conclusion

10:00-10: 15
Coffee break
10:15-12:00

Session 4: Design and planning of new research reactors to meet the applications
Chair: Bangladesh
(1) Lead speeches:
1) Thailand: Planning and purpose of new research reactor construction
2) Vietnam: Planning and purpose of new research reactor in connection with power reactor construction
3) Korea: Current status of construction of new research reactor and plan of starting operation, and feature of the reactor producing RIs
4) Japan: Proposal and plan of joint design of advances research/test reactor in Japan
5) Mongolia

12:00-13:00
Lunch
13:00-14:30

Session 4: Design and planning of new research reactors to meet the applications (cont.)
Chair: Bangladesh
(2) Discussion
Points of Discussion
1) Possible cooperation between member countries on the design of new research reactors
2) Human resource development for new reactors in Thailand and Vietnam
3) Possible sharing of utilization of the new research reactors by FNCA countries
(3) Plan of the activities for this project component
(4) Session summary and conclusion

14:30-14: 45
Coffee break
14:45-15:45

Session 5: Conclusion and Recommendation
Chair: Australia
Lead speech: Japan: Dr. Sueo Machi, FNCA Coordinator of Japan

15:45-16:00
Session 6: Closing Session
Remarks by:
Dr. Sueo MACHI, FNCA Coordinator of Japan
Day 3 (October 16, 2014)


Open Seminar on "Nuclear Technology for Mankind"

9:00-09:15

Registration
Opening Remarks: Dr. Somporn CHONGKUM, Executive Director, TINT

09:15-09:45

(1) Isotope and radiation technology for sustainable development
: Dr. Sueo MACHI, FNCA Coordinator of Japan, Japan

09:45-10:15

(2) Application of nuclear research reactor for development of industry and human health in Thailand
: Mr. Chanatip TIPPAYAKUL, TINT, Thailand

10:15-10:30

Coffee break

10:30-11:00

(3) Nuclear energy for energy security and mitigation of climate change
: Dr. Nateekool KRIENGCHAIPORN, EGAT, Thailand

11:00-11:30

(4) Prospectus of nuclear power in Korea
: Mr. LEE Kye Hong, KAERI, Korea

11:30-12:00

(5) Success stories of research reactor and isotope application in industry and human health in Australia
: Mr. Michael DRUCE, ANSTO, Austria

12:00-13:30

Lunch


Technical Visit

13:30-17:00
Thailand Institute of Nuclear Technology (TINT)

List of Participants
FNCA 2014 Workshop on Research Reactor Network
October 14-16, 2014
Bangkok, Thailand
---
Australia
Mr. Michael Druce
Principal Technical Officer,
Australian Nuclear Science and Technology Organisation (ANSTO)
Bangladesh
Dr. Md Mustafizur Rahman
Principal Scientific Officer,
Institute of Nuclear Science & Technology (INST),
Atomic Energy Research Establishment (AERE),
Bangladesh Atomic Energy Commission (BAEC)
Indonesia
Mr. Yusi Eko YULIANTO
Manager of Reactor Operation,
Center for Multipurpose Reactor,
National Nuclear Energy Agency (BATAN)
Japan
Dr. Sueo MACHI
FNCA Coordinator of Japan
Dr. Masanori KAMINAGA
Deputy Directior, Neutron Irradiation and Testing Reactor Center,
Oarai Research and Development Center,
Japan Atomic Energy Agency (JAEA)
Dr. Takashi YAMASHITA
Executive Director,
Japan Radioisotope Association
Mr. Takayuki Shiina
Researcher, Research & Development Section,
Chiyoda Technol Corporation
Ms. Chiaki INOKOSHI
International Affairs and Research Department
Nuclear Safety Research Association (NSRA)
Kazakhstan
Ms. Yelena Chakrova
Head of radiochemistry and isotope production center,
Institute of Nuclear Physics,
National Nuclear Center of Republic of Kazakhstan (INP NNC RK)
Korea
Mr. LEE Kye Hong
Executive Secretary,
Kijang Research Reactor Design and Construction Agency,
Korea Atomic Energy Research Institute (KAERI)
Malaysia
Dr. Azahari KASBOLLAH
Senior Research Officer, Medical Technology Division,
Malaysian Nuclear Agency
Mongolia
Dr. Byambajav MUNKHBAT
Researcher, Nuclear Research center,
National University of Mongolia
The Philippines
Ms. Adelina DM. BULOS
Head, Isotope Techniques Section,
Philippine Nuclear Research Institute (PNRI)
Thailand
Mr. Chanatip TIPPAYAKUL
Nuclear Engineer,
Thailand Institute of Nuclear Technology (TINT)
Mr. Suthipong BOONMAK
Reactor Center, TINT
Ms. Suvimol RATTANODOM
Reactor Center, TINT
Mr. Anantachai PECHRAK
Reactor Center,
Thailand Institute of Nuclear Technology (TINT)
Ms. Kainapa RATTANARUJIKORN
Radioisotope Center,
Thailand Institute of Nuclear Technology (TINT)
Ms. Angkanan ANGURARAT
Radioisotope Center,
Thailand Institute of Nuclear Technology (TINT)
Ms. Moleephan DANGPRASERT
Radioisotope Center,
Thailand Institute of Nuclear Technology (TINT)
Mr. Thanete DOUNGTA
Radioisotope Center,
Thailand Institute of Nuclear Technology (TINT)
Mr. Sumrit CHINGJIT
Radioisotope Center,
Thailand Institute of Nuclear Technology (TINT)
Ms. Pranom KHONGPETCH
Radioisotope Center,
Thailand Institute of Nuclear Technology (TINT)
Mr. Charudaj WARDWILAI
Radioisotope Center,
Thailand Institute of Nuclear Technology (TINT)
Vietnam
Mr. DUONG Van Dong
Director, Center for Research and Production of Radioisotope,
Nuclear Research Institute (NRI),
Vietnam Atomic Energy Institute (VINATOM)
IAEA
Dr. Joao OSSO
Head, Radioisotope Products and Radiation Technology Section,
International Atomic Energy Agency (IAEA)
---