August 6, 2020, Online Meeting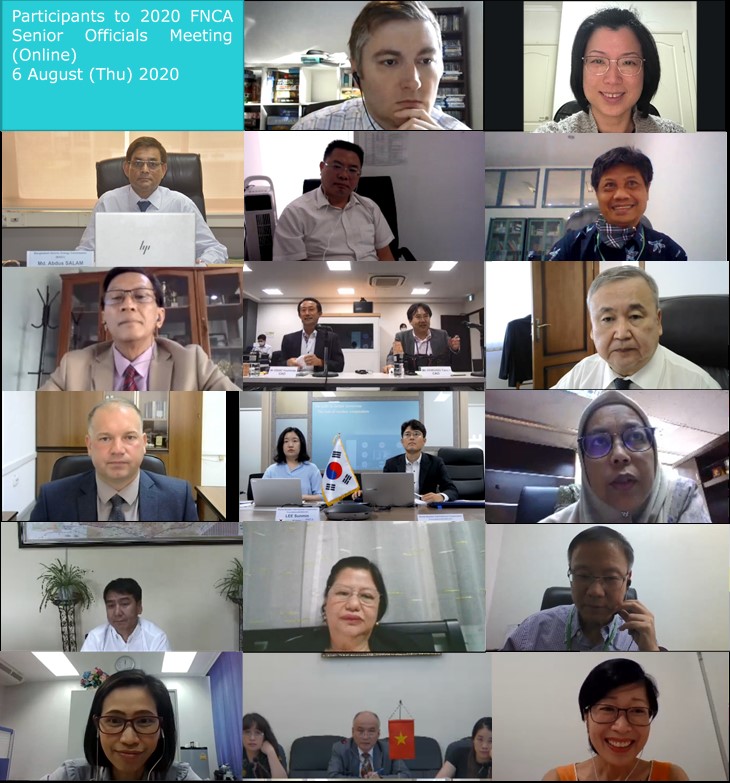 The 21st Senior Officials Meeting (SOM), which was organized by the Cabinet Office of Japan (CAO), was held online on 6 August 2020.
The meeting was attended by the representatives from twelve member countries i.e., Australia, Bangladesh, China, Indonesia, Japan, Kazakhstan, the Republic of Korea, Malaysia, Mongolia, the Philippines, Thailand, and Vietnam. The meeting mainly discussed the topic of the round-table discussion of 21st MLM, the topics of future Study Panel, and evaluation on the general function and activities of the FNCA, FNCA Award (Program)(Participants List)
Besides, presentation on the current IFNEC policy and activities were delivered by Dr Gloria KWONG, Head of IFNEC Technical Secretariat, OECD Nuclear Energy Agency (NEA)
The Ministerial Level Meeting will be held in December 2020.
14:00-14:10
Session 1: Opening (10 min.)

- Opening words

- Introduction of participants

- Confirmation of agenda

14:10-15:00
Session 2: Ministerial Level Meeting (50 min.)

- Review of 2019 Ministerial Level Meeting

- Preparation of 2020 Ministerial Level Meeting

- Holding of MLM (Physically or Remotely)

- Topic of Round Table Discussion

- Draft Agenda(s)

15:00-15:10
Session 3: 2021 Study Pane (10 min.)

- Confirmation of 2021 Study Panel Topic

- Briefing on the survey result related to Study Panel

15:10-15:25
Session 4: Evaluation of the general function and activities (15 min.)

- Briefing on the survey result

15:25-15:35
Session 5: FNCA Award (10 min.)

- Report of the selection result and confirmation

15:35-15:50
Session 6: Outcomes (15 min.)
15:50-16:05
Session 7: IFNEC Hour (Presentation) (15 min.)

- The current IFNEC policy and activities

16:05-16:10
Session 8: Closing (5 min.)
█ Participants from FNCA Countries
Australia
Mr Mark ALEXANDER
International Affairs Manager
Office of the CEO
ANSTO
Ms Lynn TAN
Adviser, International Affairs
ANSTO
Bangladesh
Dr Engr Md. Abdus SALAM
Member (Engineering)
Bangladesh Atomic Energy Commission (BAEC)
China
Mr LONG Maoxiong
Deputy Secretary General
China Nuclear Energy Association (CNEA)
Indonesia
Dr Hendig WINARNO
Deputy Chairman of BATAN for Nuclear Technology Utilization
National Nuclear Energy Agency (BATAN)
Mr Heru UMBARA
Director of Bureau for Legal, Public Relations, and Cooperation
National Nuclear Energy Agency (BATAN)
Kazakhstan
Prof Erlan BATYRBEKOV
Director General
National Nuclear Center of the Republic of Kazakhstan
Mr Vladimir VITYUK
Deputy Director General
National Nuclear Center of the Republic of Kazakhstan
Republic of Korea
Mr Cheonkyeong PARK
Researcher
Department of Global Cooperation
Korea Nuclear International Cooperation Foundation (KONICOF)
Ms Sunmin LEE
Researcher
Korea Nuclear International Cooperation Foundation (KONICOF)
Malaysia
Dr Siti A'iasah Bt. HASHIM
Deputy Director General (Technical Service Program)
Malaysian Nuclear Agency (Nuclear Malaysia)
Mongolia
Mr Chadraabal MAVAG
Head
Nuclear Technology Department
Nuclear Energy Commission (NEC)
The Philippines
Dr Lucille ABAD
Chief
Atomic Research Divison
Philippine Nuclear Research Institute (PNRI)
Thailand
RADM Wachara KARUNYAVANIJ
Deputy Executive Director
Thailand Institute of Nuclear Technology (TINT)
Ms Kanchalika DECHATES
Head of International Cooperation Section
Thailand Institute of Nuclear Technology (TINT)
Vietnam
Dr TRAN Ngoc Toan
Vice President
Vietnam Atomic Energy Institute (VINATOM)
Ms CAO Hong Lan
Deputy Director of International Cooperation Department
Vietnam Atomic Energy Institute (VINATOM)
Ms TRAN Ngoc Hoan
Officer
Vietnam Atomic Energy Institute (VINATOM)
█ Participant from International Organization
Dr Gloria KWONG
Head of IFNEC Technical Secretariat
Deputy Head of Division for Management and Multilateral Initiatives, Nuclear Technology Development and Economics Division
OECD Nuclear Energy Agency (NEA)
█ Participants from Japan
Mr ESAKI Yoshihide
Deputy Director General for Science, Technology and Innovation
Cabinet Office of Japan (CAO)
Mr HOKUGO Taro
Director for Atomic Energy and International Affairs
Bureau of Science, Technology and Innovation
Cabinet Office of Japan (CAO)
Mr WANI Hiroyuki
Official
Office of Atomic Energy Policy
Secretariat of the Atomic Energy Commission
Cabinet Office of Japan (CAO)
Mr IWASAKA Katsuhiko
Senior Researcher
Office of Atomic Energy Policy
Secretariat of the Atomic Energy Commission
Cabinet Office of Japan (CAO)
Dr OKAMOTO Yoshiko
Deputy Director
International Nuclear Energy Cooperation Division
Disarmament, Non-Proliferation and Science Department
Ministry of Foreign Affairs (MOFA)
Mr SUZUKI Tetsu
Deputy Director
Office for Nuclear Non-Proliferation Science and Technology, International Nuclear and Fusion Energy Affairs Division, Research and Development Bureau, Ministry of Education, Culture, Sports, Science and Technology (MEXT)
Ms TANAKA Fumiyo
Administrative Researcher,
International Nuclear and Fusion Energy Affairs Division, Research and Development Bureau
Ministry of Education, Culture, Sports, Science and Technology (MEXT)
Mr YAMAMOTO Keishi
Researcher
International Nuclear and Fusion Energy Affairs Division, Research and Development Bureau
Ministry of Education, Culture, Sports, Science and Technology (MEXT)
Mr WADA Tomoaki
FNCA Coordinator of Japan
Dr NAMBA Hideki
FNCA Advisor of Japan