Forum for Nuclear Cooperation in Asia (FNCA)
The 20th Senior Officials Meeting
---
Meeting Summary of the 20th Senior Officials Meeting
---
July 19, 2019, Tokyo, Japan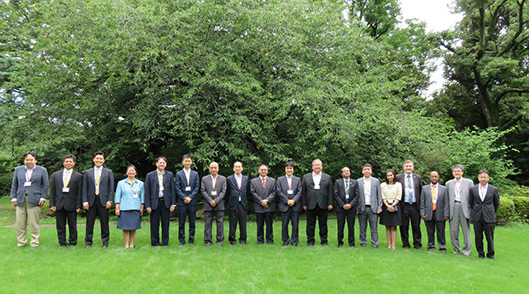 The 19th Senior Officials Meeting (SOM), which was organized by the Cabinet Office of Japan (CAO), was held at Sambancho Conference Hall, Tokyo, on 19 July 2019.
The meeting was attended by the representatives from twelve member countries i.e., Australia, Bangladesh, China, Indonesia, Japan, Kazakhstan, the Republic of Korea, Malaysia, Mongolia, the Philippines, Thailand, and Vietnam. The meeting mainly discussed the theme of the round-table discussion of 20th MLM, the theme of 2019 Study Panel, and evaluation on the general function and activities of the FNCA, FNCA Award (Program)(Participants List)
The Ministerial Level Meeting will be held on 5 December 2019 in Tokyo, Japan.
---
Program of the 20th FNCA Senior Officials Meeting (SOM)
Agenda
---
| | |
| --- | --- |
| Date : | 19 July 2019 |
| Place : | Sambancho Conference Hall, Tokyo, Japan |
| Organized by : | Cabinet Office, Government of Japan (CAO) |
| Chair of Meeting : | Mr Kenji Totoki, Deputy Director General for Science, Technology and Innovation, Cabinet Office (Japan) |
| Working Language : | English |
Thursday, 18th July

18:00-19:30
Welcome Reception

Friday, 19th July

09:45-10:00
Welcome Coffee
10:00-10:10
Session 1, Opening Session (10 min)

- Opening remarks

- Self-introduction of the participants

- Confirmation of the agenda

10:10-11:25
Session 2, Ministerial Level Meeting (75 min)

- Review of MLM 2018

- Preparation of MLM 2019

11:25-11:35
Commemorative Photo taken at the Japanese Garden
11:35-12:35
Lunch Break (60min)
12:35-13:50
Session 3, Study Panel (75 min)

- Review of SP 2019

- Preparation of SP 2020

13:50-14:20
Session 4, Evaluation on the general function and activities of the FNCA (30min)

- Report on the survey results and discussion

14:20-14:40
Coffee Break (20min)
14:40-15:10
Session 5, FNCA Award (30 min)
15:10-15:30
Session 6, Draft Agenda of 20th Ministerial Level Meeting (2019),
The venues and hosts of 21st and 22nd MLM (20 min)
15:30-16:00
Session 7, Closing Session (30min)

- Confirmation of the Outcomes

-- Closing Remarks
---
List of the Participants in the 20th FNCA Senior Officials Meeting (SOM)
---
█ Participants from FNCA Countries
Australia
Mr Mark Alexander
International Affairs Manager,
Australian Nuclear Science and Technology Organisation (ANSTO)
Bangladesh
Prof Dr Sanowar Hossain
Member (Bio-Science),
Bangladesh Atomic Energy Commission (BAEC)
China
Prof Long Maoxiong
Deputy Secretary General,
China Nuclear Energy Association (CNEA)
Mr Zhao Pengcheng
Assistant Engineer,
China Nuclear Energy Association (CNEA)
Indonesia
Dr Hendig Winarno
Deputy Chairman for Nuclear Technology Utilization,
National Nuclear Energy Agency of Indonesia (BATAN)
Kazakhstan
Dr Erlan G. Batyrbekov
Director General,
National Nuclear Center of the Republic of Kazakhstan
Republic of Korea
Mr Cheon Kyeong Park
Researcher,
Korea Nuclear International Cooperation Foundation (KONICOF)
Malaysia
Dr Abdul Muin Bin Abdul Rahman
Deputy Director General (Technical Program),
Malaysian Nuclear Agency (Nuclear Malaysia)
Mongolia
Mr Chadraabal Mavag
Head of Nuclear Technology Department,
Executive Office of the Nuclear Energy Commission (NEC) of Mongolia
The Philippines
Dr Lucille V. Abad
Chief,
Atomic Research Division,
Philippine Nuclear Research Institute (PNRI)
Thailand
Dr Pornthep Nisamaneephong
Executive Director,
Thailand Institute of Nuclear Technology (Public Organization)
Ms Kanchalika Dechates
Head of International Cooperation Section,
Thailand Institute of Nuclear Technology (Public Organization)
Vietnam
Dr Tran Ngoc Toan
Vice President,
Vietnam Atomic Energy Institute (VINATOM)
█ Participants from Japan
Mr Kenji Totoki
Deputy Director General for Science, Technology and Innovation,
Cabinet Office of Japan (CAO)
Mr Ei Takeuchi
Director for Atomic Energy,
Bureau of Science, Technology, Innovation and Policy,
Cabinet Office of Japan (CAO)
Mr Taro Hokugo
Director for Atomic Energy and International Affairs,
Bureau of Science, Technology and Innovation,
Cabinet Office of Japan (CAO)
Mr Keigo Kasaya
Deputy-Director, Office of Atomic Energy Policy
Secretariat of the Atomic Energy Commission
Cabinet Office of Japan (CAO)
Mr Hiroyuki Wani
Official,
Office of Atomic Energy Policy,
Secretariat of the Atomic Energy Commission,
Cabinet Office of Japan (CAO)
Mr Katsuhiko Iwasaka
Senior Researcher,
Office of Atomic Energy Policy,
Secretariat of the Atomic Energy Commission,
Cabinet Office of Japan (CAO)
Mr Yasushi Aruse
Senior Researcher,
Office of Atomic Energy Policy,
Secretariat of the Atomic Energy Commission,
Cabinet Office of Japan (CAO)
Dr Yoshiko Okamoto
Deputy Director,
International Nuclear Energy Cooperation Division,
Disarmament, Non-Proliferation and Science Department,
Ministry of Foreign Affairs (MOFA)
Mr Yusuke Tanno
Researcher,
International Nuclear and Fusion Affairs Division,
Research and Development Bureau,
Ministry of Education, Culture, Sports, Science and Technology (MEXT)
Ms Fumiyo Tanaka
Administrative Researcher,
International Nuclear and Fusion Affairs Division,
Research and Development Bureau,
Ministry of Education, Culture, Sports, Science and Technology (MEXT)
Mr Tomoaki Wada
FNCA Coordinator of Japan
Dr Hideki Namba
FNCA Advisor of Japan
---