Forum for Nuclear Cooperation in Asia (FNCA)
The 17th Senior Officials Meeting
---
Meeting Summary of the 17th Senior Officials Meeting
---
July 12-13, 2016, Tokyo, Japan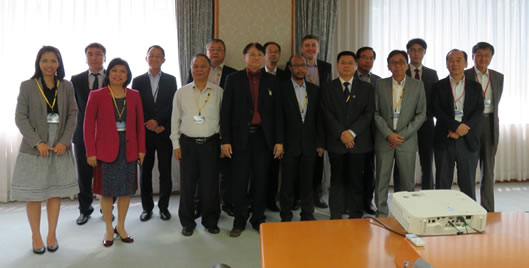 The 17th Senior Officials Meeting (SOM), which was organized by the Cabinet Office of Japan (CAO), was held at Mita Conference Hall, Tokyo, on July 12-13, 2016.
The meeting was attended by the representatives from eleven member countries i.e., Australia, China, Indonesia, Japan, Kazakhstan, the Republic of Korea, Malaysia, Mongolia, the Philippines, Thailand, and Vietnam, and a representative from OECD/Nuclear Energy Agency (NEA). The meeting mainly discussed on the theme of the round-table discussion of 17th MLM, follow-up activities based on the Joint Communique adopted at the 16th MLM and evaluation on the function and activities of the FNCA (Program)(Participants List)
The Ministerial Level Meeting will be held on November 30, 2016 in Tokyo.
---
Program of the 17th FNCA Senior Officials Meeting (SOM)
Agenda
---
| | |
| --- | --- |
| Date : | July 12 th and 13th 2016 |
| Place : | Mita Conference Hall, Tokyo, Japan |
| Organized by : | Cabinet Office (CAO), Government of Japan |
| Chair of Meeting : | Mr Hironori Nakanishi, Deputy Director General for Science, Technology and Innovation, Cabinet Office (CAO), Government of Japan |
| Working Language : | English |
Tuesday, July 12th
10:15–10:30
Registration
10:30–10:40
Session 1, Opening Session (10 min)

- Opening Remarks
- Self-Introduction of the Participants
- Confirmation of the Agenda


10:40–10:45
Commemorative Photo (5 min)
10:45–11:10
Session 2, Report on a Result of "A Survey on Preparation for SOM in 2016" (25 min)

- Overview of the Survey

11:10–12:20
Session 3, Preliminary Discussion Regarding the 17th MLM (70 min)

- Discussion on the Cooperation with the International Organizations

* Report on the Survey Results (15 min)
* Discussion (55 min)

12:20–13:30
Lunch Break (70 min)
13:30–14:30
Session 4, Follow-up Activities Based on the Joint Communique Adopted at the 16th MLM (60 min)

- 2017 Study Panel and After

* Report on the survey results regarding the 2016 SP (10min)
* Proposal by OECD/NEA (10 min)
* Discussion (40 min)

14:30–14:50
Coffee Break (20 min)
14:50–16:00
Session 5, Follow-up Activities Based on the Joint Communique Adopted at the 16th MLM (2) (70 min)

- 2017 Study Panel and After

1) Report on the survey results regarding the 2016 SP (10min)
*Discussion (20 min)
2) Report on the Survey Results Regarding the 2017 SP (5min)
* Discussion (35 min)

16:00–16:40
Session 6, Evaluation on the Function and Activities of the FNCA (40 min)

- Discussion on the Roles of the FNCA for the Member Countries

* Report on the Survey Results (15 min)
* Discussion (25 min)

17:30–18:30
Welcome Reception Hosted by Cabinet Office
Wednesday, July 13th
10:00–10:50
Session 7, Follow-up Activities Based on the Joint Communique Adopted at the 16th MLM (3) (50 min)

- Discussion on the Improvement of the Management of the FNCA Activities

* Presentation (15 min)
* Discussion (35 min)

10:50–11:10
Coffee Break (20 min)
11:10–11:50
Session 8, Follow-up Activities Based on the Joint Communique Adopted at the 16th MLM (4) (40 min)

- Discussion on the FNCA Award

* Presentation (15 min)
* Discussion (30 min)

11:50–12:10
Session 9, Follow-up Activities Based on the Joint Communique Adopted at the 16th MLM (5) (20 min)

- Discussion on the FNCA Guidelines

* Presentation (5 min)
* Discussion (15 min)

12:10–13:10
Lunch Break (60 min)
10:00–10:50
Session 10, Closing Session (25min)

- Confirmation of the Outcomes (20 min)
- Closing Remarks (5 min)
---
List of the Participants in the 17th FNCA Senior Officials Meeting (SOM)
---
■Participants from FNCA Countries
Australia
Mr Mark ALEXANDER
International Affairs Manager,
Australian Nuclear science and Technology Organisation (ANSTO)
Bangladesh
China
Prof LONG Maoxiong
Deputy Secretary General
China Nuclear Energy Association (CNEA)
Indonesia
Dr Anhar Riza ANTARIKSAWAN
Deputy Chairman,
National Nuclear Energy Agency (BATAN)
Kazakhstan
Dr Erlan BATYRBEKOV
Director General,
National Nuclear Center (NNC) of the Republic of Kazakhstan
Republic of Korea
Mr Jin Seon PARK
Secretary General,
Korea Nuclear International Cooperation Foundation (KONICOF)
Mr In Chul MOON
Researcher,
Department of Global Cooperation,
Korea Nuclear International Cooperation Foundation (KONICOF)
Malaysia
Dr Abdul Muin Bin ABDUL RAHMAN
Senior Director (Management Programme),
Malaysian Nuclear Agency (Nuclear Malaysia)
Mongolia
Mr CHADRAABALl Mavag
Head,
Nuclear Technology Department of Executive Office,
Nuclear Energy Commission (NEC)
The Philippines
Dr Soledad S. CASTAÑEDA
Officer-in-Charge, Deputy Director,
Philippine Nuclear Research Institute (PNRI)
Thailand
Dr Pornthep NISAMANEEPHONG
Executive Director,
Thailand Institute of Nuclear Technology (TINT)
Ms Kanchalika DECHATES
Head of International Cooperation Section,
Thailand Institute of Nuclear Technology (TINT)
Vietnam
Dr CAO Dinh Thanh
Vice President,
Vietnam Atomic Energy Institute (VINATOM)
■Participants from International Organisation
OECD Nuclear Energy Agancy (NEA)
Ms Ximena VÁSQUEZ MAIGNAN
Head of the Legal Counsel,
OECD Nuclear Energy Agancy (NEA)
■Participants from Japan
Mr Hironori NAKANISHI
Director General for Science, Technology and Innovation,
Cabinet Office (CAO), Japan
Mr Nobuhiro MUROYA
Director for Atomic Energy,
Cabinet Office (CAO), Japan
Mr Hideo KAWABUCHI
Counsellor for Atomic Energy,
Bureau of Science, Technology and Innovation,
Cabinet Office (CAO), Japan
Ms Michiko IITSUKA
Chief Official,
Office of Atomic Energy Policy
Secretariat of the Atomic Energy Commission,
Cabinet Office (CAO), Japan
Mr Motomitsu SADAYASU
Senior Researcher,
Office of Atomic Energy Policy,
Secretariat of the Atomic Energy Commission,
Cabinet Office (CAO), Japan
Ms Atsuko SUZUKI
Senior Researcher,
Office of Atomic Energy Policy,
Secretariat of the Atomic Energy Commission,
Cabinet Office (CAO), Japan
Ms Yuriko SAKURAZAWA
Senior Researcher,
Office of Atomic Energy Policy,
Secretariat of the Atomic Energy Commission,
Cabinet Office (CAO), Japan
Dr Tsukasa YAMAMURA
Director,
Office for Nuclear Non-proliferation Science and Technology,
Research and Development Bureau,
Ministry of Education, Culture, Sports, Science and Technology (MEXT)
Ms Yukiko OKABE
Deputy Director,
International Nuclear and Fusion Energy Affairs Division,
Research and Development Bureau,
Ministry of Education, Culture, Sports, Science and Technology (MEXT)
Mr Shoji KASUGA
Researcher,
International Nuclear and Fusion Energy Affairs Division
Research and Development Bureau
Ministry of Education, Culture, Sports, Science and Technology (MEXT)
Ms Ayako KUBO
Researcher,
International Nuclear Energy Cooperation Division,
Disarmament, Non-proliferation and Science Department,
Ministry of Foreign Affairs (MOFA)
Mr Tomoaki WADA
FNCA Coordinator of Japan
Dr Hideki NAMBA
FNCA Advisor of Japan
---