Report of
FNCA 2011 Workshops on Mutation Breeding Project
February 20 - 23, 2012
Bangkok, Thailand
---
FNCA 2011 Workshops on Mutation Breeding Project took place as follows;
Outline of Workshop
i) Date:
February 20th - 23rd, 2012
ii) Venue:
Bangkok, Thailand
iii) Host Organization:
Rice Department (RD), Ministry of Agriculture and Cooperatives of Thailand (MOAC)
Thailand Institute of Nuclear Technology (TINT)
Ministry of Education, Culture, Sports, Science and Technology of Japan (MEXT)
iv) Participants:
Total 14 from 9 countries, Bangladesh, Indonesia, Japan, Korea, Malaysia, Mongolia, The Philippines, Thailand and Vietnam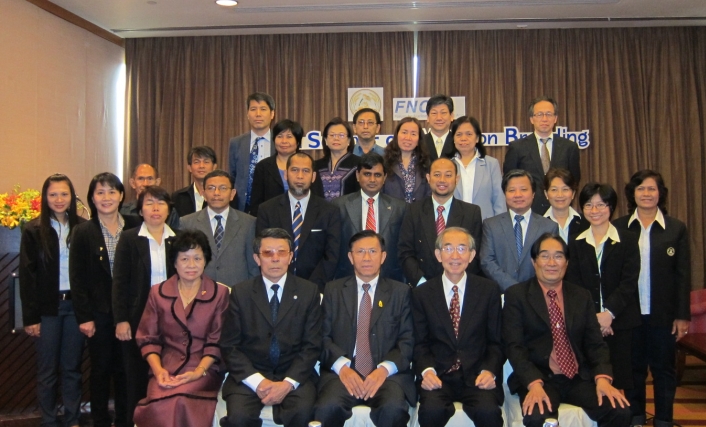 Participants of the Workshop & Open Seminar
Opening Session & Open Seminar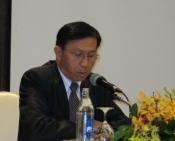 Mr. Chanpithya Chimpalee


Mr. Chanpithya Chimpalee, Deputy Director General of Rice Department (RD), Ministry of Agriculture and Cooperatives of Thailand (MOAC), delivered welcoming remark and express warm welcome to all participants. In addition, Dr. Hirokazu Nakai, Project Leader (PL) of Japan delivered opening speech and thanked to Thailand for their hospitality to arranging this workshop. After group photo, Dr. Nakai gave a presentation for project review of FNCA Mutation Breeding Project and reported the result for 2010 workshop held in the Philippines.

The open seminar was held on the first day of the workshop attended by ca. 30 participants from other agricultural department, universities, research institutes and members of FNCA Workshop.
Dr. Jinda Jan-Orn, Department of Agriculture of Thailand (DOA), presented success and perspective of mutation breeding for sustainable agriculture in Thailand.
Dr. Nakai gave a presentation for success stories of mutation breeding of rice. Some experimental results of studies on mutation breeding of rice for bacterial blight resistance through the use of thermal neutrons and ion beams were reported to discuss the usefulness of mutation breeding for future's agriculture.
Dr. Atsushi Tanaka, Japan Atomic Energy Agency (JAEA) delivered a presentation for advanced mutation breeding by the use of ion beams. He reported the characteristics of mutations induced by ion beams and introduced that many breeding programs are using mutants induced by ion beams and successfully producing useful plants such as ornamental flowers, new crop varieties, fruit, and trees, in Japan.
Dr. Sobri Bin Hussein, Malaysian Nuclear Agency (Nuclear Malaysia) has a significant roles in improving agriculture industries through mutation breeding and new mutants of crops, ornamental and medicinal plants have been produced, registered and subsequently commercialized in collaboration with industrial partners.


Session 1: Country Report and Conclusion of Country Report
A total of 9 country reports on FNCA Mutation Breeding Project were presented. Then Dr. Tanaka summarized the problem facing in their projects and all participants discussed for the solution.

Session 3: Following up of Previous Sub-Projects
Malaysia and the Philippines reported on two sub-projects on Disease Resistance in Banana (terminated in 2010) and Insect Resistance in Orchid (terminated in 2009). It was successful to obtain 10 banana potential mutant lines resistant to BBTV (Banana bunchy top virus) in the Philippines, and 3 banana potential mutant lines tolerant to Fusarium and good agronomical characters such as high yielding, early flowering and short stature in Malaysia. And also it was obtained 3 orchid potential mutant lines tolerant to thrips and one mutant line tolerant to mite in Malaysia. Besides, Malaysia has also successful to develop banana micro propagation technique, green house and field screening methods for Fusarium, and orchid in-vitro screening method for insect. All products have been delivered to commercial market through private company.

Session 5: Cooperation with RCA/IAEA
Dr. A.N.K. Mamun, Bangladesh Atomic Energy Comission (BAEC) delivered a lead speech for cooperation between FNCA and RCA/IAEA and all participants discussed on specific method of effective collaboration.

Future Plan and Conclusion
All participants discussed about research plan of Sub-Project on Composition and Quality in Rice for 2011-2012 and future plan of the project. Then the workshop was summarized as follows,
| | |
| --- | --- |
| 1) | The present sub-project on composition or quality in rice showed almost all countries have proceeded their investigations and establishments of promising mutants matched with their demands, and therefore, will be finished in FY2012. |
| 2) | The extension of commercialization and dissemination are well organized on the disease resistance in banana and insect resistance in orchid of the last sub-projects. |
| 3) | In order to promote possible synergy of RCA and FNCA, it is strongly recommended that the workshop of RCA and FNCA for mutation breeding should be held together at least once in several years. |
| 4) | Future plan of FNCA project for FY2013 - 2017 will be focused on mutation breeding for sustainable agriculture in Asia, i.e. for establishing resistance mutant varieties to various environmental stresses, early maturity, and low-input mutant varieties according to participating country's demands by using gamma-ray and/or ion-beam facilities, which should be shared in participating countries. |
| 5) | It is also proposed that next workshop will be held in Indonesia or Malaysia, and include about two-day open symposium where experts on mutation breeding from host country and FNCA countries participate. |
Closing Session
Dr. Suniyom Taprab, RD, MOAC, and Dr. Nakai, delivered closing remarks and thanked to participants for their efforts and cooperation to this workshop.
Technical visit
All participants visited to Nuclear Technology Research Center (NTRC) of Kasetsart University as a technical visit. At the bigining, Prof. Surapol Patharalorn, Dean of Faculty of Science delivered a welcoming speech, and Assoc. Prof. Peeranuch Jompuk made a presentation for introduction of NTRC. She reported the history of NTRC and overview of their activities. Then participants observed gamma room and mutants developed and released by the center.

Nuclear Technology Research Center of
Kasetsart University

Prof. Surapol Patharalorn

Assoc. Prof. Peeranuch Jompuk
| | | |
| --- | --- | --- |
| Gamma Room | Mutant Varieties developed by NTRC | Rice Department of Thailand |
---