Report of
FNCA Workshop on Cyclotron and PET in Medicine Project 2010
March 4 - 5, 2011
Bangi, Malaysia
---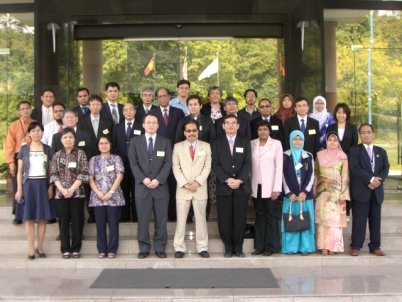 The 5th FNCA Workshop (JFY2010) on Cyclotron and PET in Medicine Project was held in Bangi, Malaysia from 4 to 5 March, 2011. It was jointly organized by Malaysian Nuclear Agency (Nuclear Malaysia), Ministry of Science, Technology and Innovation, Malaysia (MOSTI) and Ministry of Education, Culture, Sports, Science & Technology of Japan (MEXT).
The workshop was attended by 30 participants from Bangladesh, China, Indonesia, Japan, Malaysia, The Philippines, Thailand and Vietnam.
This project targets the improvement and dissemination of nuclear medicine diagnostic technologies for people in Asia, which can contribute to the earlier detection and treatment of diseases. Since JFY2006, the project has been working under the leadership of Malaysia for five years, and was completed in JFY 2010.
In the final workshop of this project, the participants reported the current status of PET and Cyclotron in each country and new clinical cases as well. The result of "Surveillance on Personal Dose" implemented on the subject "Radiation Safety" of the 2nd phase of this project was reported. Also, participants reviewed the achievements in the 5 years' project activities. (Please refer to the report below.)
Country Report
The country reports by each country are summarized as below.
Bangladesh (Dr. Mohammed Fazlul Kabir)
Since the cost of PET Examinations has not been covered by the health insurance and people had to pay for that themselves in Bangladesh, it was unavailable to set up the business for PET Examinations. However, the grand-funding from the government enabled the investment for the facilities and also the research and development. At present, 2 PET Centers are under construction in Dhaka. They will be in operation within 1 year.
China (Prof. Chen Shengzu and Prof. Dang Yaping)
In 2005, there were 50 PET Centers in China but it has increased up to 160 currently. The number of PET (including PET/CT) has increased dramatically from 55 to 118. In the framework of FNCA, China's contribution ranges from setting up the guidelines and submitting many clinical cases for Atlas. China has been making the most use of FNCA activities in standardization and improvement for clinical management of PET/CT and also putting the Quality Assurance / Quality Control (QA/QC) of PET and Cyclotron into action, based on the FNCA guideline.
Indonesia (Dr. Kardinah)
The first domestic FDG production was started in 2010. The medical services, research activities and education programs are being carried out by Ministry of Health and National Nuclear Energy Agency (BATAN). As of 2010, 4 PET Centers (private:2 national:2) are in operation in Indonesia.
Japan (Prof. Dr. Hidehiko Okazawa)
Since the 1/3 of Japanese people die of cancer nowadays, they are becoming interested in the diagnosis and therapies of cancer. In the survey of 2009, tumor occupies 98% of PET Examinations. In 1985, there were 5 PET Centers and the number has been rising to 21 in 1995, to 29 in 2000, and up to 273 in 2010. The 273 PET Centers are divided into 136 (Users of 18F-FDG-delivery) and 137 (holding Cyclotrons). The delivery of 18F-FDG by private companies was started from 2005 and the PET Centers without Cyclotrons are provided with 18F-FDG from 8 basis of Japan.
Malaysia (Dr. Fadzilah Hamzah and Assoc Prof. Dr. Abdul Jalil Nordin)
The PET Examination was started from 2005 in Malaysia and 8 PET/CT instruments are installed in 8 PET Centers as of 2010. Also, 3 Cyclotrons are installed in 3 Centers. Ministry of Health (MOH) adopted the registration system of Nuclear Medicine Specialty in 2009 with the opinion that the examinations of nuclear medicine should be conducted under the control of the specialists. Malaysian Nuclear Medicine Specialty Committee consists of 7 members. 3 of them belong to MOH.
The Philippines (Mr. Joselito Manalo De La Cruz)
The first PET and Cyclotron were installed in St. Luke Medical Center in 2001 and now there are 3 PET (including PET/CT) and 1 Cyclotron in the Philippines. Since March of 2011, there is a change in dosage of 18F-FDG-PET to the patients. The dosage is becoming smaller and adjusted based on the patient's weight, which could lead to the reduction of radiation exposure.
Thailand (Assoc. Prof. Dr. Rujaporn Chanachai)
Thailand has 6 PET Centers and 2 (out of the 6) Centers are equipped with Cyclotron. National Cyclotron and PET Centre is delivering 18F-FDG to PET Centers unequipped with Cyclotron. Total number of domestic PET-CT Case Study in 2006 was 866 but it went up to 2316 in 2009. Currently, other than 18F-FDG such as F-DOPA and 11-C Cholin are also used for clinical examinations as PET Tracer.
Vietnam (Asso. Prof. Dr. Mai Trong Khoa and Mr. Nguyen Cong Duc)
Vietnam has 27 Nuclear Medicine Centers including 4 PET/CT Centers and 3 Centers with Cyclotron. 2 hospitals holding PET/CT are now under construction in Ho Chi Minh City. 18F-FDG is used for PET examinations and they are performed according to the standard Protocol defined by the specialists and the government. The cost of PET/CXT examinations can be covered by 30-80% by health insurance from 2010. However, the facts that the instruments are not enough, hospitals are relying on the imported radiopharmaceuticals and QA/QC is not well performed due to a shortage of medical physicists and engineers , are the current problems in the country.
Report on Dosimetry Test in PET and Cyclotron Facilities
Regarding the subject of the 2nd phase (from JFY2009) of the project, "Dosimetry Test using Glass Badges in PET and Cyclotron Facilities" was implemented in in Putrajaya Hospital and Wijaya International Medical Center, Malaysia in June of 2010. The report and summary of the results was made by Dr. Noriah Jamal from Nuclear Malaysia, followed by the by Assoc. Prof. Dr. Rujaporn Chanachai's report on the dosimetry test in Chulabhorn Cancer Centre, Thailand. The results from both country showed that Malaysian staffs were exposed to higher radiation than Thai staffs, which turned out to be due to the lower FDG production activity in Thailand (1/2 volume of what of Malaysia). Also, the participants recognized that the dose received by personnel in both Malaysia and Thailand is below the limit and mostly very low, and they safety management was well performed. In addition, participants exchanged information on QC which was done after FDG production.
Clinical ATLAS
Dr. Fadzilah Hamzah (Malaysia) presented the background and current development in compiling Clinical Atals (glossary of clinical cases). Then it was informed that the total cases complied for Atlas is 152 cases and another 20 new cases will be submitted by Vietnam. Moreover, it was announced that MOSTI has established an editorial board to edit the collected clinical cases for publishing a book of Atals. The followings were suggested for compiling the cases. 1) To show the image of each case larger for example, a half size of 1 page. 2) To categorize the cases into each disease and to delete the overlapping diseases. 3) To omit the personal information such as age and exam date. It is expected that the published Atlas will be widely distribute not only to the people involved but also to hospitals and medical schools for effective utilization.
Finalization of Guidelines
Participants reviewed and finalized the two guidelines namely, "Radiation Protection and Performance Evaluation of PET-CT Imaging" and "FDG Quality Assurance and Quality Control". They were produced in the subjects of the 1st phase of the project which are "Imaging Instrument" and "Radiation Safety & PET Radiopharmaceuticals". The modified parts in the discussion will be reflected on the existing guidelines by Malaysia and the both will be on the website of FNCA and Malaysian Nuclear Agency after completion. Also, it was recognized that the people involved should promote the guidelines.
Wrap-Up
Lastly, participants made up the minutes of the workshop and also a final report, reviewing the 5 years' project activities. Dr. Muhd Noor Muhd Yunus, FNCA Malaysian Coordinator/ Deputy Director General (Technical), Nuclear Malaysia, gave closing remarks and the workshop was adjourned.