MENU

FNCA 2009 Workshop on Radiation Safety and Radioactive Waste Management
Report of
FNCA2009 Workshop on
Radiation Safety and Radioactive Waste Management (RS&RWM)
August 3 - 7, 2009
Hanoi, Vietnam
---
FNCA2009 Workshop on the Radiation Safety and Radioactive Waste Management (RS&RWM) was held in Hanoi, Vietnam from August 3 to 7, 2009, hosted by the Ministry of Education, Culture, Sports, Science and Technology (MEXT) of Japan and the Institute for Technology of Radioactive and Rare Elements (ITRRE) of the Vietnam Atomic Energy Institution (VAEI), as a local host organization, in cooperation with the Nuclear Safety Research Association (NSRA) of Japan. Twenty specialists on this field attended the Workshop and had an information exchange and discussion about radiation safety and radioactive waste management.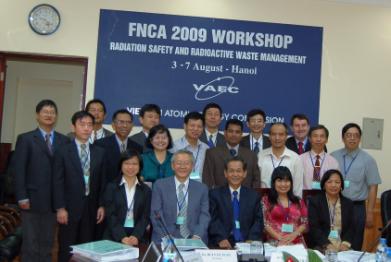 1) Introduction
Opening Session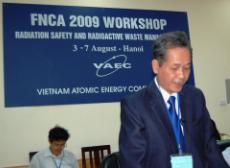 Dr. Bui Van Tuan
Vice chairman of VAEI
As a new project, the FNCA Radiation Safety and Radioactive Waste Management (RS&RWM) project superseded the Radioactive Waste Management (RWM) project, which started in 1995 and have been lead to promotion of good comprehension at the technical viewpoint among FNCA countries. The RS&RWM project started in 2008 with an aim for enhancing the safety concerning radiation safety and radioactive waste management in Asian area through such activities as exchanging and sharing various precious information and experiences in this fields among participating countries. The main activity of this project is to hold a workshop every year that is expected to be held among participating countries in turn.
For this workshop in this year, twenty specialists from nine countries took part in the meeting; Australia, Bangladesh, China, Indonesia, Japan, Malaysia, Philippines, Thailand and Vietnam. The specialists who are in charge of Radiation Safety and/or Radioactive Waste Management made information and experiences exchange through providing country reports, sub-meetings, round table discussion on various themes such as decision making, regulation, operation, R&D and so on. Additionally VAEI kindly provided a technical visit to a hospital in Hanoi city and the VAEI facilities.
2) the Outline of the workshop
| | | |
| --- | --- | --- |
| i) | Time: | August 3-7, 2009 |
| ii) | Place: | Hanoi, Vietnam |
| iii) | Sponsor: | VAEI and MEXT |
| iv) | Participants: | Australia 2, Bangladesh 1, China 1, Indonesia 1, Japan 4, Malaysia1, Philippines 1, Thailand 1, Vietnam 8, Total 20 |
| v) | Schedule: | See the Attached file |
On the first day, following the opening remarks from Dr. Le Ba Thuan (ITRRE & Project Leader of Vietnam), Dr. Bui Van Tuan (Vice Chairman of VAEI) presented the Opening Address. Then Professor Toshiso Kosako provided the Keynote FNCA Address as the Project Leader of Japan. Session 1 consisted of an explanatory lecture on the theme of Radiation Safety Principles provided by Dr. Toshiso Kosako. In Session 2, the country reports were presented on the present status and progress in radiation safety and radioactive waste management in each FNCA country. At the end of Session 2 a Poster/Mini-Exhibition was held to enhance and facilitate the understanding of the relative important activities in RS & RWM among the FNCA countries.
Session 1
Professor T. Kosako
Poster/Mini-Exhibition
Mr. T. Oumi
The basic information on the radiation safety such as the basic concept of ICRP and IAEA safety standards concerning radiation safety
The introduction of the recent plan for radioactive waste Management of the Japan Atomic Power Company
Poster/Mini-Exhibition
Fuji Electric systems
Poster/Mini-Exhibition
The staffs of Fuji Electric systems who visited at Hanoi city at the same week by chance dropped by the meeting place of the workshop, and introduced the radiation measuring devices and calibration systems for the participants
The poster session was held in a hall that is located in front of the meeting place so that the staffs of ITRRE could look at the posters during the workshop
On the second day, Sessions 3 and 4 were presented. Session 3 provided special safety topics on standardization, and it held as an open seminar so that the staffs of VAEI and other related specialists of Vietnamese could take part in. For this session, participants provided the information of radiation measurements using personal dosimeters in their own countries, and Dr. H. Harano provided the lecture on international circumstances of calibration, standardization related to ionizing radiation, and followed by discussion and information exchange among participants. Although most counties have not yet obtained the primary standard, they have already established secondary standard keeping the traceability to the IAEA and/or the other counties that has the primary standard. It was recognized that many countries made much of the quality assurance and quality control, and have already obtained the certification of ISO/IEC17025.
On session 4, it was focused on radioactive waste management within two specific themes. Theme 1 comprised of two presentations relating to the various efforts in Australia and Thailand on the radioactive waste facilities, and Theme 2 consisted of two presentations from Japan; the introduction of the recent status for the radioactive waste management and the recent status of IAEA safety standards concerning radioactive wastes.
| | |
| --- | --- |
| | |
| Dr. Kosako emphasized the importance of standardization | Ms. L. Tan and Mr. L. Dimitrovski (ANSTO, Australia) |
| | |
| Dr. Z. Fan (CIRP, China) and Dr. M. Islam (BAEC, Bangladesh) | The scene of the workshop |
On the third day, a technical visit was made to the Bach Mai Hospital (BMH), which is located in the center of Hanoi city, and the facilities of VAEI on the aspects of radiation safety. The BMH is the largest general hospital in Vietnam, and a main teaching hospital for Hanoi Medical University. Following a presentation by Prof. Mai, the participants visited the Nuclear Medicine and Oncology Center, the Imaging Diagnostic Department and the Cardio Interventional Unit of the Cardio-Vascular Institute. And then the Participants visited the Institute for Nuclear Science and Technology (INST) of VAEI, and were introduced to the training center, TLD Laboratory, calibration rooms, cyclotron machine and so on.
| | |
| --- | --- |
| | |
| At the conference room of the BMH | The room of CT in BMH |
| | |
| The calibration system in VAEI | Treatment room for fluorine (F-18) in INST, which is used by hospitals in nuclear medicine for diagnostic purposes |
On the fourth day, for the session 5, the sub-meeting 1 was also held as an open seminar with the theme of preparation for radiation safety and radioactive waste management for first NPPs. The status of the preparation for the first NPPs in Vietnam both in the aspects of radiation safety and radioactive waste management were provided by the representatives of Vietnam. And then the presentation using DVD was provided. It included the case of the first introduction of NPPs in Japan and the radioactive waste management system in Japan. The sub-meeting 2 consists of three presentations from Malaysia, Australia and Philippines on the theme of radiation safety at the large scale facilities such as accelerators, nuclear research reactors, hospitals and/or industry in the aspects of both exposure and radiation sources control.
| | |
| --- | --- |
| | |
| Dr. L. C. Dung, Deputy Director General of VARANS | Dr. N. B. Tien, Director of Center for Radioactive Waste Management and Environment (ITRRE) |
| A presentation of the preparation for the first NPPs in the aspects of radiation safety | A presentation of the preparation for the first NPPs in the aspects of radioactive waste management |
Session 6 consisted of a Round-Table discussion on 'Future cooperation with other international programs such as IAEA/ANSN and RCA/RAS9042' provided by all participants.
All FNCA Project Leaders recognized the valuable technical discussions and networking opportunities provided by the FNCA RS & RWM Workshop. The benefits of this workshop included information exchange and the sharing of experiences on common radiation safety and radioactive waste management issues. The Project Leaders were unanimous in their support for the FNCA RS & RWM workshop and the need to sustain this cooperation to ensure that radiation safety and radioactive waste management issues are being continually addressed in this region.
Dr. T. Kosako suggested that, as the basis of our information exchange, this project would establish a consolidated report on radiation safety within three years which includes the major information about the status of radiation safety in participating countries. At the next workshop, we would have a discussion on this subject.
To facilitate the information exchange and enhance common knowledge among participating countries, we agreed with making Newsletter on radiation safety. The next Newsletter will be published by Vietnam as a host country of this workshop.
The next workshop would be held in May in accordance with the AOCRP3, which is planed to be held in Tokyo from May 24 to 28, 2010. It was noted that the schedule of next workshop of RS&RWM should be arranged by MEXT and decided after FNCA annual meeting and coordinators meeting. And soon after such consultation, the announcement of next workshop will be noticed to all project leaders.
---
Minutes of
FNCA2009 Workshop on
Radiation Safety and Radioactive Waste Management (RS&RWM)
August 3 - 7, 2009
Hanoi, Vietnam
---
The FNCA 2009 Workshop on Radiation Safety and Radioactive Waste Management was held from August 3 to 7, 2009, in Hanoi, Vietnam. This Workshop was hosted by the Institute for Technology of Radioactive & Rare Elements (ITRRE) of Vietnam Atomic Energy Commission (VAEI), as the local host organization and the Ministry of Education, Culture, Sports, Science and Technology (MEXT) of Japan, in cooperation with Nuclear Safety Research Association (NSRA).
Representatives from nine FNCA member countries involved in policy making, regulation, operations and R&D on radiation safety and radioactive waste management attended the workshop, i.e. Australia, Bangladesh, China, Indonesia, Japan, Malaysia, the Philippines, Thailand and Vietnam.
On the first day, Session 1, the project leader of Japan, Prof. T. Kosako provided basic information and ideas of radiation protection in accordance with the recent activities in IAEA and ICRP. In session 2, country reports were presented on the current status and progress of radiation safety and radioactive waste management activities in each FNCA country. Each country report was provided as a draft consolidated report which is expected to be finalised by March 2011.
After Session 2, Poster/Mini-Exhibition was held. This Poster/Mini-Exhibition was successful in enhancing further understanding of activities in RS&RWM among FNCA countries.
On the second day, an open seminar was held as Session 3 with specific safety topics "Personal dosimeter: calibration, standardization and exposure control". For this session, each country provided introduction and explanation on the theme of standardization to promote comprehensive understandings from different viewpoints of FNCA countries. The Vietnamese who have relationship in this field took part in this open seminar. And then Session 4 was held on the subject of Radioactive Waste Management, Theme (1) Efforts in the field of Radioactive Waste management. This session was based on voluntary talks: e.g. about issues to be solved and so on. In Theme (2), the status of the Japanese waste program and introduction of recent status of IAEA safety standards in the field of radioactive waste was provided as well.
On the third day, a technical visit was made to Bach Mai Hospital in Hanoi city and the Institute for Nuclear Science and Technology of VAEI to observe the status of radiation safety including training and education in exposure control and radiation source management.
On the fourth day in session 5 the theme 'Preparation for Radiation Safety System and Radioactive Waste Management for first NPPs' was held as the open seminar. For this session, Vietnam regulatory and operational personnel provided information on the status of the nuclear power development in Vietnam. Following these presentations, a DVD presentation on Japan's early stages in nuclear power program development was made. Japan also presented on the radioactive waste management system for nuclear power plants. Theme (2) consisted of presentations on 'Radiation Safety at Large Scale Facilities such as Accelerators, Nuclear Research Reactors, Hospitals and/or Industry'. The presentations in this session were provided by Malaysia, Australia and the Philippines.
In Session 6, a roundtable discussion on "Future cooperation with the other international programs such as IAEA/ANSN and RCA/RAS9042" was held with update reports by each country relative to these programs.
The "RS&RWM 3-Year Work Plan for 2008-2010" under the FNCA framework was confirmed and discussed, and successfully concluded. The next workshop in 2010 will be held in Tokyo. Bangladesh, The Philippines or Indonesia are the proposed candidates for the 2011 workshop. This schedule is to be confirmed in the FNCA coordinators meeting in March 2010 in Tokyo.
All FNCA Project Leaders recognized the high value provided by the FNCA RS&RWM Workshops. The benefits gained include information exchange and the sharing of experiences on common radiation safety and radioactive waste management issues. The Project Leaders were unanimous in their support for the FNCA RS&RWM workshops and expressed the need to sustain this cooperation to ensure that radiation safety and radioactive waste management issues are continually addressed in the region. The need to address other issues in addition to those offered by the ANSN in the area of development and sharing of nuclear safety knowledge was also recognized.
Participants of this Workshop expressed appreciation to the organizers, ITRRE of VAEI and MEXT, and to the cooperation of NSRA. These minutes are planned to be submitted to the 11th FNCA Coordinators Meeting for approval, which will be held on March 2010.
---
Annex - 1

Workshop on Radiation Safety and Radioactive Waste Management
3-7 August 2009 Hanoi, Vietnam

Summary of Each Session
Outline of Workshop
| | |
| --- | --- |
| 1. Date | 3 - 7 August, 2009 |
| 2. Venue | Hanoi, Vietnam |
| 3. Host Organization | Experts from 9 participating countries including Australia, Bangladesh, China, Indonesia, Japan, Malaysia, Philippines, Thailand and Vietnam. |
| 5. Number of participant | 20 total. Australia (2), Bangladesh (1), China (1), Indonesia (1), Japan (4), Malaysia (1), Philippine (1), Thailand (1), and Vietnam (8). |
| 6. Program | Annex-2 |
---
SESSION I: RADIATION SAFETY PRINCIPLES - DAY 1
---

Professor Toshiso Kosako provided an overview on the basic methodology and status of various safety documents provided by the IAEA and ICRP.
---
SESSION II: COUNTRY REPORTS
---
Status on Radiation Safety and Radioactive Waste Management

Chairs:
Dr. Mohd Abd Wahab, Malaysia
Mr. Lubi Dimitrovski, Australia
Mr. Tadashi Oumi, Japan
Dr. Fan Zhiwen, China

Nine country papers were presented in Session II

Australia
Mr. Lubi Dimitrovski provided an update on recent developments in radiation safety and waste management in Australia. In Australia the regulatory responsibilities for radiation safety and radioactive waste management are divided into Commonwealth (Federal) and the States and Territories. Radioactive wastes arise from uranium mining activities, research reactor operations, research institutes, hospitals and industries. In Australia, producers are responsible for the radioactive wastes that they generate.

With regard to radiation safety the Australian guidelines are based on IAEA safety documents and reflect best international practice. The Safety Guidelines include codes of practices and technical reports. The adherence to ALARA principle is a high priority in managing radiation safety in Australia.

The present Federal Government has decided to put on hold further progress in the establishment of the co-located LLW repository and ILW storage facility. The site characterization studies of 4 potential sites have been completed with all 4 sites deemed suitable.

The participants were also briefed on the decommissioning program for the HIFAR and MOATA research reactors. HIFAR was shutdown on 30 January 2007 and MOATA in 1995. The HIFAR reactor is currently under a Possession and Control License waiting final dismantling and decommissioning planned to commence in 2017. The process of decommissioning of the MOATA reactor is proceeding with completion scheduled for December 2009. All spent fuel arising from the operation of these reactors has been sent to the UK and France (for reprocessing) and the US (as part of the spent fuel take-back program for research reactors).

ANSTO has commenced producing Mo 99 from a new alkaline-based process. Low level wastes produced from Mo 99 production will be processed by existing radioactive waste management facilities. The intermediate level solid and liquid waste will require new waste processing streams. Work on the new process methodology is currently in progress.

Bangladesh
Dr. Moinul Islam highlighted that Bangladesh has legislation on radiation safety but does not separate responsibilities between the operator/user and regulatory body. The process to better define this issue is ongoing. Bangladesh also has regulatory policy on radioactive waste management in place. Most of the radioactive waste comes from research reactor activities and from industries and hospitals. Presently, IAEA recommendations have been adopted for the classification of radioactive waste. Bangladesh has a central radioactive processing and storage facility.

The Nuclear Safety and Radiation Control Division, which is under the Bangladesh Atomic Energy Commission, is the regulatory authority. Legislation frameworks are in existence. Any activities related to the radioactive materials, nuclear materials and radioactive waste require a licensing process.

Currently there is no radioactive disposal facility in Bangladesh. All processed and unprocessed wastes are safely stored in a central storage facility with a defined radioactive waste inventory in place. At present Bangladesh does not have a spent fuel management system.

China
Dr Fan Zhiwen presented on the new development in radiation safety and waste management in China. China has a very clear policy on radioactive waste management. LLW is the responsibility of regional jurisdictions while HLW is under national jurisdiction. China has a very intensive legal framework system with defined guideline on HLW. Dr. Zhiwen described the two near-surface disposal facilities for LILW and the new research facility for high level waste. Disused sealed radioactive sources, radium waste and TENORM waste will not be disposed off in these facilities.

There is a well defined and managed NPP and research reactor spent fuel inventory in China. In terms of the legal framework there are independent regulatory systems for spent fuel and radioactive waste. Radiation safety in China is based on the IAEA basic safety standards. Currently, there are about 8.3 tons of spent fuel and 5000 m3 of radioactive waste from research reactors stored within China. Dr Fan also made not to the large construction program for new NPP 's with a total of 18 new NPP 's currently in process.

Indonesia
Dr. Syahrir gave a report on improving the radiation protection system for the Serpong Nuclear Area (SNA). There are several license holders within the SNA with each having their own radiation protection division. This causes a lack of uniformity in radiation protection practices across the organization. In 2006, the IAEA were invited to review their radiation protection program. The review found a list of problems including the absence of ALARA principles, a non-adoption of ICRP 60, no consideration to dose constraints, investigative levels or discharge limits, inadequate labeling and poor safety culture among staff.

An integrated approach to reform the radiation protection system in SNA was recommended, with the application of dose constraints, uniform area classification, introduction of incident event reporting and the use portable contamination monitors in all controlled areas. Some of the recommendations were followed through by SNA (e.g. re-training of staff and uniformity of labeling) but a second IAEA review conducted in 2008 found that only 20% of the previous recommendations were implemented. The report findings re-emphasized the need to set up dose limits, monitor stack emissions, upgrade radiation protection instruments and to conduct regular auditing. SNA responded to the review with the setting up of a Central Authority as a higher authority to integrate and control the implementation of radiation protection and environmental monitoring for the site in accordance with international standards.

Japan
Mr. Hideharu Sato detailed the three publications by MEXT (Japan Ministry of Education) and the program for the year 2009 and then provided an overview of the governmental organisation for nuclear safety regulation within Japan. The use of radioactive materials has increased greatly in Japan since 1959, and the need for skilled radiation protection officers (RPO) has become apparent to provide adequate radiation safety protection. As a result RPO training programs have been prepared and implemented in order to fill the void in this critical area. Applications for the courses are increasing.

Japan 's adoption and implementation of the ALARA principles is evident, with total gaseous and liquid releases into the environment reducing in the face of increasing number of nuclear reactors in the country. In the area of staff radiation safety, the centralised occupational exposure dose records shows that the total collective dose has dropped from 110 mSv person in 1985 to 80 mSv person in 2007. This is the result of improvement in maintenance work and work practices within in the nuclear industry and in particular nuclear power plants. The annual volume of radioactive waste received at the low level waste repository has also decreased steadily. The various waste package types and waste disposal processes in Japan were also detailed.

Malaysia
Dr. Wahab provided an update on safety and security of radioactive material within Malaysia including issues relating to safeguards. An overview of the nuclear activities in Malaysia was also detailed as well as the function and responsibility of the Atomic Energy Licensing Board (AELB). Dr. Wahab then provided a description of legislative and regulatory framework including the current structure, laws and regulations in Malaysia. The present Act (Act 304) and some of the regulations will be replaced with a new Act and regulations which have been drafted and awaiting to be submitted to the Parliament.

Several other new regulations are also being drafted including regulations on Nuclear Installation Licensing and Radioactive Waste Management. Malaysia is planning to build their first nuclear power reactor by 2025. In line with other nuclear institutions and nuclear power industries, Malaysia is progressing in the area of radiation safety training to ensure that trained and competent workers are available to address this critical area in the nuclear industry. Details on Malaysia 's Environmental Radiation Monitoring System (ERMS) were provided with several EMRS locations already established and operational within the country. Portal monitors are also situated in various airports, seaports and borders to prevent illicit trafficking of radioactive materials. All data is transmitted 24/7 to the central control at AELB.

Philippines
Legislation on radiation safety is in place and being implemented by two regulatory bodies. The Philippines Nuclear Research Institute is responsible for nuclear and radioactive materials while the Bureau of Health and Devices Technology is responsible for X-rays and electrically-generated radiation equipment. A comprehensive nuclear law has been proposed to create a single regulatory body and address gaps and omissions identified in the current law. Rules, regulations and standards have been established. Arrangements for radiation safety training and radiation protection services are in place. Arrangements for emergency planning and preparedness are also established. Radioactive wastes are collected and stored in a centralized storage facility. Co-location of borehole and near-surface disposal facility is under investigation. Various efforts are being made to enhance and improve public awareness and attitude towards radiation and waste safety.

The 3-MW TRIGA converted research reactor serves as the model reactor for the IAEA research reactor decommissioning demonstration (R2D2) project. The Philippine government is currently exploring the possibility of rehabilitating the 620 MW PWR type Nuclear Power Plant located in Bataan. A feasibility study is currently being conducted by Korea Electric Power Company (KEPCO) and a detailed report is expected before the end of 2009.

Thailand
Ms. Nanthavan Ya-anant presented on the development of nuclear technologies in Thailand. Radioactive sources, radiation generators and research reactor are used in the field of medicine, industry, research and education. Thailand has recently separated the regulatory and promotion functions. The radiation safety management infrastructure was established under the regulatory system. Radioactive wastes are safely managed by the Radioactive Waste Management Center, Thailand Institute of Nuclear Technology (TINT). A national policy on radioactive waste disposal is currently being drafted. Ms. Ya-anant informed the workshop that a nuclear power plant program is under consideration by the government.

Vietnam
Radiation technologies are being used in the fields of medicine, industry and research. A research reactor is in operation in the Dalat province. Radioactive wastes are managed at a centralized facility with new regional storage facilities being investigated. The regulatory legislation system has improved significantly in Vietnam. Vietnam is actively involved in international cooperation to continue development of professional staff in the nuclear field.
---
SESSION III: SPECIFIC SAFETY TOPICS (OPEN SEMINAR) DAY 2
---
Personnel dosimeter: calibration, standardisation and exposure control

Chairs:
Dr. Hideki Harano, Japan
Dr. Le Ba Thuan, Vietnam

Session III was an open seminar focusing on standardization and calibration of radiation monitoring and safety equipment. Radiation safety control and radioactive waste management should be based on the reliable and precise measurement of the quantities such as Dose (Sv) and Radioactivity (Bq) and regular a calibration regime is indispensable in ensuring good measurements. It is also important to make sure that the calibrations are traceable to national standards.

Prof. Kosako, Japan, gave a brief introductory remarks emphasizing on the importance of calibrations and Dr. Harano made an introductory talk on the international circumstances of calibration and standardization relating to ionizing radiation. It was emphasized that accurate measurements are always supported by traceability to national standards by regular calibrations. National standards on ionizing radiation are maintained by a national metrology institute with the other SI units in each country. BIPM-centered international frameworks organize comparison exercises to check worldwide consistency of national standards. ISO/IEC 17025 and international accreditation programs were also presented.

Ms. Lynn Tan, Australia, provided a presentation on personal dosimetry, calibration facility and exposure control measures at the Australian Nuclear Science and Technology Organization (ANSTO). At ANSTO personal dosimetry using TLDs and whole body monitors constitute the official recording and reporting system while EPDs is part of ANSTO 's non-official but equally important dosimetry system. ANSTO has a calibration facility for gamma-rays and neutrons and the reference instruments are calibrated regularly with traceability to national standards of the Australian Radiation Protection and Nuclear Safety Agency (ARPANSA), the national metrology institute in Australia. The calibration facility was previously upgraded with new operational and safety features. Exposure control in ANSTO follows closely the principles behind the hazard control hierarchy. Examples of engineering and administrative controls and personal protective equipments were shown in the presentation.

Dr. Moinul Islam, Bangladesh, provided a presentation on the status of the Secondary Standard Dosimetry Laboratory (SSDL) in Bangladesh. SSDL has activities on calibration and standardization of radiation survey meter/pocket dosimeter, ionization chambers and TLDs of different stakeholders in Bangladesh using secondary standard sources of gamma rays, beta-rays, X-rays and neutrons. SSDL has participated in the IAEA/WHO Postal Dose Inter-comparison Program to check the accuracy of output dose measures by SSDL. Environmental and radiation protection activities around the TRIGA Mark-II research reactor (RR) were also shown in the presentation.

Dr. Fan Zhiwen, China, provided a presentation on the objectives of radiation protection, calibration and standardization in China. Calibration is governed by the Metrology Law of the People 's Republic of China. The National Metrology Institute (NMI) and the China Institute of Atomic Energy (CIAE) maintain the national standards on ionizing radiation. The CIRP has a secondary standards calibration laboratory for photon and beta-ray dosimetry and radioactivity in the Department of Radiation Protection and the reference instruments have traceability to the national standards of NMI and CIAE. Dr Fan also reported on the nuclear standards in China. China has approximately 2000 nuclear standards, of which about 400 are on nuclear power plant and more than 140 on radioactive waste management.

Dr. Syahrir, Indonesia, gave a presentation on the status of SSDL Jakarta in Indonesia. SSDL Jakarta, a calibration laboratory established in 1984, is responsible for nuclear radiation metrology in the Centre of Technology for Radiation Safety and Metrology (CTRSM) of the National Radiation Metrology Laboratory (NRML). The irradiation room, sources and reference standards used for calibration were shown in the presentation. Calibration services are in protection and therapy levels to local calibration laboratories and hospitals. The laboratory has actively participated in postal dose inter-comparison service provided by the IAEA on those levels. SSDL Jakarta is planning to obtain ISO/IEC 17025 accreditation involving APLAC MRA program for international recognition.

Dr. Harano, Japan, provided an overview of the status of calibration and standardization of ionizing radiation in Japan. Japan has established a comprehensive system for national metrology in the field of ionizing radiation such as promotion institutions, calibration laboratories, accreditation system, primary standards etc. This system provides good accuracy and reliability. The presentation emphasized the importance of international comparisons and quality control amongst international organizations in the field.

Dr. Wahab, Malaysia, introduced SSDL-Nuclear Malaysia, the national calibration laboratory for radiation measuring instruments for gamma-rays, X-rays, beta-rays and neutrons. More than 1500 radiation instruments are being calibrated each year. SSDL-Nuclear Malaysia is accredited under the Laboratory Accreditation Scheme of Malaysia (SAMM) to meet the requirements of ISO/IEC 17025. Compliance assessment is performed by the Malaysian accreditation body, the Department of Standards Malaysia. From 1985 to 2009, SSDL-Nuclear Malaysia has participated in many international comparisons on dosimetry measurements. For example, the IAEA/WHO International Inter-comparison TLD Postal Dose Quality Audit for Co-60, Cs-237 and Mega voltage x-ray beam, the calibration of ionization chamber under the IAEA program and the inter-comparison program under the Asia Pacific Metrology Program (APMP). SSDL-Nuclear Malaysia also provides personal dosimetry service (film badge and TLD) for more than 17000 personnel in Malaysia. This personal dosimetry service is accredited under ISO 9001:2000 Quality Management system.

Ms. Palattao, Philippines, talked about the status of calibration and standardization of radiation measurements at SSDL in the Philippine Nuclear Research Institute (PNRI). PNRI-SSDL, established in 1974, is maintained by the radiation protection service section of PNRI. PNRI-SSDL provides calibration services for gamma-rays, X-rays and neutrons monitoring instruments and dosimeters. It uses free ionization chambers as reference standards for gamma-rays and X-rays, and AmBe neutron source for neutrons. The PNRI-SSDL participates in dose measurement inter comparisons regularly within the RCA region including the first run of the TLD Audit for radiation protection level dosimetry for SSDLs conducted by IAEA in 2008.

Mr. Vu Manh Khoi, Vietnam, presented on the personal dosimetry and equipment calibration in the Institute of Nuclear Science and Techniques (INST) of the Vietnam Atomic Energy Commission (VAEI). INST has a calibration laboratory for ionizing radiation (SSDL) in the centre for radiation protection and environment monitoring. The laboratory of 11 staff operates the calibration equipment and personal dosimetry systems which monitor for X-rays and gamma-rays using TLD 's. Reference instruments such as the graphite ionization chambers are calibrated regularly by the IAEA. The laboratory also participated in inter-comparison programs. Vietnam plans to introduce a small neutron irradiation facility for calibration purposes. Mr Vu also provided a summary of the status of personal dosimetry in Vietnam.

Also from Vietnam, Mr. Tran Ngoc Toan presented on the development and establishment of the X-ray field for calibration of dosimeters used in diagnostic radiology at SSDL in INST. New radiation quality systems for dosimetry in diagnostic radiology (RQR, RQA and RQT) have been successfully established in line with the international code of practice published by the IAEA.

Also in Session III, a DVD titled "Measurement standards help make the world one" was shown to the participants. The DVD provided information on the metrology system of Japan as well as general useful information on the SI units, national measurement standards, measurement traceability, and the international framework in metrology. Fuji Electric System Co. Ltd. (FES) introduced calibrators and monitoring system manufactured by the company. FES is also a manufacturer of radiation measurement devices such as survey meters, area monitors and personal dose meters. FES operates 4 types of calibrators for gamma-rays, beta-rays and neutrons, with reference standards traceable to the national standards in Japan. This was useful information for the workshop participants.
---
SESSION IV: RADIOACTIVE WASTE MANAGEMENT
---
Radioactive Waste Management (Theme 1)

Chairs:
Mr. Syahrir, Indonesia
Ms. Maria Palattao, Philippines

There were two presentations in Theme 1 - first by Australia, followed by Thailand.

Australia: Waste Operations Radioactive Waste Management Radioactive Waste Management - 5Year Capital Plan

Mr. Lubi Dimitrovski detailed the status of ANSTO 's a radioactive waste management 5 -Year capital plan. The Waste Operations capital projects include the intermediate level waste return, low level solid waste facilities upgrade, a new Mo-99 intermediate level waste immobilsation process, delay and decay facility and a new centralised nuclear materials store. Other 5 Year Plan capital projects such as a new 10 tonne crane, new shielded flask for spent resin, decontamination chamber, expansion of storage for ILSW, upgrade of a spent source storage facility and the drum drying for low level liquid sludges have been completed. Upcoming projects include the strategic consolidation of ANSTO 's radioactive waste to a controlled centralized area. Anticipated completion dates for the new nuclear material store and the delay-and-decay facility are mid 2010 and late 2010 respectively. The capital plan projects will provide ANSTO with increased LLSW storage capacity for a further 20 years at current waste generation rate and also the risk resulting from the ongoing delay in establishing the Australian co-located LILW Repository and ILW Store Facility.

Thailand: Study on Safety Assessment of the Existing Pre-Disposal facilities in Bangkok

Ms. Nanthavan Ya-anant of Thailand presented the preliminary activities undertaken by TINT on the safety assessment of their pre-disposal facilities. Ms. Ya-anan introduced the Safety Assessment Driving Radioactive Waste Management Solutions (SADRWMS) project led by the International Atomic Energy Agency (IAEA) to specifically address predisposal radioactive waste management issues in a structured manner.

As an offshoot from the 5th plenary meeting that was held in Croatia in June 2008, the Thailand facilities in Chatuchak district in Bangkok were proposed to be a test case under the SADRWMS project. Ms. Ya-anant discussed the SAFRAN tool which was developed to implement the SADRWMS methodology. She elaborated on the various features of the SAFRAN tool, its applicability in predisposal management including the different modules contained in the software. To implement the tool, Ms. Ya-anant prepared a comprehensive report describing the facilities, regulatory framework, waste characteristics as well as the different activities that are being carried out in the facilities. Based on the report, data has been synthesized to suit the requirements of the software. An IAEA Expert Mission has been undertaken early this year to assist this purpose. Further work will be carried out to obtain preliminary results arising from the assessment of the facilities.
Safety Issues Relating to Participating Countries (Theme 2)

Chairs:
Ms.Nanthavan Ya-Anant, Thailand
Dr. M Moinul Islam, Bangladesh

Theme 2 of Session IV consisted of two reports presented by Mr. H. Sato and Mr. T. Oumi from Japan.

Japan
The first presentation by Mr. Sato described the structure and current status of IAEA safety standards for radioactive waste. The history and numbering system of the IAEA Safety Standards were explained to provide general information. Several Safety Standards that are under development were also shown.

Mr. Oumi introduced "The recent status of the radioactive waste program in Japan". The decommissioning status of Tokai Nuclear Power Plant and the estimated volume of radioactive waste from the reactor were provided. Dismantlement of equipment was also described in the report. Potential uses of clearance level for metallic wastes were detailed including shielding for accelerator, bench, table, metal block and barrier. The transportation and inspection of radioactive waste in the disposal center was also provided. Mr.Oumi also detailed the recent investigations for the disposal of comparatively high level activity LLW into intermediate depth disposal tunnels.

On the 1st of June 2009, Chubu EPCO applied for the decommissioning of the Hamoka-1&2 nuclear power plants. Decommissioning of Fugen, a domestically developed heavy water reactor which was shut down in 2003 has commenced and is currently in the preliminary dismantling stage. The decommissioning is expected to be completed by 2027.

A geological disposal site has not been found in Japan as yet for HLW. HL Radioactive waste bound for geological disposal is regulated as Class I waste. There is no formal disposal program for research reactors. Radioactive wastes from research reactors and radioisotope production are executed by the Japan Atomic Energy Authority (JAEA). In 1985 the Nuclear Safety Committee (NSC) in Japan set a dose exemption level of 10 µSv/y during their assessment for low level wastes disposal. However in 2009 in close cooperation with ICRP, the new dose constraint of 300 µSv/y was introduced as the safety assessment criterion for low level radioactive wastes.
---
RADIATION SAFETY (TECHNICAL VISIT) DAY 3
---
1. Bach Mai Hospital, Hanoi
FNCA participants arrived at Bach Mai hospital at 9am for discussions and meeting with Assoc. Prof. Mai Trong Khoa (Vice Director of Bach Mai Hospital, Director of the Nuclear Medicine and Oncology Center), Prof. Phan Sy An (former director of the Nuclear Medicine and Oncology Center) and their colleagues. Some of the topics covered included the provision of emergency diagnosis and treatment, training, scientific research, disease prevention and the management of the medical economy. The importance of engaging in international cooperation as well as the role in assisting provincial hospitals to establish guidelines were also discussed.
Bach Mai Hospital (BMH) commenced in 1911 as 'Cong Vong Hospital for Infectious Diseases '. Covering an area of 11.4 hectare, it is Vietnam 's biggest general hospital. In 2007, BMH was given a special ranking as a medical centre and main teaching hospital for Hanoi Medical University. It consists of two institutes, five centers, 21 clinical departments, seven para-clinical departments, eight functional offices and a nursing school. There is a total of 2,000 staff of which 1,800 are hospital staff and 200 are lecturers from Hanoi Medical University. The hospital staff includes 500 doctors and 800 nurses and technicians, with qualifications ranging from professors, associate professors, PhD, Masters and Bachelor degree holders.
Following a presentation by Prof. Mai, the participants visited the Nuclear Medicine and Oncology Center, the Imaging Diagnostic Department and the Cardio Interventional Unit of the Cardio-Vascular Institute. The visit to Bach Mai hospital ended around 11:30am.
2. Training center NUTECH and Calibration Facilities at INST
Participants arrived at the Institute for Nuclear Science and Technology (INST) at about 1:50 p.m for a technical visit. The Institute was founded in 1991 under the Vietnam Atomic Energy Commission. The present director of the Institute, Dr Trinh Van Giap, introduced other members of INST to the FNCA participants.
On behalf of the FNCA participants, Prof Kosako explained the functions and responsibilities of FNCA (RS & RWM) and introduced all of the participants. The participants were then briefed on the function and organization of the institute, followed by a visit through the various facilities within the institute.
At the training center participants were shown and briefed on a variety of radiation monitoring instruments used in the center. These included a gamma spectrometer (hyper-pure germanium detector and NaI (Tl) detector), liquid scintillation counter, gross beta-gamma counter, survey meter equipment (GM survey meter, sodium iodide survey meter, neutron detector, ionization chamber survey meter and plastic scintillation survey meter) and TLD readers. Participants were also briefed on the training program on scatted radiation and attenuation factor.
The next area visited was the TLD Laboratory where INST provides individual monitoring services to radiation institutions in Northern Vietnam. Participants visited the calibration rooms including three exposure bunkers housing calibration instruments for gamma and x-rays.
The final area visited was the cyclotron facility which was recently commissioned by the Institute. The facility consists of a cyclotron machine, a hot cell room and a preparation and quality control room. At present, the Institute produces only fluorine (F-18), an isotope used by hospitals in nuclear medicine for diagnostic purposes.
---
SESSION V: SUB-MEETING-1 (OPEN SEMINAR) DAY 4
---
Preparation for radiation safety system and radioactive waste management
for first NPPs

Chairs:
Dr. Mohd Abd Wahab, Malaysia
Dr. Fan Zhiwen, China

There were four presentations including one DVD presentation in Session V.

Dr. Le Chi Dung, Vietnam, informed the participants of the radiation protection aspect of Vietnam 's first nuclear power plant (NPP), detailing the Atomic Energy Law which strictly follows the IAEA documentation structure and guidelines. The schedule for developing Vietnam 's the first nuclear power plant has been set and is planned to be operational by the year 2020. The need to develop a radiation safety infrastructure for the NPP program is also under ongoing review.

Dr. Nguyen Ba Tien updated the participants on Vietnam 's radioactive waste management status. In support of the government 's program for the country 's first NPP, a review of the current radioactive waste management system in Vietnam is in progress. Radioactive waste disposal activities have been initiated and three potential sites have been preliminarily selected for near surface radioactive waste disposal.

A DVD illustrating Japan 's experience during the early development of NPP in the country was presented by Mr. T. Oumi, Japan. Japan has since had extensive experience in the development and operation of several types of NPPs, including BWRs and PWRs.

Mr. T. Oumi, also introduced the historical development of radiation protection and radioactive waste management in Japan 's NPPs. The personnel dose management system has improved greatly, through ongoing continuous improvement to monitoring systems.
---
SESSION V: SUB-MEETING-2 (OPEN SEMINAR)
---
Radiation safety at large scale facility such as accelerators,
nuclear research reactor, hospital and/or industry
(for both exposure and radiation sources control)

Chairs:
Dr. Moinul Islam, Bangladesh
Mr. Syharir, Indonesia

Session V consists of three reports presented by Malaysia, Australia and Philippines.

Malaysia: Radiation Safety at Reactor TRIGA PUSPATI (RTP) in Malaysia

Dr. Wahab, Malaysia described the implementation of a radiation safety program at the TRIGA PUSPATI (RTP) Reactor. Dr Wahab introduced the staff involved in the operation of the reactor and explained the reactor type and fuel elements used. The reactor building was constructed in November 1981 and reached its first criticality on 28 June 1982. The Safety, Health and Environmental Management System (SHE-MS) in Nuclear Malaysia was established in 2005 with a very comprehensive policy put in place. The SHE-MS was revised in 2007 to provide a more effective operational and safety system. The first safety analysis report (SAR) for RTP was completed in 1982. In 2008, the SAR was revised and approved by the Atomic Energy Licensing Board (AELB). Management at Nuclear Malaysia sets a high priority for emergency preparedness and response program. Any changes in the operation and maintenance of the reactor must be approved by the reactor supervisor. If a new application is introduced into the routine operation, approval by the Reactor Manager must be obtained. A radioactive waste management program is in place and education and training program for safe operation of RTP are regularly conducted by Nuclear Malaysia. This is certified by AELB. There is no spent fuel at Nuclear Malaysia at present. Nuclear Malaysia is committed to always maintaining, improving and strengthening safety within its organization.

Australia: Radiation Safety Aspects of Decontaminating High Activity Hot Cells

Ms. Lynn Tan, Australia, presented on the radiation safety aspects of decontaminating hot cells. ANSTO has completed decontaminating 5 hot cells which were used for the acidic processing of Mo-99 over the past 25 years. The high radiation and contamination levels in the cells (20 850 mSv/h and gross beta > 10,000 Bq/cm2) require extensive planning be carried out in order to manage the exposure and containment related issues for staff and the environment. Equipment such as manipulators, pneumatic cutters, nibblers, wireless CCTV camera and monitors, were employed during the remote cleanout. Contaminated items such as the liquid waste tanks, tray tables and floor plates were removed from the cell to the waste storage area using shielded flasks. Once all the equipment had been removed, in-cell decontamination using strippable paint and mild acid was carried out. Air lock tents, portal monitor, hand and foot monitor, whole body counting and appropriate personal protection equipment were used as part of the contamination control.

Ms. Tan emphasized the importance of quick and efficient handling and removal of appropriately packaged waste items to prevent dose build up in work areas. Proper documentation of the dose rates and contamination levels of wastes should also be provided to assist downstream processing of the waste items. It was a successful decontamination operation with both individual and collective doses well below the set dose constraints. Careful assessment and coordination throughout the program was found to be very important in this type of decontamination program. Clear distribution of tasks amongst workers according to capabilities reduced unnecessary dose exposures. Achieving ALARA through dose sharing was found to be effective. Other lessons learnt included the need for proper packaging, removal and storage of waste, identification and removal of shielding of sources and the management of other risks such as fatigue, confined space and working at heights.

Philippines: Radiation Monitoring and Control of a Thorium Contaminated Building: Preliminary Results

Ms. Palattao advised that the PNRI is currently evaluating the release of a thorium gas mantle manufacturing plant from regulatory control. As required by the regulations, the facility must be free from any contamination and suitable for unrestricted use. For this purpose, preliminary radiation monitoring of the facility has been conducted to determine probable contamination including radioactive gas releases to the environment. An online gas monitor, Durridge RAD7 instrument preset at 5 minute sniff mode was used to measure ambient thoron in strategic places. Soil and sediment samples were collected and analyzed for 232Th and progenies content using a Wallac (Perkin Elmer) liquid scintillation counter. The samples were collected from the drain, p-trap and outside canal. Highest thoron levels were found in the mantle processing and packaging section, and knitting room (396-3930 Bq/m3).High concentrations of 232Th and progenies were measured in sediments collected from the outside canal and under the drain, with concentrations of 59.9 and 36.1 Bq/m3 respectively. Continual efforts is still needed to complete the tasks which include detailed monitoring of the whole building, boring and sampling of concrete inside the building. Collection and analysis of additional environmental samples around the plant will also be required. If necessary, facility clean up and soil remediation from the affected areas around the plant will be carried out prior to release from regulatory control.
---
SESSION VI: ROUNDTABLE DISCUSSION
---
FUTURE COOPERATION with the other international programs such as IAEA/ANSN and RCA/RAS9042

Chairs:
Mr. Lubi Dimitrovski, Australia
Ms. Maria Pallatao, Philippines

Session VI involved a roundtable discussion and updates by each country 's Project Leader on the status of involvement and participation in current and future cooperation with other international programs such as the IAEA/ANSN and RCA/RAS9042 programs. A summary of the comments by the Country Project Leaders are detailed below.

Japan
Professor Kosako provided the introductory remarks on the varying roles of the ANSN and RCA programs and stressed the current world economic situation has added further pressure on Japan to continue funding such programs. He also provided an update on upcoming activities such as the Asian Symposium in Radiation Safety sponsored by the OECD (NEA) and MEXT (Japan) to be held in Tokyo 3-4 September 2009 and the Asian and Oceanic Regional Congress on Radiation Safety (AORCP-3) to be held in Tokyo on 24-28 May 2010. ACORP-3 is supported by the Japan Health Physics Society (JHPS). It was also suggested that Australia and Japan should cooperate further in the area of Human Resource Activities to ensure that there is an ongoing interest and turnover of graduates in the nuclear area. Next, Mr Hideharu Sato provided a summary of the main activities/developments by ANSN in the Radwaste Topical Group. These include:

| | |
| --- | --- |
| - | Asian network of Cardiologists - progress made on optimizing doses to patients and minimizing the dose to the cardiologists and their staff. |
| - | Asian region ALARA Network - extension of activities in inter-regional cooperation with links to Latin America, the US and Europe. |
| - | RCA's forum in Radiation Protection |
| - | Formation of an Asian Region Emergency Management Decision Makers |
Mr. Sato also highlighted the IAEA 's involvement in the area of radiation safety including training programs. He also outlined the numerous activities the ANSN has been involved in including organising a workshop on "Disused Sealed Radioactive Sources" held in Chiang Mai, Thailand in 10-14 January 2009. Also planned for 2009 is an ANSN Topical Group meeting on Radioactive Waste Management in October 2009.

The status of the borehole technology system for disused source disposal (BOSS) was also discussed by the Country Project Leaders. The IAEA has produced a technical document on the BOSS disposal system and is actively pursuing the installation of the first BOSS system in Ghana. There is still an evident lack of progress worldwide on the BOSS system for the disposal of disused sealed sources.

Bangladesh
Dr. Moinul Islam reported that that BAEC are involved in a number of Technical Support programs with the IAEA in the Asian area. FNCA Workshop on Human Resources Development (HRD) for Nuclear Power Project (NPP) was held in Dhaka on 2-4 Nov 2008. In addition, Bangladesh is also participating in several IAEA/RCA, IAEA/TC and FNCA programs regularly.

Indonesia
Dr. Syahrir advised that Indonesia is involved in the ANSN and RAC cooperation program and is attending a number of workshops covering a number of disciplines including Marine Studies.

Malaysia
Like many Asian countries, Malaysia is also participating in Regional Cooperation in Asia (RCA) and Asian Nuclear Safety Network (ANSN) activities. In addition, Malaysia is also participating in DISPONET activities under the IAEA purview. Malaysia 's views of this initiative are that the collaboration should be, in principle, complement other ongoing activities. Some of the collaborations that can be enhanced are shared experiences and information (knowledge management), project collaboration to avoid duplication of activities and joint attendance in other meetings to facilitate sharing of information on project activities. However the guidelines on this cooperation should be clearly defined to avoid misunderstanding.

Thailand
Ms. Nanthavan Ya-anant provided a summary of the various ANSN/RCA activities which Thailand is involved in. Thailand hosted the ANSN sponsored workshop on Sustainability in Management of Disused Spent Radioactive Sources in Chiang Mai on 10-14 January 2009. Thailand will also host further ANSN workshops in November 23-27 and a Regional Project RAS/3/009 on Strengthening Infrastructure of Radioactive Waste Management between 18-21 August 2009. TINT and Japan have also signed a cooperative treaty for the knowledge exchange in nuclear technology.

Vietnam
Dr. Le Ba Thuan provided a summary of the various IAEA/ANSN and RCA cooperation programs which Vietnam is involved in. These include the FNCA Radiation Safety & Radioactive Waste Management and the Regional Project (RAS/3/009) on Strengthening Infrastructure of Radioactive Waste Management. In this latter project, Vietnam has been receiving assistance from the IAEA for conditioning and management of disused spent radioactive sources. Vietnam was also involved in technical cooperation such as the TC Project VIE3005: Upgrading capacity of Waste Processing and Interim Storage Facility for Low and Intermediate Level Radioactive Waste

China
Dr. Fan Zhiwen detailed China 's involvement in ANSN/RAC activities including China 's continuing participation in the Joint Convention in the Management of Spent Fuel and Radioactive Waste with an updated report in 2009, the Nuclear Safety Council, the ANSN Integrated Safety Evaluation in Radioactive Waste Management, the Eastern Asian Forum, and the FNCA Radiation Safety & Radioactive Waste Management workshops.

Dr. Fan also provided a forward plan aimed at enhancing the current successes and benefits that the FNCA and ANSN program activities provide and deliver. These include continual exchange of technical information and discussion on common themes specific to the Asian region. Stability of the human and financial resources to the Asian region is also important, and this includes the provision of expertise in areas such as disused source disposal and NORM issues.

Philippines
Ms. Maria Palattao informed that Philippines is actively participating in the activities of the ANSN Topical Group on Radioactive Waste Management, the most recent being the Training Course for Safety Assessment of Radioactive Waste Disposal Facilities in South Korea on 13-17 July 2009 and the international workshop on Sustainability in Management of Disused Spent Radioactive Sources held on 10-14 January 2009 in Chiang Mai, Thailand. The Philippines is also currently pursuing an IAEA TC project involving the Co-location of a Near Surface Disposal Facility and the Borehole Disposal Concept for disused sources. Ms. Palattao also informed the participants of the IAEA Project on International Low Level Waste Disposal Network (DISPONET). A technical meeting was held in Vienna on 15-16 April 2009 where the network Members (countries with advanced programs) met with participants (representatives of institutions receiving support from the IAEA) and exchange views on the DISPONET activities. To properly address the needs of countries/institutions starting their disposal programs, the network Participants were requested to present their priorities, interests and preferences, and to propose approaches for information exchange.

The Philippines also participates in the RCA project RAS/9042 on Sustainability of Regional Radiation Protection Infrastructures. RAS/9042 promotes sustainability of radiation protection infrastructures through a number of activities, including the establishment of a dynamic and active regional networking with exchange of information and continued mutual support of regional radiation protection initiatives. The RCA project has four components covering regulatory infrastructure (including public exposure control), occupational exposure control, medical (patient) exposure control, and radiological emergency preparedness and response. Philippines hosted the mid-term review meeting in February 2009. It also hosted the Technical Meeting of the Regulators Forum on Regional Priority Issues and Solutions on 5-7 August 2008. The RCA Regulators Forum Steering Committee is composed of Philippines (Chair), Australia, India, Malaysia and Vietnam. Australia and Indonesia were designated administrators that will assist the Committee.

Australia
Mr. Lubi Dimitrovski detailed the ongoing support that Australia is providing in the ANSN, RCA and FNCA programs. Australia will continue to participate in these programs and provide technical experts to assist in the nuclear cooperation activities within the Asian region. Australia attended the RCA meeting RAS/9/042 Sustainability of Regional Protection Infrastructure. The RAS/9/042 program commenced in 2007 and is expected to be completed in 2010 and has 16 participating IAEA Member States. Planned activities of the RAS/9/02 program in 2009 include an RTC on Field Exercises and Decision-making Processes for Emergency Planning Decision makers (7-11 Sept 2009), 2nd ARAN Workshop on Radiation Protection in NORM producing industries 12-16 October, CPR and a Regional Seminar of Radiation Protection Regulators on Sharing Best Practices in Managing Disused Sources and Networking, 26-30 October.

Australian technical experts also attended the ANSN Topical Group Meeting on Safety Management of Research Reactors - SMRRTG (May 21-22 in Hanoi). The SMRRTG have agreed to adopt a working methodology to improve both Human and Information Technology networks.

Australia is also supporting in other regional cooperation activities including the FNCA RS & RWM workshops and other ANSN programs.
---
SESSION VI: CLOSING SESSION DAY 5
---

The participants discussed the next steps and future schedule for the RS & RWM workshops, and finalised the workshop minutes.
END
---
Program of
FNCA2009 Workshop on
Radiation Safety and Radioactive Waste Management (RS&RWM)
August 3 - 7, 2009
Hanoi, Vietnam
---
Monday 3 August 2009
Time
Topic
Person(s) involved
08:30-09:00
Registration
VAEI staff
09:00-09:30
Opening Ceremony
Welcome Remarks
Dr. Le Ba Thuan
(FNCA Project Leader)
Opening Address
Dr. Bui van Tuan
Vice - Chairman of VAEI
FNCA Address from PL of Japan

Prof. Toshiso Kosako
Introduction of the participants and
official information for the Workshop
Dr. Le Ba Thuan
09:30-10:00
Group Photo / Coffee Break
10:00-10:05
Adoption of Agenda
Dr. Le Ba Thuan
SESSION I: RADIATION SAFETY PRINCIPLES
(Presentation 20 minutes + Questions 10 minutes)
10:05-10:35
The Basic Ideas and the status of Safety Documents of IAEA and ICRP
Dr. Toshiso Kosako
SESSION II: COUNTRY REPORTS
STATUS ON RADIATION SAFETY AND RADIOACTIVE WASTE MANAGEMENT
[ THE PAPERS SHOULD BE MADE AS A DRAFT OF CONSOLIDATED REPORT OF RADIATION SAFETY WHICH WOULD BE COMPLETED IN 2010]
(Presentation 15 minutes + Questions 5 minutes)
Co-Chair: Dr. Mohd Abd Wahab, Malaysia / Mr. Tadashi Oumi, JAPAN
10:35-10:55
(1) Australia
Mr. Lubi Dimitrovsky
10:55-11:15
(2) Bangladesh
Dr. Moinul Isram
11:15-11:35
(3) China
Dr. Fan Zhiwen
11:35-11:55
(4) Indonesia
Dr. Syahrir
11:55-12:30
Chair-Person's Summary and discussion
12:30-13:50
Lunch Break
SESSION II: COUNTRY REPORT (CONTINUED)
Co-Chair: Mr. Lubi Dimitrovski, AUSTRALIA / Dr. Fan Zhiwen, CHINA
13:50-14:10
(5) Japan
Mr. H. Sato
14:10-14:30
(6) Malaysia
Dr. Wahab
14:30-15:00
Coffee Break
15:00-15:20
(7) Philippine
Ms. Maria Palattao
15:20-15:40
(8) Thailand
Ms. Nanthavan Ya-Anant
15:40-16:00
(9) Viet Nam
Dr. Le Chi Dung
Dr. Nguyen Ba Tien
Mr. Ong Van Ngoc
16:00-16:20
Chair-Person's Summary and discussion
16:20-17:30
Poster / Mini-Exhibition
Japan[Environmental monitoring: daily works and emergency, calibration system], Viet Nam and Other Countries
19:00-21:30
Reception Party delivered by VAEI
Tuesday 4 August 2009
Time
Topic
Person involved
SESSION III : SPECIFIC SAFETY TOPICS [OPEN SEMINAR]
PERSONAL DOSIMETER: CALIBRATION, STANDARDIZATION AND EXPOSURE CONTROL (10 MUNITES EACH)
Co-Chair: Dr. Hideki Harano, Japan / Dr. Le Ba Thuan, Viet Nam
09:00-09:10
Introductory remarks by Prof. T. Kosako
Dr. T. Kosako
09:10-09:30

09:30-09:40
International circumstances of calibration, standardization related to ionizing radiation
Question and discussion
Dr. H. Harano
09:40-09:50
(1) Australia
Ms. Lynn Tan
09:50-10:00
(2) Bangladesh
Dr. Mounul Isram
10:00-10:10
(3) China
Dr. Fan Zhiwen
10:10-10:20
(4) Indonesia
Dr. Syahrir
10:20-10:40
Morning Tea
10:40-11:00
DVD: Measurement Standards Help Make the World One
Dr. H. Harano
11:00-11:10
(5) Japan
Dr. H. Harano
11:10-11:20
(6) Malaysia
Dr. Wahab
11:20-11:30
(7) Philippine
Ms. Maria Palattao
11:30-11:40
(8) Thailand
Ms. Nanthavan
11:40-11:50
(9) Viet Nam
Dr. Vu Manh Khoi,
Mr. Tran Ngoc Toan
11:50-12:10
Comments from Prof. T. Kosako and Discussion
Dr. H. Harano
12:10-12:20
Chair-Person's Summary
12:20-13:50
Lunch Break
SESSION IV : RADIOACTIVE WASTE MANAGEMENT
RADIOACTIVE WASTE MANAGEMENT (THEME1)
Co-Chair:6nbsp;Mr. Syahrir, Indonesia / Ms. Maria Palattao, The Philippines
13:50-14:20


14:20-14:35
Upgrade of Radioactive Waste Facilities at ANSTO - 5 Year Plan OR Decommissioning Status of ANSTO's Research Reactors -
Questions and Discussion
Mr. Lubi Dimitrovsky
14:35-15:05

15:05-15:20
Study on Safety Assessment of the Existing Pre-disposal facilities in Bangkok
Questions and Discussion
Ms. Nanthavan
15:20-15:50
Coffee Break
SESSION IV : RADIOACTIVE WASTE MANAGEMENT
SAFETY ISSUES RELATING TO PARTICIPATING COUNTRIES (THEME 2)
Co-Chair: Ms. Nanthavan Ya-Anant, Thailand
Dr. Moinul Isram, BANGLADESH
15:50-16:20


16:20-17:20
The status of Japanese waste program and introduction of recent status of IAEA safety standard in the field of radioactive waste
Questions and Discussion
Mr. T. Oumi
Mr. H. Sato
17:20
Announcement for technical visit
Viet Nam staff
19:00-21:30
Reciprocal Party delivered by FNCA Workshop
Wednesday 5 August 2009
Time
Topic
Person involved
08:00-12:00
Visit Bach Mai hospital located in Hanoi for the status of radiation safety (exposure control, radiation sources management)
VAEI Staff
Leave Bach Mai Hospital
12:00-13:30
Lunch
13:30
Visit VAEI facilities which would have relationship with session II such as training center and calibration facilities (Institute for Nuclear Science and technology- VAEI).
VAEI Staff
18:00
Return to Hotel
Thursday 6 August 2009
Time
Topic
Person involved
SESSION V : SUB-MEETING [OPEN SEMINAR]
Preparation for radiation safety system and radioactive waste management for first NPPs
Co-Chair: Dr. Mohd Abd Wahab, MALAYSIA / Dr. Fan Zhiwen, Chjna
09:00-09:20

09:20-09:30
Viet Nam - the status of preparation for Radiation Protection in Viet Nam first NPPs
Questions and Discussion
Dr. Le Chi Dung
09:30-09:50


09:50-10:00
Viet Nam - the status of preparation for Radioactive Waste Management System in Viet Nam first NPPs
Questions and Discussion
Dr. Nguyen Ba Tien
10:00-10:20
Coffee Break
10:20-10:50
10:50-11:00
DVD of Japanese experiences
Questions & Discussion
Mr. T. Oumi
11:00-11:20

11:20-11:30
Experience of Japan for preparing radiation safety and radioactive waste management for first NPPs
Questions & Discussion
Mr. T. Oumi
11:30-11:40
Chair-Person's Summary
11:40-13:00
Lunch Break
SESSION V: SUB-MEETING 2
Radiation safety at large scale facilities such as Accelerators, Nuclear Research Reactors, Hospitals and/or Industry (both exposure and radiation sources control)
Co-Chair: Dr. Moinul Isram, Bangladesh / Mr. Syahrir, Indonesia
13:00-13:20

13:20-13:30
Radiation Safety at Reactor TRIGA PUSPATI (RTP) in Malaysia
Questions & Discussion
Dr. Wahab
13:30-13:50

13:50-14:00
Australia - Radiation Safety in the OPAL Research Reactor
Questions & Discussion
Ms. Lynn Tan
14:00-14:20

14:20-14:30
Radiation Monitoring and Control of a Thorium Contaminated Building in Philippines
Questions & Discussion
Ms. Maria Palattao
14:30-14:50
Concluding comments from Prof. T. Kosako and Discussion
14:50-15:10
Coffee Break
SESSION VI : ROUNDTABLE DISCUSSION
[ALL COUNTRIES ARE EXPECTED TO PREPARE WRITTEN NOTES FOR THIS DISCUSSION]
Co-Chair: Mr. Lubi Dimitrovski, Australia / Ms. Maria Palattao, Philippine
15:10-15:20
Introductive remarks by Prof. Kosako followed by comments from the countries' Project Leaders
Prof. Toshiso Kosako
15:20-16:00
Australia, Bangladesh, China, Indonesia, Japan, Malaysia, Philippine, Thailand, Vietnam (3-5 min per country)
Country Project Leaders
16:00-16:10
Concluding comments from Prof. Toshiso Kosako and Discussion
Prof. Toshiso Kosako
16:10-16:20
Coffee Break
SESSION VII : CLOSING SESSION (PART 1)
Co-Chair: Dr. Le Ba Thuan, Viet Nam / Prof. Toshiso Kosako, JAPAN
16:20-17:30
Confirmation on the contents and summary of each session by the session chairpersons
17:30-18:30
Summary / Wrap
- Complete confirmation on the contents and summary of Each Session by the session chairpersons
Friday 7 August 2009
Time
Topic
Person involved
SESSION VII : CLOSING SESSION (PART 2)
Co-Chair: Dr. Le Ba Thuan, Viet Nam / Prof. Toshiso Kosako, JAPAN
08:30-09:30
Next Steps and Future Schedule
- News Letters of RS&RWM (format and
contents)(Japan for No.3, Viet Nam for No.4)
- Next RS&RWM Workshop (in Tokyo, 2010 and
Themes for the next Workshop; with close
connection with AOCRP3)
Development of the Workshop Minutes
09:30-11:30
Confirmation and Adoption of the Workshop Minutes
Prof.Toshiso Kosako
Prof. Le Ba Thuan
11:30
Closing Remarks
Dr. Le Ba Thuan
(Viet Nam)
---
List of Participants
FNCA2009 Workshop on
Radiation Safety and Radioactive Waste Management (RS&RWM)
August 3 - 7, 2009
Hanoi, Vietnam
---
Australia
(Project Leader)
Mr. Lubi Dimitrovski
Waste Operations Manager Australian Nuclear Science & Technology Organisation
Australia
Ms.Lynn Tan Kee Pei
Group Leader, Intermediate Level Waste
Australian Nuclear Science & Technology Organisation
Bangladesh
(Project Leader)
Dr. Moinul Islam
Principal Scientific Officer
Bangladesh Atomic Energy Commission
China
Dr. Fan Zhiwen
Head, Division of Radwaste Safety
China Institute for Radiation Protection
Indonesia
Dr. Shahrir
Head of Radiation Safety and Environment Div.
National Nuclear Energy Agency of Indonesia
Japan
(Project Leader)
Prof. Toshiso Kosako
Professor, Department of Nuclear Professional School
The University of Tokyo
Japan
Mr. Tadashi Oumi
Manager, Plant Management Department
The Japan Atomic Power Company
Japan
Dr. Hideki Harano
Senior Researcher, National Metrology Institute of Japan (NMIJ), National Institute of Advanced Industrial Science and Technology (AIST)
Japan
(Secretariat)
Mr. Hideharu Sato
Senior Staff Researcher
Radioactive Waste Disposal Safety Research Center, Nuclear Safety Research Association (NSRA)
Malaysia
(Project Leader)
Dr.Mohd Abd Wahab Bin Yusof
Manager
Waste Technology Development Centre, Malaysian Nuclear Agency
Philippines
(Project Leader)
Ms.Maria Visitacion B. Palattao
Head, Standards Development Section. Nuclear Regulations, Licensing and Safeguards Division, Philippine Nuclear Research Institute
Thailand
Ms. Nanthavan Ya-anant
Head of Radioactive Waste Management Section
Nuclear Science Specialist of Thailand Institute of Nuclear Technology
Vietnam
(Project Leader)
Dr. Le Ba Thuan
Director, Institute for Technology of Radioactive& Rare Elements (ITRRE), VAEI
Local Participants
Vietnam
Dr. Nguyen Ba Tien
Director of Center for Radioactive Waste Management and Environment, Institute for Technology of Radioactive and Rare Elements (ITRRE), VAEI
Vietnam
Dr. Le Chi Dung
Deputy Director General
Vietnam Agency for Radiation and Nuclear Safety (VARANS)
Vietnam
Mr. Ong Van Ngoc
Head, Technology Water and Radwaste Dep., Reactor Center, Nuclear Research Institute (NRI)
Vietnam
Mr. Vu Manh Khoi
Deputy Director of Centre for Radiation Protection and Environmental Monitoring
Institute for Nuclear Science and Techniques (INST), VEAI
Vietnam
Mr. Tran Ngoc Toan
Researcher
Institute of Nuclear Science and Technology (INST), VAEI
Vietnam
Mr. Pham Quang Minh
Head of Department of Planning and international relations Institute for Technology of Radioactive & Rare Elements (ITRRE), VAEI
Vietnam
Mr. Dang Xuan Vinh
Deputy Head of Department of Planning and international relations
Institute for Technology of Radioactive & Rare Elements (ITRRE), VAEI
---