Sub-Project Meeting on Insect Resistance in Orchid
September 5 - 8, 2005
Bangkok, Thailand
FNCA 2005 Mutation Breeding Sub-Project Meeting on Insect Resistance in Orchid took place as follows
Date: September 5 - 8, 2005
Venue: Kasetsart University, Bangkok, Thailand
Host Organizations:
Kasetsart University (KU), Thailand
Ministry of Education, Culture, Sports, Science and Technology (MEXT) of Japan
Secretariat: Japan Atomic Industrial Forum Inc. (JAIF)
Participants:
1 each from Indonesia and Malaysia, 2 from Japan, and 4 from Thailand, total 8

[Opening Ceremony]
Welcome address was delivered by Deputy Director, Kasetsart University Research and Development Institute (KURDI).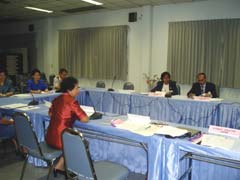 [Special Lectures]
Dr. Shigeki Nagatomi presented a lecture on 'Chronic and acute gamma irradiation on in vitro mutagenesis in plants' and Dr. Valuli Rojanawong presented a lecture on 'Thrips palmi melon thrips, palm thrips or cotton thrips insect pest of orchids in Thailand'.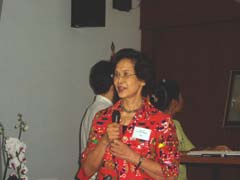 [Progress Report on Insect Resistance in Orchid by Each Country]
Progress Reports on Insect Resistance in Orchid were presented by Indonesia, Malaysia and Thailand.
[Discussion on Present Status and Future Work Plan of the Project]
The progress reports presented by each country were discussed and the followings were agreed:
the project will focus on selection of flower colour mutations and followed by selection for insect tolerance. Colour mutations are more important indicator for the variations derived from mutation induction and also for the commercial value of orchids.
new work plan was formulated for 2006 and 2007 as in Attachment 3 to include screening for insect tolerance, flower colour mutants and meristem cloning of selected mutants.
data of radiosensitivity of Dendrobium orchids should be obtained to determine the optimum dose of radiation.
Indonesia will screen for thrips tolerance instead of mites.
[General Discussion on Methodologies, Problem and Solution]
In general, radiosensitivity to gamma rays was not clear on in vitro materials such as callus, PLBs etc. Hence additional investigation of radiosensitivity should be conducted using in vivo plant material, PLB and in vitro seedlings in wide range of radiation doses 0, 40, 80, 120, 160, 320, 640, 1280 Gy.
Split dose and chronic irradiation are preferable for mutation induction to reduce radiation damage.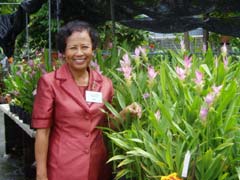 [Midterm Report]
Midterm reports have been summarized as in Attachment 4.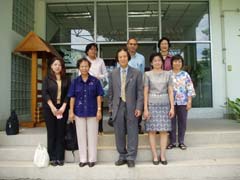 [Technical Visit]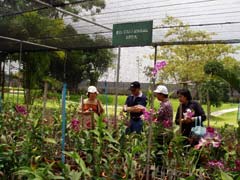 Participants made a visit to Jiad Orchid Nursery at Banglane, Nakorn Pathom Province and Thai Orchid Company's nursery at Ratchaburi Province which have research collaboration with Kasetsart University in developing orchid variety through induced mutation. The participants were demonstrated to a good orchid nursery management and agricultural practices. In addition, the participants had a first hand knowledge about the disease problems and pests at the nursery level. The participants also observed the growth and morphological changes such as leaf color and shape, plant height and growth habit in irradiated orchid grown in both nurseries.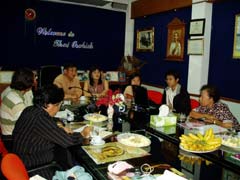 These field trip was followed by a visit to the export section of Thai Orchid Company Ltd in Bangkok to observe fumigation and packaging processes of orchid cut flowers in preparation for the export to world market. Thai Orchid Company Ltd is one of the top ten orchid exporters of Thailand. Participants had intensively discussed and exchanged ideas and knowledge about the orchid industry, the needs and the research interests of the industry with the President and the staffs of Thai Orchid Company Ltd. The company is very much interested in using ionizing radiation for orchid breeding.
The Minutes were discussed and agreed upon by all participants in the Meeting. This will be reported at the FNCA 2005 Mutation Breeding Workshop to be held in December 2005 in Malaysia.
Attachments: