MENU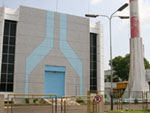 FNCA 2002 Workshop on Nuclear Safety Culture


FNCA 2002 Workshop on Nuclear Safety Culture


---

Summary

1) Date :
January 14-17, 2003
2) Place :
Dalat, Viet Nam
3) Sponsored by :
Australian Nuclear Science and Technology Organisation (ANSTO)
Vietnam Atomic Energy Commission (VAEC)
4) In Cooperation with :
Japan Atomic Industrial Forum, Inc. (JAIF)
5) Attendance :
22 participants from Australia (2), Indonesia (1), Japan (7), Korea (1), Malaysia (1), The Philippines (1), Thailand (1), Viet Nam (8),
(China could not send a delegate.)

Reports and Discussions

1) The Main Topics of the Workshop
  a) Reporting against the 6 indicators and 11 benchmarks of activity in safety culture
  b) Reporting against the Nuclear Safety Convention Articles
  c) Working groups on self-assessment reports
  d) Lessons learned from the incident at Hamaoka and from TEPCO
  e) Presentation on Schein model of culture
  f) Presentation on influence of traditional culture values in Vietnam
  g) Visit to Dalat Nuclear Research Reactor (DNRR) of Nuclear Research Institute
(NRI)
  h) Peer review of DNRR on the self-assessment report
  i) Discussion on future activities

2) Working Groups on Self-Assessment Reports
All attending countries submitted for the first time, self-assessment reports on one research reactor. The workshop broke into two groups to consider four reports each and prepare an overview of highlights, good practices and potential areas for improvement. Two groups rejoined and reported them in the plenary session.

Good Practices (Part)
| | | |
| --- | --- | --- |
| | a) | All countries had either achieved effective independence of the regulator, or had made significant steps toward this goal. |
| | b) | Most institutes had a current safety analysis report in place for their reactor or were in the process of revising it. |
| | c) | There is an active Safety committee in most of the institutes reporting, reviewing the safety of proposed activities. |

Potential Areas for Improvement (Part)
| | | |
| --- | --- | --- |
| | a) | There is a perceived lack of resources in operations and regulatory areas in some countries. |
| | b) | Management of ageing systems, structures and components could be improved in some countries.Nevertheless, two countries had undertaken or will soon undertake remaining life studies of their reactors. |
| | c) | Monitoring and evaluation of the effectiveness of training and safety culture activities could be improved in most institutes. |

3) Peer Review of DNRR on the Self-Assessment Report
The 2002 workshop included for the first time, a peer review of the host country's research reactor on the self-assessment report. The self-assessment and peer review of the Vietnam DNRR was the first to be conducted in the FNCA/NSC Project and was intended to be a trial process. The peer review process was undertaken by observation of the site, interview with NRI staffs and review of the self-assessment report in a cooperative spirit and seen as an effective vehicle for fostering and strengthening safety culture. Despite being the first of a trial process, real, meaningful and practical recommendations had been made for improvement of safety management and safety culture at DNRR.



Recommendations (Part)
| | | |
| --- | --- | --- |
| | a) | NRI should consider the inclusion of some external membership of the Safety Committee to help bring different perspectives to safety. |
| | b) | NRI should consider formalising the safety policy statement in writing to reinforce the commitment to safety for NRI staff. |
| | c) | NRI should improve the reactor control room man-machine interface to reduce the chance of human error. |
| | | |
| --- | --- | --- |
| | | |
| Dalat Nuclear Research Reactor (DNRR) | | Peer Review at DNRR Reactor Control Room |
4) Other Outcomes
a)
There was agreement to consider whether the new IAEA "Code of Conduct for Research Reactors" might serve as a more appropriate basis for reporting than the Nuclear Safety Convention Articles.
b)
Significant developments and commitment to safety culture improvements have been reported by each country, e.g. achievement of effective independence of the regulator, existence of the active Safety Committee and revision of the safety analysis report for the research reactor.
c)
The presentation on national and local culture in Vietnam and the interaction of safety with the local and national cultures provided useful insights and was seen as a constructive involvement of disciplines from outside the nuclear and radiation safety context.
d)
Feedback on the IAEA Conference on Safety Culture in Nuclear Installations, Rio de Janeiro, 2-6 December 2002 was useful.
e)
The Schein model of culture was seen as a useful background to explain how particular sub-cultures arise.
f)
Valuable lessons could be learned from the Hamaoka incident as follows:
  - inter-generational corporate learning,
  - proper account should be taken of operations experience in similar reactors,
  - thorough safety assessments of change should be undertaken.
g)
The presentation on the TEPCO "scandal" highlighted that an environment and culture had existed that allowed non-disclosure of safety-related data and this has implications for safety culture studies.

5) Future Activities
| | | |
| --- | --- | --- |
| | a) | The Korean delegate undertook to examine the lists of reporting indicators and benchmarks, and formulate a consolidated list based on existing reporting plus the code of conduct and distribute prior to the next workshop. |
| | b) | The Philippines delegate undertook to prepare a draft of indicators for "radiation safety culture" prior to the next workshop. If agreed at the workshop it could alsobe another topic to report and also a possible area for self-assessment and peer review at subsequent workshops, and be included in the consolidated list of reporting topics. |
| | c) | If agreed, this list could form the basis for reporting at subsequent workshops. |
| | d) | To consider areas for improvement arising from the reports and are encouraged to address these where possible. |
| | e) | The self-assessment and peer review process should be continued. |
| | f) | To provide an update on the self-assessment report 3 months prior to the next workshop. |
| | g) | Countries with more than one research reactor should apply the self-assessment to one other reactor. |
| | h) | A peer review should be conducted on the research reactor at the host institute of the next workshop. |
| | i) | The next workshop should be held in Korea subject to agreement of the Government of Korea. Alternative venues could be the Philippines and Australia. |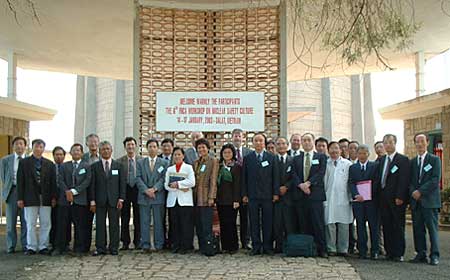 Participants in the 2002 Workshop
---


Program of FNCA 2002 Workshop
on Nuclear Safety Culture
Dalat, Viet Nam

---
Tuesday, 14 January 2003



08:45 - 09:00 Registration
09:00 - 09:30 Opening Session
           Welcome Speech
           Opening Speech
           Overview of Nuclear Safety Culture Project(Japan)
09:30 - 09:40 Taking Group Photos
09:40 - 09:50 Break
(Session 1) Introduction about IAEA's Activity
09:50 - 10:30 Report on IAEA Brazil Conference(Australia)
10:30 - 10:40 The 2nd Review Meeting on Nuclear Safety Convention(Japan)
(Session 2) Country Report(Co-Chairs: Australia, Viet Nam)
10:40 - 11:20 Australia
11:20 - 11:50 Indonesia
11:50 - 12:15 Japan
12:15 - 13:30 Lunch
         Country Report(Co-Chairs: Indonesia, Korea)
13:30 - 13:50 Japan(Q&A)
13:50 - 14:25 Korea
14:25 - 14:40 Malaysia
14:40 - 15:05 The Philippines
15:05 - 15:15 Break
15:15 - 15:40 Thailand
(Session 3) Consideration of Safety Culture
15:40 - 16:20 The Schein Model of Culture(Australia)
16:20 - 16:50 Influence of Traditional Culture Values in Viet Nam(Viet Nam)
16:50 - 17:10 Grouping for Review of Self-Assessment Reports
19:00      Welcome Reception(jointly hosted by ANSTO/VAEC)


---
Wednesday, 15 January 2003
         Country Report(Co-Chairs: The Philippines, Thailand)
08:30 - 09:00 Viet Nam
09:00 - 09:20 Break
(Session 4) Topical Issues of Japan(Co-Chairs: The Philippines, Thailand)
09:20 - 10:10 Incident of Hamaoka NPS Unit-1(Japan)
10:10 - 11:00 TEPCO Cover-Up of Flaw Data(Japan)
11:00 - 11:15 Break
(Session 5) Review of Self-Assessment Reports on Research Reactor
11:15 - 12:00 Group Discussion
12:00 - 13:30 Lunch
13:30 - 14:15 Group Discussion(continued)
(Session 6) Summary Reporting of Self-Assessment Review Result
(Co-Chairs: Japan, Viet Nam)
14:15 - 14:35 Group 2
14:35 - 14:50 Group 1
14:50 - 15:10 Break
15:10 - 15:45 How to Proceed Peer Review of DNRR(Japan)
16:00 - 18:30 Cultural Visit of Dalat
---
Thursday, 16 January 2003
(Peer Review of DNRR)
08:45 - 09:15 Presentation of NRI's Director about related Activities(Viet Nam)
09:15 - 10:00 Scheduling and Q&A in Each Group
10:00 - 11:30 Site Tour and Interview with NRI Staffs at Workplace
11:30 - 12:20 Group Discussion
12:20       Leave NRI
12:30 - 14:00 Lunch
14:00 - 15:00 Reporting Peer Review Result from Each Group
15:00 - 16:00 Additional Q&A and Discussion
16:00 - 17:00 Preparing Draft of the Report on Peer Review of DNRR
19:00       Farewell Party(hosted by NRI)
---

Friday, 17 January 2003
(Concluding Session)(Co-Chairs: Japan, Australia)

08:30 - 10:00 Country Report Format, 3-Year Work Plan, Candidate of the Next
         NSC Workshop
10:00 - 10:15 Break
10:15 - 12:00 Discussion on Further Activities, Finalization of Resolutions
         Closing Remarks
---


Participant List for FNCA 2002 Workshop
on Nuclear Safety Culture

---
Australia
Mr. Simon J. Bastin
FNCA Nuclear Safety Culture Project Leader of Australia
Acting Manager
Safety and Reliability
Australian Nuclear Science & Technology Organisation(ANSTO)

Mr. Peter Marshall
Senior Safety and Reliability Engineer
Australian Nuclear Science & Technology Organisation(ANSTO)
Indonesia
Mr. Johnny Situmorang
Engineer
Nuclear Safety Technology Development Center
National Atomic Energy Agency(BATAN)
Japan
Dr. Michio Ishikawa
FNCA Nuclear Safety Culture Project Leader of Japan
Technical Advisor
Nuclear Power Engineering Corporation(NUPEC)

Dr. Yoshihiro Nakagome
Professor
Division of Reactor Safety Research
Research Reactor Institute
Kyoto University

Mr. Minoru Kubo
Director
Public Relations Division
Japan Nuclear Cycle Development Institute(JNC)

Mr. Keiji Hirai
Director and General Manager
Research and Development Department
The Japan Atomic Power Company(JAPC)

Dr. Masashi Hirano
Deputy Director
Department of Reactor Safety Research
Japan Atomic Energy Research Institute(JAERI)

Mr. Hideo Nakasugi
Head
Office of the Coordinator
Asia Cooperation Center
Japan Atomic Industrial Forum, Inc.(JAIF)

Mr. Mitsutoshi Odera
Project Manager
Asia Cooperation Center
Japan Atomic Industrial Forum, Inc.(JAIF)
Korea
Dr. In-Cheol Lim
Principal Researcher
Deputy Manager of HANARO Operation Department
HANARO Management Division
HANARO Center
Korea Atomic Energy Research Institute(KAERI)
Malaysia
Mr. Mohd Yusoff Ibrahim
FNCA Nuclear Safety Culture Project Leader of Malaysia
Manager
Radiation Safety and Waste Management Unit
Malaysian Institute for Nuclear Technology Research(MINT)
The Philippines
Ms. Vangeline K. Parami
FNCA Nuclear Safety Culture Project Leader of The Philippines
Head
Licensing Review and Evaluation Unit
Nuclear Regulations, Licensing and Safeguards Division
Philippine Nuclear Research Institute(PNRI)
Thailand
Mr. Sirichai Keinmeesuke
Director
Reactor Operation Division and,
Acting Head
Research Reactor and Nuclear Technology Operations Program
Office of Atoms for Peace(OAP)
Viet Nam
Prof. Dr. Nguyen Mong Sinh
FNCA Nuclear Safety Culture Project Leader of Viet Nam
Chairman
Scientific Council of NRI
Dalat Nuclear Research Institute(NRI)
Vietnam Atomic Energy Commission(VAEC)

Prof. Dr. Nguyen Nhi Dien
Director
Dalat Nuclear Research Institute(NRI)
Vietnam Atomic Energy Commission(VAEC)

Mr. Pham Van Lam
Deputy Director
Dalat Nuclear Research Institute(NRI)
Vietnam Atomic Energy Commission(VAEC)

Mr. Le Doan Phac
Deputy Director
Department of International Relations and Planning
Vietnam Atomic Energy Commission(VAEC)

Dr. Nguyen Ngoc Tuan
Head
Department of Planning and International Relations
Dalat Nuclear Research Institute(NRI)
Vietnam Atomic Energy Commission(VAEC)

Dr. Trinh Thi Kim Ngoc(Ms.)
Deputy Director
Department of Human and Culture
Institute of Human Study
National Centre for Social Sciences & Humanities

Mr. Dang Xuan Vinh
Safety Officer
Institute for Technology of Radioactive and Rare Elements(ITRRE)
Vietnam Atomic Energy Commission(VAEC)

Mr. Tran Chi Thanh
Engineer
Department of Nuclear
Thermal Power Plants and Environment Department
Institute of Energy
Ministry of Industry(MOI)

---