The FNCA Countries proposed 21 New Cooperative Projects

-The Second Coordinators Meeting of the FNCA held in Tokyo-
---
The Second Coordinators Meeting of the Forum for Nuclear Cooperation in Asia (FNCA)
was held in Tokyo on March 14 through 16.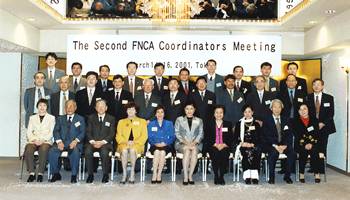 Participants of the Second Coordinators Meeting
The representatives of countries and IAEA
Sixteen overseas participants came from the eight member countries of FNCA, i.e., Australia, China, Indonesia, Korea, the Philippines, Malaysia, Thailand and Vietnam. Also present was the RCA Coordinator as an observer from IAEA. There were about 30 people presented from Japan, including Dr. Machi, the FNCA Coordinator of Japan, Mr. Endo as Deputy Chairman of Japan Atomic Energy Commission, Project Leaders, government officials, and representatives from cooperative organizations to the FNCA activities including JAERI, NIRS, and JAIF.
In line with the agreements reached in the First FNCA Meeting held in Bangkok, Thailand in November 2000, this Meeting discussed topics such as FNCA framework present activities in seven fields under FNCA, and relation with RCA activities. In particular, 13 new projects were proposed by China, Indonesia, Japan, the Philippines, and Vietnam. As many as 21 projects altogether were discussed.
Participants agreed to proceed some proposals such as the production technique of Tc-99m generator, the management technique of spent radiation sources. Some of the proposals of Asian Institute of Nuclear Science and Technology, or Boron Neutron Capture Therapy will be further discussed.
The Program
Tuesday, March 13
Technical tour
Wednesday, March 14
Opening Session

Session 1: Review of the First FNCA Meeting and Follow Work

Session 2: Country Report from Each Country

Session 3: Report and Review on Present Cooperation Activities and Future Plan
1) Review on On-going Cooperation Activities
2) Proposal of the New Projects
Thursday, March 15
Session 3:(continued)
3) Wrap-up Discussion
4) Nuclear and Radiation Liabilities
Session 4: Review on the Operation of Cooperation Activities under FNCA Framework

Special Report : The RCA and Its Program
Friday, March 16
Session 5: The Second FNCA Meeting in Japan
Wrap-up Session : Confirmation of the Record of the meeting
---