---
Research Reactor Technology (RRT)
The objective of the RRT project is to improve and equalize the level of safety analysis techniques, namely Neutronics calculation techniques, and Safety Analyses of RIA (Reactivity Initiated Accident) and LOFA (Loss of Flow Accident), among participating countries to assure the safe and stable operation of research reactors for the promotion of effective utilization.
Research reactors have been utilized for many fields such as beam experiments, medical irradiation, neutron activation analysis, neutron transmutation doping for Si semiconductor, radio isotope production, etc. It is very important for these fields to evaluate neutron flux and neutron spectrum accurately by using neutronics calculation techniques. Therefore, in 3 years activities from 2005, we equalized both Standard Reactor Analysis Code (SRAC) and continuous energy Monte Carlo code (MVP) in the participating countries.
Since 2008, we have carried out the activities of "Sharing Safety Analysis Techniques for Safety Operation of Research Reactors" to assure the further safe and stable operation of research reactors for the promotion of advanced utilization. Specifically, we attempted to share the technique of the following safety analyses codes;
(1) COOLOD-N2: Steady state thermal hydraulic code
(2) EUREKA2/RR: Nuclear & thermal hydraulic coupling code for transient change
RRT project is being continued to advance further safe and stable operation and to strengthen basis of effective utilization of research reactors through the cooperation on sharing Safety Analysis techniques in Asia.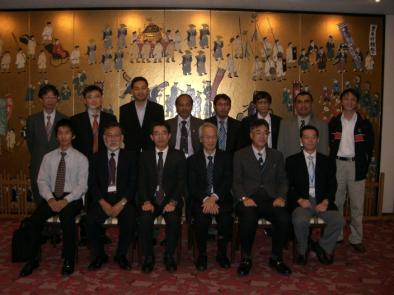 Members of RRT Project (FY2009)
Participants: Bangladesh, China, Indonesia, Korea, Japan, Malaysia, Thailand, Vietnam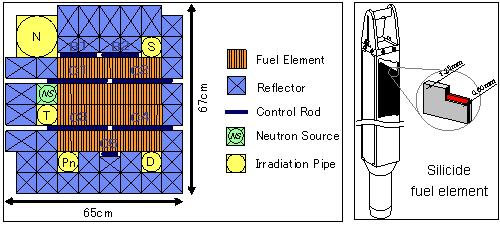 Core layout and Fuel element of JRR-4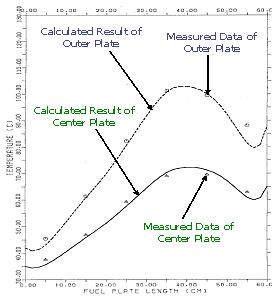 Fuel plate temperature with calculation and experiment