Under the joint sponsorship of the Atomic Energy Commission and the Ministry of Science, Technology and Environment of Thailand, "Forum for Nuclear Cooperation in Asia (FNCA)" was held at Sukhothai Hotel in Bangkok City, Thailand during November 10-15 for the first time since the new organizational framework of FNCA started. The Forum consisted of the Ministerial Level Meeting (MM) and the Senior Official Level Meetings (SOM) conducted before and after the Ministerial Level Meeting, also including a Technical Visit.
Program of the First Forum for Nuclear Cooperation
in Asia (1st FNCA)
Date
November 10- 15, 2000
Place
The Sukhothai Hotel, Bangkok
Sponsored by
Ministry of Science, Technology and Environment (MOSTE) of Thailand, and Atomic Energy Commission (AEC) of Japan
Supported by
Office of Atomic Energy for Peace (OAEP) of Thailand Science and Technology Agency (STA) of Japan Department of Public Relations of the Prime Minister's Office Kasetsart University Electricity Generating Authority of Thailand (EGAT) and National Science Museum (NSM)
In Cooperation with
Japan Atomic Energy Research Institute (JAERI) Japan Nuclear Cycle Development Institute (JNC) and Japan Atomic Industrial Forum, Inc. (JAIF)
Preparation Work
Office of Atomic Energy for Peace (OAEP) and Japan Atomic Industrial Forum, Inc. (JAIF)
Program
Friday,
November 10
SOM-1: Preparatory Meeting to MM
Monday,
November 13
Ministerial Level Meeting: MM Basic Theme: "Future Nuclear Energy and Its Safety in Asia" Country Paper Presentation, Round Table Discussion, Drafting of the Joint Communique and Adoption, etc Press Conference
Tuesday,
November 14
SOM-2 : Follow-up Meeting to MM
Wednesday,
November 15
Technical Visit
In addition to Thailand as sponsor country and Japan, the Forum was att4ended by Australia, China, Indonesia, Korea, Malaysia, the Philippines, Vietnam as well as the International Atomic Energy Agency (IAEA) as observer. Ministerial level representatives and senior government officials gathered from the nine member countries of FNCA to make presentations on strategies and specific activities for future nuclear cooperation activities and had active discussions and exchange of opinions. In particular, the following topics were discussed by the ministers of the member countries and other participants in the round table talks.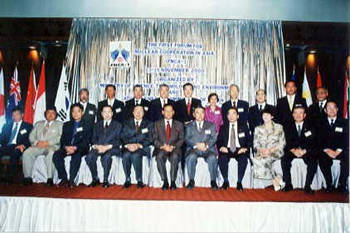 The ministerial level representatives from each
country in the First Forum gathered in a hall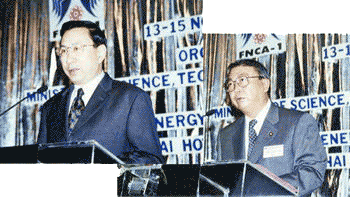 Dr. Arthit Ourairat, Minister for Science, Technology and Environment of Thailand, is addressing a welcome speech(left) Mr, Tadamori Ohshima, then-Minister of State for Science and Technology, is addressing an openning speech(right)
With regard to "Promotion of Nuclear Utilization", the Japanese Minister, Ohshima mentioned the necessity of establishing nuclear policies, development of human resources and nuclear damage compensation systems. The ministers from other countries called attention to the importance of the scenario for nuclear waste treatment and disposal as well as the concerns about nuclear non-proliferation problems. On "Nuclear Safety", Minister Ohshima appealed the importance of nuclear safety by referring to the measures taken for the JCO accident in Japan. It was proposed by the participating countries that cooperative activities be taken up for the control of used nuclear sources as an urgent task. The participants also discussed the importance of safety cultures to establish safety regulations and standards, strengthened cooperation for nuclear safety protection and development of human resources for safety enhancement.
| | |
| --- | --- |
| | |
| participants look at the exhibition pane | Press Conference |
In the session of "How to Proceed with Nuclear Cooperation", Minister Ohshima referred to the importance of nuclear cooperation in Asia and talked about the need to carry out activities producing visible results to member countries and to make financial contributions mutually as much as possible. The participants brought up a proposal for joint use of facilities and pointed out the need for cooperation with end users. In addition, IAEA as observer commented that it was necessary for the Regional Cooperative Agreement (RCA) in the Asia and Pacific Region by IAEA and FNCA to create synergy effects by mutual cooperation. Based on these disscussions, a joint communique was adopted.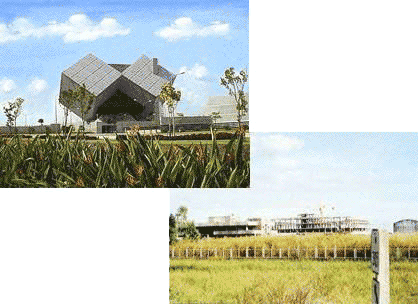 Technical Visit to the National Science Musuem(left) and Ongkharak Nuclear Research Center(rigth)