6th FNCA Meeting
---
Ministerial Levels of nine FNCA countries agreed on basic concept of
HRD program

| | |
| --- | --- |
| | The FNCA Ministerial Meeting was held on December 1, 2005 in Tokyo, at which the ministerial levels for science and technology in nine FNCA member countries get together once a year. At this sixth meeting, two topics, namely "Human Resources Development (HRD) in Asia" and "Science & Technology and Nuclear Energy" were placed on the agenda of Round Table discussion. During the discussion, all the delegates agreed to undertake establishment of HRD network for making effective use of existing educational and training resources. They also recognized the importance of obtaining the public understanding of nuclear energy development drawing upon the Japanese experience. Their views on the related experiences and proposals were made actively |

The participants were representatives from FNCA nine countries: Australia, China, Indonesia, Japan, the Republic of Korea, Malaysia, the Philippines, Thailand, and Viet Nam. Besides them, Bangladesh participated in the meeting for the first time as an observer. From Japan, H. E. Mr. Iwao Matsuda, Minister of State for Science and Technology Policy of Japan served as head of the delegate, and Professor Shunsuke Kondo, Chairman of the Atomic Energy Commission (AEC) of Japan served as general chairmanship for whole proceeding. From the AEC, Dr. Sueo Machi who serves as FNCA Coordinator of Japan took part in the meeting as well as Dr. Saito, Deputy Chairman of AEC and Mr. Maeda, Commissioner.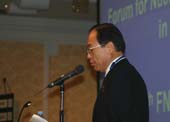 At the Opening Session, Bangladesh was recognized as observer and the Minister presented at the meeting. H. E. Mr. Iwao, Minister of State of Japan expressed his anticipation to further progress of radiation uses and emphasized the importance of role of nuclear energy on prerequisite of nuclear safety assurance and nuclear non-proliferation pledge. He pointed out the necessity of the maintenance and strengthening of the nuclear non-proliferation regime and urged non-signatory countries of the Additional Protocol to join it
At the Round Table discussion of the Session 3, "Human Resources Development (HRD) in Asia" and "Science & Technology and Nuclear Energy" were placed on the agenda for political dialogues by national representatives. Outline of the discussion was as follows.
"HRD in Asia"
Progress of deliberating the concepts of an Asian Nuclear University (ANU) at the HRD workshop and Senior Officials Meeting was reported at the meeting. According to the report, ANU which was proposed by Viet Nam at the previous meeting was rephrased as Asian Nuclear Training and Education Program (ANTEP) to enhance organically linked network for making effective use of existing HRD resources in the field of nuclear energy in all FNCA countries. Responding to this report, the meeting accepted the basic concept, the future concrete steps and schedule proposed, and agreed to make further commitment and participation. Under the plan, FNCA Coordinators were requested to submit their report about contributions and needs of each country to the Secretariat by the end of January 2006, which should be discussed to clarify the concrete procedure at the Coordinators Meeting scheduled for March. The next Ministerial Level Meeting expected to receive the report.
"Science & Technology and Nuclear Energy"
At the outset, H. E. Mr. Matsuda of Japan gave the lead-off speech, which received high appraisals due to his insight and forward-looking approach. Triggering the Japanese experience for obtaining the public understanding toward nuclear power, the participants indicated several proposals and experiences with their keen interest. In conclusion, H. E. Mr. Matsuda mentioned the importance of dialogues among ministers for science and technology policy in Asia, and several ministers concurred to this thought.
In Closing Session, the meeting summary was wrapped up and the seventh meeting was reconfirmed to be held in Malaysia.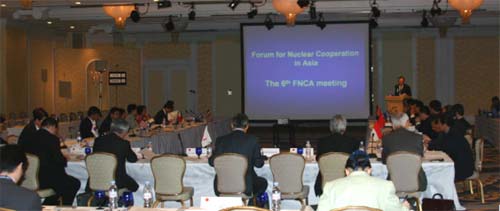 Attachments:
The 6th Ministerial Level Meeting program
List of participants in the Meeting
The Meeting Summary


---