8th FNCA Ministerial Level Meeting
---
Report of the 8th FNCA Ministerial Level Meeting
December 17 to 18, 2007
Tokyo, Japan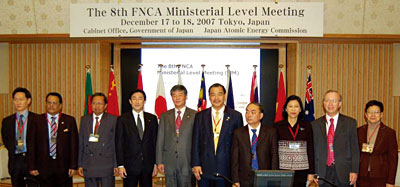 Participants of the Meeting
The 8th FNCA Ministerial Level Meeting was held on December 18, 2007 in Tokyo, with the participants of Ministerial-level and Senior Officials in charge of development and utilization of nuclear technology from ten Asian countries.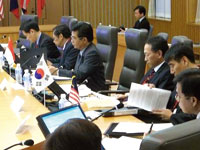 At the meeting, the highlights and achievements of FNCA activities in FY2007 and future plans were reported, and each head of delegations of participating countries made a report on general policy for nuclear energy and related activities. The outcomes of 11 FNCA projects in 8 fields related to radiation application were reported and the prospects of the projects were also discussed. Finally FNCA future plans, such as FNCA projects plan (2008) and Follow-up of "the 1st Panael for Cooperation in the Field of Nuclear Energy in Asia" in Tokyo, in Oct. 2007 were discussed on the round table. In the closing session, the heads of delegation of nine countries singed "FNCA joint communiqué on the peaceful use of nuclear energy for sustainable development", which decides to work together, reconfirming following items;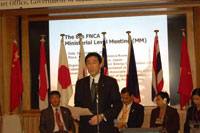 Speech from Mr. Kishida,
Minister of State for Science and Technology Policy
(1) To work towards raising global awareness that, in the framework of addressing global warming beyond 2012, it is important to promote the utilization of civilian nuclear power as a clean energy source and should be considered in the Clean Development Mechanism (CDM)
(2) To make further efforts to ensure nuclear non-proliferation, safety and security in promoting the use of civilian nuclear power.
---