4th FNCA Meeting
---
The Fourth Forum for Nuclear Cooperation in Asia
"Nuclear Energy for Future of Mankind and the Globe"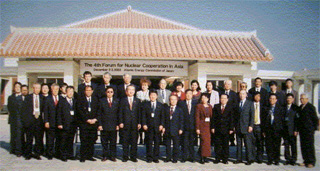 Participants of the 4th FNCA Meeting in Okinawa, Japan
The Fourth Meeting of the Forum for Nuclear Cooperation in Asia (FNCA) was held in Nago City, Okinawa, Japan on December 2 and 3, 2003 under the basic theme " Nuclear Energy for the Future of Mankind and the Globe" with the participation of Ministers and Senior Officials, responsible for the peaceful nuclear research, development and utilization from nine Asian countries. (List of Participants)
At the Round Table Discussion, the representatives of the FNCA countries expressed their views and made comments on two topics, namely: "Enhancement of Socio-Economic Impact of Radiation and Radioisotope Application" and "Sustainable Development and Nuclear Energy".
There was a general agreement among participants on the importance of applications of radiation, radioisotopes and nuclear technology in the fields of health, agriculture, industry and preservation of the environment, including water and air quality. The proposal to create a new panel on "Role of Nuclear Energy for Sustainable Development in Asia" was endorsed, and it is hoped that the report can be submitted promptly.
Progress Report on FNCA Activities in 2003 by Dr. S Machi
(FNCA Coordinator of Japan)
Program of the 4th FNCA Meeting
(full text of the Program)
December 2
Senior Officials Meeting (SOM)
December 3
Ministerial Level Meeting (MM)
December 4
< Technical Visits >
( Seawater Desalination Plant, Shuri-jo Castle, Fruit Fly Eradication Facility)

---