Forum for Nuclear Cooperation in Asia (FNCA)
19th Ministerial Level Meeting
---
December 6, 2018
Tokyo, Japan
The 19th FNCA Ministerial Level Meeting (MLM) was held at Mita Conference Hall, Tokyo, Japan on December 6, 2018. The meeting was organized by the Cabinet Office of Japan (CAO) and the Japan Atomic Energy Commission (JAEC).
Ministerial level representatives (including one minister and directors of the nuclear administrative agencies, etc.) from eleven member countries attended the meeting (Republic of Korea was absent), and held policy discussions under the theme "Contribution to Asian Agriculture by Radiation Technology Utilization". The meeting concluded with the adoption of a joint communique referring to the "Themes and activities to be promoted", "Effort to enhance the practical use of R&D results" and so on.(Program)(Participants List)
(1) Welcome Remarks
At the beginning of the meeting, Mr. Takuya Hirai, Minister of State for Science and Technology Policy, gave a welcoming speech. In the speech, he mentioned (1) that FNCA has achieved significant results in a variety of important areas for the peaceful use of nuclear energy since its launch in 2000, (2) the importance of sharing the lessons learned from the accident at Fukushima Daiichi Nuclear Power Station of Tokyo Electric Power Company Holdings, Incorporated (TEPCO) with the international community so further improving nuclear energy safety, and (3) the expectation that nuclear science technologies would be shared through the activities of FNCA, which will bring benefits to a wide range of economic society.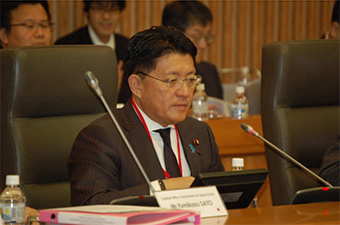 Mr. Takuya Hirai, Minister of State for Science and
Technology Policy
(2) Keynote Speech
Mr. Qu Liang, Director of Joint FAO/IAEA Division in Food and Agriculture, International Atomic Energy Agency (IAEA) for the Joint-FAO/IAEA Program, gave a keynote speech in which he introduced the outlines of FAO and IAEA organizations and their activities, and applications and results of nuclear science technologies to food and agriculture in Asia under the title of "Nuclear Applications Contributing to Food and Agriculture in Asia."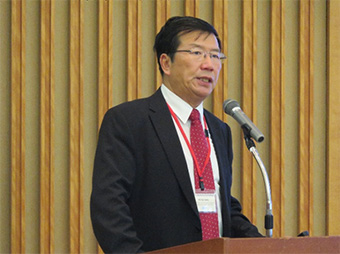 Mr. Qu Liang, Director of Joint FAO/IAEA Division in Food
and Agriculture, IAEA
(3) Country Reports
Representatives of each country reported the progress of nuclear energy policies and initiatives including information regarding "Applications of radiation technologies to agriculture." During this report, the Japanese representative described the outline of the energy basic plan, which was approved in a Cabinet meeting in July 2018, and introduced the progress of the decommissioning work at TEPCO's Fukushima Daiichi Nuclear Power Station after the accident and the state of the reconstruction of surrounding areas by using a video. In addition, as an application of radiation technologies, he introduced the Mutation Breeding caused by irradiation with heavy ion beam, etc.
(4) Roundtable Discussions
With the main theme being "Contribution to Asian Agriculture by Radiation Technology Utilization," representatives from the Philippines, Malaysia and Australia reported respectively on the following sub-themes thereof: "Sustainable Agriculture," "Food Security," and "Climate Change and Agriculture." The Participants exchanged opinions based on these reports. Dr. Tomoko M Nakanishi, the chairperson, summarized the meeting by saying that radiation technologies were an effective and essential means of shifting from conventional agriculture that pursued land and labor productivity to sustainable agriculture that secures not only quantity but also quality (such as food security and environmental conservation), and the participants shared the necessity of the further vitalization of research activities and the promotion of commercialization of research outcomes.
(5) FNCA Awards
Out of the 8 projects and a total of 99 teams in fiscal year 2017, the following Best Research Team (1) and Excellent Research Teams (3) were given awards:
·Best Research Team (1):
Bangladesh (Mutation Breeding)-Acclaimed for their efforts to spread the cultivation of mutant lines (mainly rice) through their registry and the economic effects thereof
·Excellent Research Team (3):
Thailand (Radiation Processing & Polymer Modification)
Indonesia (Research Reactor Utilization)
Thailand (Radiation Safety & Radioactive Waste Management)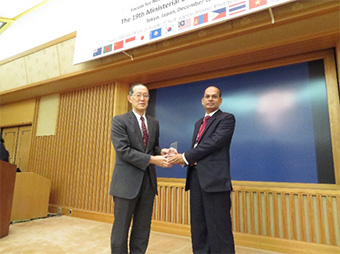 Dr. Md. Humayun Kabir, member of Mutation Breeding Project , (right)
and Dr Yoshiaki Oka, Chairman of JAEC at Awarding Ceremony.
(6) Closing Session
Mr. Tomoaki Wada, FNCA Coordinator of Japan, reported "annual activities and their results of the project." Mr. Toshio Sano, the Commissioner of Japan Atomic Energy Commission, reported "outline of implementation of 2018 Study Panel."
Dr. Yoshiaki Oka, the chairperson of Japan Atomic Energy Commission, announced that the 2019 FNCA Ministerial Level Meeting would be held again in Japan and expressed his gratitude for the contribution made by each country to this meeting.
Summary of the Joint Communique (Full Text (PDF122KB))
Themes and activities to be promoted
Furthering the activities prioritized in general by the member countries related to the application of nuclear science and technology particularly in such areas as agriculture development and food security, environment protection, and human health, as well as nuclear security including nuclear forensics and cyber security, and Human Resource Development (HRD) for nuclear safety and security culture which are universal concerns of the member countries, by adopting possible future R&D themes of a wide spectrum of interests from the member countries in order to support their sustainable development.
Effort to enhance the practical use of R&D results in agricultural production
Encouraging the member countries to bring the R&D products of such projects as mutation breeding, radiation processing and polymer modification to the end-users including the private sector, taking into account the possibility of their commercialization for the member country's socio-economic well-being,
Assistance and cooperation for radiation oncology
Encouraging member countries to reinforce the promotion of radiation oncology in transition from experimental phase to practicing phase as a FNCA project activities, with dissemination of the published protocols and hands-on training through the cooperation during the workshops.
Cooperation with international organizations
Continuing to promote cooperation with relevant international organizations including the IAEA and OECD/NEA.
Increase of sponsorship and diversification of financial resources for R&D projects
Increasing sponsorship of each member country to new projects to be adopted in whole or in part, so as to allow the adoption of more projects covering the various interests of member countries, eventually leading to further vitalization of FNCA activities as a whole.
---
19th Ministerial Level Meeting
---
Program of the 19th FNCA Ministerial Meeting (MM)
December 6, 2018
Tokyo, Japan
Date :
December 6, 2018 (Thursday)
Place :
Mita Conference Hall
Organized by :
Cabinet Office, Government of Japan (CAO)
Japan Atomic Energy Commission (JAEC)
Working Language :
English
Wednesday, December 5
Preparatory Meeting for the 19th FNCA Ministerial Level Meeting by the SOM Members
14:00-14:10
Session I, Opening Session (10 min.)

Chair:Mr Fumikazu SATO, Deputy Director General for Science, Technology and Innovation, Cabinet Office (Japan),
1) Opening Remarks
2) Self-Introduction of Participants
3) Confirmation of MLM Agenda and SOM Agenda

14:10-15:00
Session II, Preliminary Discussion on Roundtable Theme (50 min.)

Chair:Mr Fumikazu SATO, Deputy Director General for Science, Technology and Innovation, Cabinet Office (Japan),
Discussion on the theme: Contribution to Asian Agriculture by Radiation Technology Utilization (50 min.)

15:00-15:15
<Coffee Break> (15 min.)
15:15-15:55
Session III, Preliminary Discussion on the Joint Communique of the 19th Ministerial Level Meeting (40 min.)

| | | |
| --- | --- | --- |
| | | Chair:Mr Fumikazu SATO, Deputy Director General for Science, Technology and Innovation, Cabinet Office (Japan), |

15:55-16:15
Session IV, Preliminary Discussion on the Issue of Project Administration (20 min.)

| | | |
| --- | --- | --- |
| | | Chair:Mr Fumikazu SATO, Deputy Director General for Science, Technology and Innovation, Cabinet Office (Japan), |

16:15-16:30
Session V: Closing Session (15 min.)

Chair:Mr Fumikazu SATO, Deputy Director General for Science, Technology and Innovation, Cabinet Office (Japan),
1) The 20th Coordinators Meeting
2) The 2019 Study Panel
3) Closing Remarks

17:00-19:00
<Welcome Reception>
Thursday, December 6
The 19th FNCA Ministerial Level Meeting (MLM)
10:00-10:10
Session I, Opening Session (10 min.) < Open to Press >
Chair:Japan

1) Opening & Welcome Remarks
2) Self-introduction of the participants
3) Confirmation of the Program

10:10-10:20
Commemorative Photo (10 min.) < Open to Press >
10:20-10:45
Session II, Keynote Speech (25min) < Open to Press >
Chair:Vietnam

Keynote Speech by Mr Qu LIANG; Director
Joint FAO/IAEA Programme of Nuclear Techniques in Food and Agriculture Department of Nuclear Sciences and Applications

10:45-11:55
Session III, Country Reports I <10min×6MCs+Q&A 10min > (70 min.)
Chair:Mongolia
1. Australia, 2. Bangladesh, 3. China, 4. Indonesia, 5. Japan, 6. Kazakhstan
11:55-13:15
Lunch Break
13:15-14:25
Session III-2, Country Reports II <10min×6MCs+Q&A 10min > (70min)
Chair:Indonesia
7. Korea (absent), 8. Malaysia, 9. Mongolia, 10. Philippines, 11. Thailand, 12. Vietnam
14:25-15:35
Session IV: Roundtable Discussion (70 min)
Chair:Japan

| | | |
| --- | --- | --- |
| | | Theme: "Contribution to Asian Agriculture by Radiation Technology Utilization" |

15:35-15:50
Coffee Break (15 min.)
15:50-16:15
Session V: FNCA Award Ceremony (25 min)
Chair:Bangladesh
1) Profile of Winning Teams
2) Award Presentation
3) Commemorative Speech of Best Research Team Award winner
16:15-16:35
Session VI: Discussion on the Resolution or the Joint Communique of the Ministerial Level Meeting (20min.)
Chair:Australia
16:35-16:45
Session VII: Closing Session (10 min)
Chair:Japan

1) The 20th FNCA Coordinators Meeting
2) 2019 Study Panel
3) 20th MLM and after
4) Closing Remarks
---
19th Ministerial Level Meeting
---
List of the Participants in the 19th FNCA Ministerial Level Meeting (MLM)
Australia
Ms. Lynn TAN
Advisor,
International Cooperative Programs and Affairs,
Australian Nuclear Science and Technology Organisation (ANSTO)
Dr. Geordie GRAETZ
Government and International Affairs Advisor,
Australian Nuclear Science and Technology Organisation (ANSTO)
Bangladesh
Mr. Mahbubul HOQ
Chairman,
Bangladesh Atomic Energy Commission (BAEC)
Prof. Dr. Md. Sanowar HOSSAIN
Member,
Bangladesh Atomic Energy Commission (BAEC)
Dr. Md. Humayun KABIR
Senior Scientific Officer
Bangladesh Atomic Energy Commission (BAEC)
China
Mr. LONG Maoxiong
Deputy Secretary General,
China Nuclear Energy Association (CNEA)
Ms. XIAO Lili
Deputy Division Director
China Atomic Energy Authority (CAEA)
Mr. ZHANG Gangqiang
Project Officer,
China Atomic Energy Authority (CAEA)
Indonesia
Dr. Muhammad DIMYATI
Director of General of Strengthening for Research and Development,
Ministry of Research, Technology and Higher Education (RISTEKDIKTI)
Mr. Falconi Margono SOETARTO
Executive Secretary,
National Nuclear Energy Agency of Indonesia (BATAN)
Dr. Eng Hotmatua DAULAY
Director of Industrial Technology Development,
Ministry of Research, Technology and Higher Education (RISTEKDIKTI)
Dr. Irawan SUGORO
Head of Agriculture Division - Center for Isotopes & Radiation Application
National Nuclear Energy Agency of Indonesia (BATAN)
Mr. SUPRAPTO
SE, Head of Sub-Division of Administration,
Ministry of Research, Technology and Higher Education (RISTEKDIKTI)
Ms. Citawati Arrochman PRAYITNO
Ministry of Research, Technology and Higher Education (RISTEKDIKTI)
Kazakhstan
Prof. Erlan BATYRBEKOV
Director General,
National Nuclear Center of the Republic of Kazakhstan
Mr. Yevgeniy TUR
Senior Engineer,
National Nuclear Center of the Republic of Kazakhstan
Malaysia
Dr. Mohd Abd Wahab Bin YUSOF
Director General.
Malaysia Nuclear Agency
Dr. Abdul Muin Bin ABDUL RAHMAN
Deputy Director General (Tecnical),
Malaysian Nuclear Agency
Mongolia
Mr. MANLAIJAV Gunaajav
Secretary of the Nuclear Energy Commission and Head of the Executive Office
Mr. CHADRAABAL Mavag
Head, Nuclear Technology Department,
Executive office of the Nuclear Energy Commission
The Philippines
Dr. Renato U. SOLIDUM, JR.
Undersecretary,
Department of Science and Technology (DOST)
Dr. Lucille V. ABAD
Chief, Atomic Research Division,
Philippine Nuclear Research Institute (PNRI)
Thailand
Dr. Pornthep NISAMANEEPHONG
Executive Director,
Thailand Institute of Nuclear Technology (Public Organization)
Ms. Kanchalika DECHATES
Head of International Cooperation Section,
Thailand Institute of Nuclear Technology (Public Organization)
Vietnam
Dr. TRAN Ngoc Toan
Vice President,
Vietnam Atomic Energy Institute (VINATOM)
Dr. TRUONG Van Khanh Nhat
Researcher,
Vietnam Atomic Energy Institute (VINATOM)
Food and Agriculture Organisation (FAO)/International Atomic Energy Agency (IAEA)
Mr. Qu LIANG
Director,
Joint FAO/IAEA Division in Food and Agriculture,
International Atomic Energy Agency (IAEA)
Japan
<Ministries>
1. Cabinet Office, Government of Japan (CAO)
Mr. Takuya HIRAI
Minister of State for Science and Technology Policy
Dr. Yoshiaki OKA
Chairman,
Japan Atomic Energy Commission (JAEC)
Mr. Toshio SANO
Commissioner,
Japan Atomic Energy Commission (JAEC)
Dr. Tomoko M NAKANISHI
Commissioner,
Japan Atomic Energy Commission (JAEC)
Mr. Fumikazu SATO
Deputy Director General for Science, Technology and Innovation,
Cabinet Office, Government of Japan (CAO)
Mr. Takashi NISHIYAMA
Secretary to the Minister
Mr. Takahiro HAYASHI
Director for Atomic Energy Bureau of Science, Technology, Innovation and Policy,
Cabinet Office, Government of Japan (CAO)
Mr. Keigo KASAYA
Deputy-Director, Office of Atomic Energy Policy,
Secretariat of the Atomic Energy Commission,
Cabinet Office, Government of Japan (CAO)
Mr. Keiji AINOURA
Chief Official, Office of Atomic Energy Policy,
Secretariat of the Atomic Energy Commission,
Cabinet Office, Government of Japan (CAO)
Mr. Katsuhiko IWASAKA
Senior Researcher, Office of Atomic Energy Policy,
Secretariat of the Atomic Energy Commission,
Cabinet Office, Government of Japan (CAO)
Mr. Yasushi ARUSE
Senior Researcher, Office of Atomic Energy Policy,
Secretariat of the Atomic Energy Commission,
Cabinet Office, Government of Japan (CAO)
Ms. Yuriko SAKURAZAWA
Senior Researcher, Office of Atomic Energy Policy,
Secretariat of the Atomic Energy Commission,
Cabinet Office, Government of Japan (CAO)
2. Ministry of Foreign Affairs (MOFA)
Mr. Akihiro TSUJI
Director,
International Nuclear Energy Cooperation Division,
Disarmament, Non-Proliferation and Science Department,
Ministry of Foreign Affairs of Japan (MOFA)
Dr. Yoshiko OKAMOTO
Deputy Director,
International Nuclear Energy Cooperation Division,
Disarmament, Non-Proliferation and Science Department,
Ministry of Foreign Affairs of Japan (MOFA)
3. Ministry of Education, Culture, Sports, Science and Technology (MEXT)
Dr. Taro IDE
Director,
Office for Nuclear Non-Proliferation Science and Technology,
International Nuclear and Fusion Energy Affairs Division,
Research and Development Bureau,
Ministry of Education, Culture, Sports, Science and Technology (MEXT)
Mr. Shoji KASUGA
Deputy Director,
Office for Nuclear Non-Proliferation Science and Technology,
International Nuclear and Fusion Energy Affairs Division,
Research and Development Bureau,
Ministry of Education, Culture, Sports, Science and Technology (MEXT)
Dr. Mai FUKAHORI
Administrative Researcher,
International Nuclear and Fusion Energy Affairs Division,
Research and Development Bureau,
Ministry of Education, Culture, Sports, Science and Technology (MEXT)
Mr. Yusuke TANNO
Researcher,
International Nuclear and Fusion Energy Affairs Division,
Research and Development Bureau,
Ministry of Education, Culture, Sports, Science and Technology (MEXT)
<Coordinator>
Mr. Tomoaki WADA
FNCA Coordinator of Japan
<Advisor>
Dr. Hideki NAMBA
FNCA Advisor of Japan
<Observer>
Prof. Hirokazu NAKAI
Professor Emeritus of Shizuoka University
Dr. Masao TAMADA
Deputy Director, Research Planning and Promotion Office
Quantum Beam Science Research Directorate
National Institutes for Quantum and Radiological Science and Technology (QST)
Dr. Nobuyuki SUGIURA
President,
Nuclear Safety Research Association (NSRA)
Dr. Ziaul ABEDIN
Counsellor,
Embassy of Bangladesh, Tokyo
Mr. WU Song
First Secretary,
Embassy of the People's Republic of China
Mr. DANG Zhisheng
Second Secretary,
Embassy of the People's Republic of China
Ms. Moestika Panca Dewiani
First Political Secretary
The Embassy of the Republic of Indonesia
Tokyo
Mr. Kuanysh BEYSENOV
Embassy of the Republic of Kazakhstan in Japan
Dr. BUI Viet Khoi
Counsellor
Head of Science and Technology Office
Embassy of the Socialist Republic of Vietnam in Japan
---
19th Ministerial Level Meeting
---
Country Report by FNCA participating countries
December 6, 2018
Tokyo, Japan

Australia (PDF3.9MB)


Bangladesh (PDF1.5MB)


China (PDF563KB)


Indonesia (PDF1.8MB)


Japan (PDF1.1MB)


Kazakhstan (PDF3.5MB)


Malaysia (PDF220KB)


Mongolia (PDF1.2MB)


The Philippines (PDF6.9MB)


Thailand (PDF416KB)


Vietnam (PDF827KB)
---